How To Create Animated Videos By Hiring The Right Production Company
Looking for tips on how to create animated videos that engage and inspire your audience? Whether you need to train your staff quickly, address an HR issue, or just want your employees to learn a new skill in an engaging way, you may need to get your staff to participate in eLearning programs. While many employees and supervisors alike dread corporate training, it does not have to be mindless busywork. In fact, one of the best ways to help your learners retain important information and stay engaged during eLearning is to show them high-quality animated videos.
Animated videos have the unique ability to speak to auditory, visual, and kinesthetic learners all at once. They also support on-demand and self-paced education models because the content is reusable and accessible from anywhere on any type of device. Animation also has the ability to overcome some of the limitations of live-action videos and classroom training because scenarios, roleplay, and simulations can be built-in with ease. Yet, the biggest benefit of animation is the fact it can be used to create engaging videos.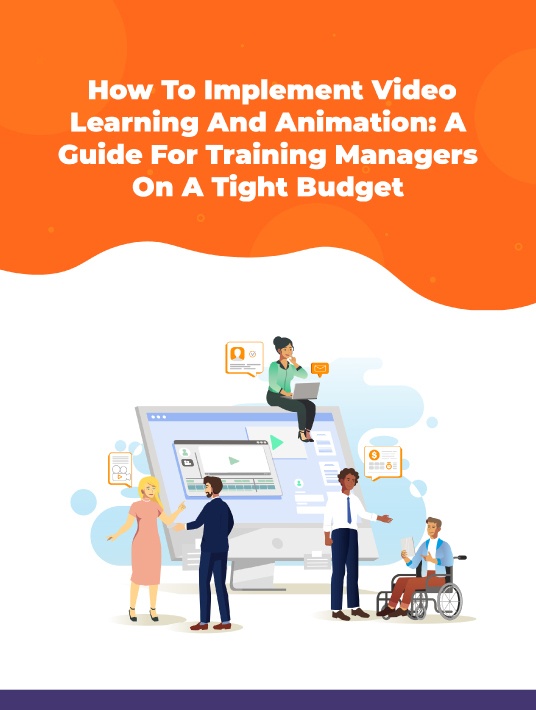 eBook Release
How To Implement Video Learning And Animation
Discover all the necessary know-how in this guide tailor-made for training managers.
How To Create Engaging Video Content
There are just a few simple steps in creating engaging video content:
Instructional Design
At this stage, you're thinking about what you want your course to accomplish. You'll write learning objectives that represent the behaviors you want the learners to demonstrate after viewing your material.
Script Writing
Your script turns your objectives into reality. The script contains any narration, dialogue, actions, and character information that's necessary for video production.
Storyboarding
Once your script is complete, it will become a storyboard. The storyboard adds the visual elements to your script, showing major scenes or keyframes. This stage is an opportunity to check the video for flow and work out any technical issues before production starts.
Filming & Animation
Whether you're using live-action, animation, or a combination of both, it's time for the filming and animating to start. This stage has sub-steps based on the type of video you're creating and is typically done by professionals.
Finalization
An opportunity for the production team to review the video and make any last changes before it's ready for distribution.
Many companies are able to tackle one or two of the steps effectively but often need help getting through the whole process. That's where production companies can help.
How To Choose A Production Company For Animated Videos
As more and more businesses transition to offering remote work, the demand for eLearning videos has also increased. As a result, many companies are turning to animation companies to ensure that they have top-notch video content to share with their employees.
While working with an animation company is a good way to get videos that you cannot make in-house, finding the "right" company is often easier said than done. With so many options to choose from, it can be difficult to identify that perfect company that can deliver videos that hit the trifecta: unmatched quality and expertise, fast turnaround time, and unmatched prices.
Why Partner?
Hiring a professional company means you don't have to spend money licensing development software or equipment, there's no time spent learning new skills and you can rely on their eLearning expertise to ensure your videos meet the appropriate educational and accessibility standards.
Types Of Companies To Consider For Your eLearning Animation
Each animation company will have its own payment structure, staff makeup, specialty, and workflow, but, in a broad sense, there are 4 types of companies: DIY Animation Companies, Explainer Animation Companies, eLearning Companies, and Animation-Focused eLearning Companies.
If you have the time and talent to invest in a DIY animation option, consider Toonly and Vyond. These popular businesses provide users with a web-based software that allows you to create animation with no prior experience.
While this may sound like the perfect option if you're just starting out, there are a number of limitations when using DIY software:
No Out-Of-The-Box Branding
Some of these software companies allow users to make short videos for free, but charge a fee to remove watermarks and even more if the user wants to use their own logos and color palettes.
Generic Messaging
For the software to appeal to a broad audience, DIY companies water down the types of animations a user can create and the ways in which a message can be delivered. Using your own audio, for instance, typically costs extra and come companies will only allow you to use audio files from their libraries or narrators. If you're looking to stand out with a unique message or messenger, it will be difficult to achieve with the tools provided.
Limited Resources
The behind the scenes programming makes the animation flow in DIY products, and that means using all of their clip art, transitions and characters. Importing and animating your own assets is often not possible.
Deceptive Learning Curve
You won't need an art school degree to be able to jump into these explainer video makers, but you will have to invest time in learning the ins and outs of the program. Timing, transitions, narration, music, and graphics are all up to you now. For a simple 5-minute explainer, a new DIY user could spend up to 20 hours before developing a polished product.
Understanding Explainer Animation Companies
The next company type, Explainer animation companies, know the ins and outs of video marketing. This enables them to create explainer videos that capture the heart of your business or brand. One of the most popular explainer companies, Digital Brew, offers animated explainer videos, commercials, and just about any other type of marketing content your business might need, all while promising to tell your brand's story.
If you need animated videos that are solely focused on marketing, explainer companies are a worthwhile choice. Keep in mind, however, that you will not have much wiggle room in what you can request from such companies because their pricing and production schedules are built on an advertising structure. Short videos can be as expensive as commercials. If you need extensive training videos, for example, you are going to want to consider other options.
Teaching complex topics or putting together a robust eLearning course takes more than just a few explainer videos. For that reason, many people seek the help of eLearning Companies. One of the benefits of using an eLearning company to create animated videos is that creators will be able to present information well and through many different styles. Consider a company like Designing Digitally, Inc., which tackles everything eLearning. Whether you need an explainer video or a corporate training video or even a training simulation, companies like Designing Digitally, Inc. have you covered.
The downside to working with an eLearning company is they rarely have expert video production staff in-house because they provide lots of different service types, video only being one.
Animation-Focused eLearning Companies
The last company type is an Animation-Focused eLearning company. eLearning animation-focused companies combine the flexibility of DIY animation companies, the engagement and expertise of explainer video companies, and the smorgasbord of options available with eLearning, without sacrificing quality or affordability. They staff expert animators and instructional designers to ensure your videos achieve the learning objectives you set out in an engaging way. Our company, Ninja Tropic, is in this category and we've produced thousands of videos for hundreds of clients and are always wanting to help others achieve their goals.
How To Create Animated Videos: Tips For Choosing The Right Company
Though finding the right partner might seem overwhelming, you can make a solid choice if you follow these simple steps.
Prepare Before You Search
Don't dive into Google just yet. Before you search for a video eLearning expert, you have to know what you're looking for. Setting your criteria before a search will help you partner with the best professional for your project. The most common criteria include what style you want for your video, how many videos you're looking to create, your budget, and your timeline.
Create A List Of Candidates
Now that you have your criteria in hand, it's time to create a list of experts. You can find them through word-of-mouth referrals, tradeshow websites, or by Google search.
Schedule In-Depth Interviews
Now that you have a list of potential video eLearning experts for your course, narrow down the list and contact the professionals that matched your criteria best. Always request a phone call or video chat—you want to speak with them and get a feel for their business first. Someone can be an expert in their field and still not be the right match for your eLearning project.
Request A Sample & Quote
The final step is to request a quote from the video eLearning expert. This quote should not only include the price but the deliverables and a timeline for the project. You want to get at least two quotes for your project so you can compare them. Not every video eLearning expert will offer a sample but ask. This will give you a taste of what it's like to work with them before committing.
Conclusion
Creating animated videos for eLearning should be simple and effective. Don't get mired in inefficiencies or logistical nightmares: partner with an expert eLearning video company to transform your organization. Download the eBook How To Implement Video Learning And Animation: A Guide For Training Managers On A Tight Budget to explore production best practices and examples. Also, join the webinar to explore 8 instructional design examples for video production inspiration.
References:

Ninja Tropic eLearning
We are the go-to interactive video and microlearning team for leading enterprises. We solve business problems through budget-friendly, brand-aligned, and effective interactive video training that delivers measurable results.