Justifying The Cost Of Gamification: It's All About The Motivation
I came upon an interesting everyday-life example a few days back…
While having a Butterscotch pastry, my son left the cherry on top for last, to savor and taste it bit-by-bit till his taste buds were satisfied! It was in that moment that I realized some people are like my son and choose to delay their rewards, an indulgence of self-motivation, while others choose to eat the cherry first for instant gratification.
Taking our story from where we left off in our previous gamification blog, the way we reward ourselves is the way we are engaged and motivated. To help reach a certain level of satisfaction drives us. I see this as the key for gamification that enterprises and organizations design.
The Cherry Of Improved Performance
Traditional learning assumes the learner will patiently complete a course for the reward of learning and improved performance in the future. We assume our learners will save the cherry for last and patiently work their way through the Butterscotch pastry first, our learning course. But that's not how all learners are motivated. Some want the cherry first, and without the cherry, don't really want the pastry (again, our learning course).
That's where gamification comes in. Instead of relying upon the cherry of improved outcomes from learning, gamification sprinkles artificial cherries into the learning course in the form of small rewards and badges.
By 2017, Gartner had predicted that gamification would be the primary mechanism used by 40% of Fortune 1000 companies to transform business operations. Why would this prediction be true when most organizations are talking about "Cost-Optimizations" and "Return on Investments"? In other words, how do you justify the cost of gamification?
Optimizing The Motivation
For your Learning and Development to be effective you need your audience's attention. If you want to optimize your audience' behavior, you need to optimize and analyze gamification. Is it as simple as savoring a cherry? No, gamification is so much more than points and badges and rewards.
Despite the buzz and the potential of gamification, many companies are either not gamifying at all or gamifying and failing. This is in contradiction to what Gartner predicted. Some companies might be hesitating because they can't see the Return on Investment of gamifying their website or product or trying to justify their returns. Others may be waiting for a big success story from a Fortune 1000 company so they can mimic their strategy. (Others might be waiting for this article!)
The fact remains, though, that gamification has the potential to transform learning by harnessing motivation.
Gamification Injects Enthusiasm Into The Training Process
Letting your employee explore an uncertain environment, through their personal avatar, knowing how they've progressed so far, how they compare to others, and what else they should do to advance in the game keeps motivation levels high and the ongoing process a challenge for game strategists and designers. As mentioned, the real challenge is justifying the investment in gamification.
Imagine you include an eLearning module in a customer service gamification project. If you don't measure it, how can you tell whether it is working or not? This is why the term 'motivation analytics' come into the picture, to translate gamification for us designers.
We say 'Oh! The game is so cool', or 'Wow! Look at those graphics and animations!! They are so real', but let me tell you that the coolest and the costliest of games have failed to cause measurable business improvements. So, in the present scenario, what really matters and how can we justify gamification?
If you want to optimize behavior and engage the audience, you need to optimize and analyze gamification.
Gamification Analytics: An Example
"Gamification is a simple and fun method to motivate participation in events where we need the full focus and cooperation of large teams, even at the leadership level" says Gabriel Morgan, Director Strategic Planning at Microsoft. "Encouraging team building and personal connections in our global business was an important goal for us, together with increased engagement in presentations and discussions."
Morgan was talking about a new gamification strategy Microsoft launched. Looking for an innovative and engaging way to achieve fuller participation in the strategic planning process, Microsoft turned to gamification.
The game was designed to motivate participation in the event, measuring engagement with the content presented, and to create team spirit within the ad-hoc teams formed during the process. The method chosen was to foster competition between conference "tables", creating teams that needed to cooperate to win, all using a car racing narrative. Almost immediately, engagement levels hit near 100%, participants answered questions about the presentations and discussions, corrected wrong answers, and collaborated to increase their team scores.
Justify Gamification With Performance
The rewards of gamification are more than smiley faces, thumbs ups, and likes; they are the cherry on top, and for some, that's the only reason they will take the course.
Games are a perfect organizing paradigm for unpredictable environments that keep learners motivated and engaged by applying fun and enthusiasm.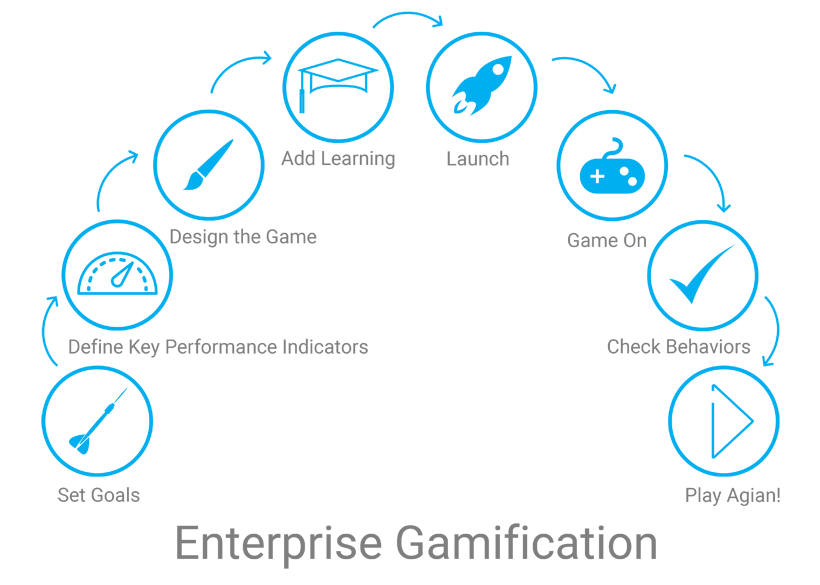 Here is a simple illustration of how enterprise gamification can successfully emulate the benefits of corporate performance management. After all, the catch word here is "Key Performance" or the craved-for cherry on the pastry that can bring in benefits for the individual and the organization alike.
When it comes down to it, the best way to justify the cost of gamification is the improved performance of learners resulting from games that harness motivation. If you need help with gamified learning that leads to performance, InfoPro Learning specializes in gamification solutions connected to business performance.  That's what we call learning for performance!