How Digital Bootcamps Can Help You Prepare Teams For Tomorrow
An L&D manager's work is never done. Whether it's onboarding new hires or trying to maximize internal talent, you're always on the lookout for new ways to prep your teams for challenges that lie ahead. Fortunately, digital bootcamps can help you improve performance and achieve business objectives without having to curate your own course sets based on job roles and responsibilities. This eBook outlines every step of the process and why bootcamps are such an effective tool for modern (and future) work environments.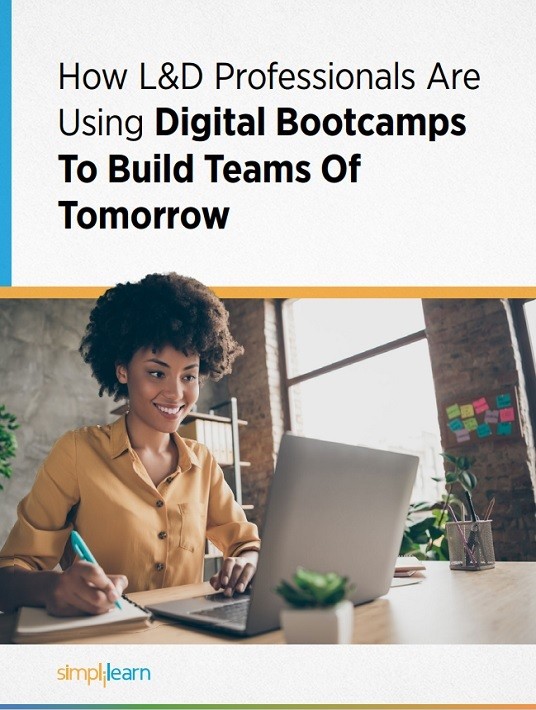 eBook Release
How L&D Professionals Are Using Digital Bootcamps To Build Teams Of Tomorrow
Discover how to use digital bootcamps to bridge skill gaps and boost team performance!
Digital Bootcamps Spark Lifelong Learning And Development
Employees and external partners must be ready and willing to continually broaden their knowledge base. The catch is that many organizations don't know how to approach the upskilling and reskilling dilemma cost-effectively. Online bootcamps give you the opportunity to cultivate your talent organization-wide or at the individual level. As an example, a member of your team must build their project management skills and core competencies to prepare for their promotion. A digital bootcamp allows them to focus on planning and managing control projects, as well as explore tried-and-tested PM methodologies. Virtual bootcamps encourage lifelong learning because employees are able to pursue their own learning paths and achieve career goals on their own terms. In short, they can continually enhance their skillset to tackle emerging challenges.
Another advantage of using bootcamps to build teams of tomorrow is moving beyond theory and putting knowledge into practice. While employees must know the compliance regulations and company policies, it's also essential for them to understand how these rules apply in the real world. Furthermore, they must be able to participate in experiential learning activities that are more hands-on in order to see the cause and effect of their decisions.
Why A Holistic Approach Is Essential For Long-Term Success
Virtual bootcamps serve as the framework for your employee development program. However, you also need a few other key ingredients to achieve the desired outcomes. Just-in-time support, needs analysis, assessment, and real-world activities are crucial for growth. This eBook doesn't stop at implementing digital training bootcamps. It also delves into other aspects of your L&D strategy so that you can develop a holistic training program that meets your current and future organizational goals.
About This eBook
Now that you know the advantages of virtual bootcamps for skills development, how do you incorporate them into your existing curriculum? Is there a way to foster mistake-driven learning minus the risk? How do you provide ongoing support for your remote teams? Here's a sneak preview of what you'll find inside this all-in-one guide:
Five Ways Digital Bootcamps Help You Create A Future-Ready Workforce
Upskilling And Reskilling Secrets For Your Next Online Training Bootcamp
Contextualized Learning At Its Finest: Top Tips To Foster Real-World Application With Online Bootcamps
How To Leverage Role-Aligned Learning Paths In Your Digital Bootcamp Strategy
Eight Key Digital Transformation Skills And Proven Strategies For Virtual Training Bootcamps
Eight Just-In-Time Support Tools To Combine With Your Digital Bootcamp Strategy
Six Common Digital Bootcamp Myths & Misconceptions (And The Truths Behind Them)
Seven Tips To Assess Performance And Skill Gaps In Virtual Training Bootcamps
Conclusion
The key is finding the right virtual training bootcamps for your team. This guide also explores the ins and outs of choosing the best skill-building courses and certifications, regardless of your industry. It features master's and post-graduate programs, as well as SkillUp free short courses to help you bridge gaps rapidly.
Download the eBook How L&D Professionals Are Using Digital Bootcamps To Build Teams Of Tomorrow to explore the benefits and best practices for implementing digital bootcamps in your employee development strategy.