Making Performance Management Processes Better
The shifting workplace environment has disrupted many things about the way an organization operates, but has had a particular impact for L&D departments on performance management processes and understanding skills gaps in the organization.
Employee expectations have evolved along with the changing worlds, and employees expect a certain level of transparency and consistency in the performance process and the yearly 121 just doesn't cut it any more. Equally, the makeup of the workforce has changed, with a shift towards a contingent workforce and contractual staff meaning onboarding, engagement and monitoring of performance becomes a lot tougher to manage.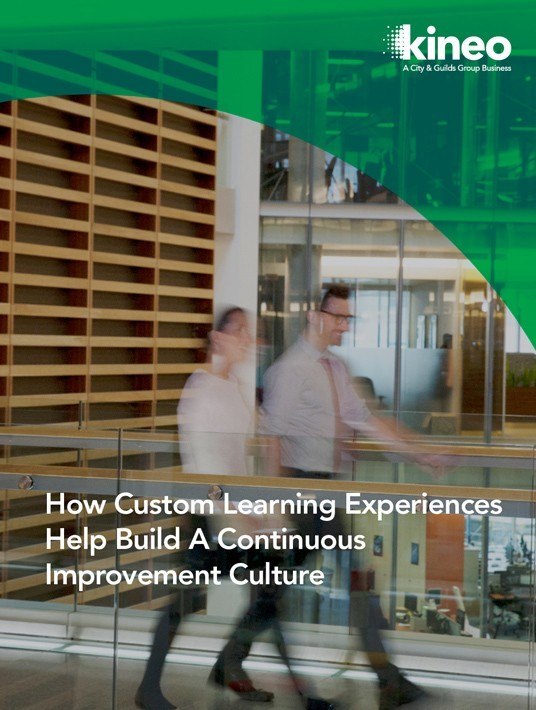 eBook Release
How Custom Learning Experiences Help Build A Continuous Improvement Culture
Discover how to support and develop a continuous improvement culture with custom learning.
Top Tips To Redefine Your Process In Times Of Corporate Flux
"There are only three measurements that tell you nearly everything you need to know about your organization's overall performance: employee engagement, customer satisfaction, and cash flow. It goes without saying that no company, small or large, can win over the long run without energized employees who believe in the mission and understand how to achieve it."
-Jack Welch
Here are some ways you can adapt your performance management processes to support your workforces working remotely. These also allow you to deliver a better experience both for the employee in terms of development, and the organization. For example, to accurately tracking skills and development to upskill your workforce and build a competitive, agile organization.
1. Eliminate Bias Driven By Change
It is likely that your organization has moved to a largely remote working environment. If you have, then you need to be wary of the impacts of proximity bias – the notion that people place higher value and impact on work that they actually see or are directly aware of. In a virtual working environment, it's easy to discount work that we aren't involved in or actually seeing ourselves.
"What have you done for me lately?" While 2020 seems to have lasted forever, it's easy to forget work that has been done before this current crisis hit. People are more likely to remember things that have happened recently than those that have happened six months ago or in the previous year.
It is possible, for example, that one of your employees was performing highly at the beginning of the year; however, the transition to working from home has been difficult, for a myriad of potential reasons (some that you may not even be aware of). You will want to prepare yourselves and others to consider the performance of an employee throughout the entire performance period, rather than focusing on recent performance since the start of COVID-19.
Coaching and enabling managers to have regular check-ins with employees will help them stay up to date on workplace priorities as well as support mental wellbeing and connection.
2. Allow Space To Self-Reflect
Asking employees to reflect on their own goals, progress and areas for development helps them take a step back from the day to day and plan for the future – as well as taking much needed time to celebrate accomplishments and successes they've been involved in.
You'll want employees to take a moment and consider what their goals and priorities were, how much they achieved in reaching those goals, as well as what accomplishments they've had that they hadn't foreseen in this financial year.
3. Regular Check-Ins
Creating a frequent programme of regular check ins as well as more formal performance management process meetings helps employees stay on track and reduces wasted time. In fact, you can actually increase productivity using flexible and frequent performance check-ins with managers and mentors – much more effective than simply setting objectives and reviewing once a year when everything is woefully out of date.
4. Peer Feedback
Peer feedback helps your employees objectively gauge strengths, weaknesses and opportunities by balancing their own self-evaluation with input from peers, team members, supervisors and more. This generates a personal feedback report, which highlights differences between the appraisee's self perception and the feedback from others. Critical areas for self-development are often highlighted and helps the manager and the organization to support professional development planning.
Is custom content development the best strategy for your organization? Download the eBook How Custom Learning Experiences Help Build A Continuous Improvement Culture and to discover how bespoke eLearning experiences can help develop your workforce and bridge crucial gaps.