How Launching A Sales Online Training Course Can Increase Profits
Every aspect of business operations must be financially viable. Every initiative needs to broaden your profit margin directly—or indirectly, to achieve buy-in. Especially from the accounting manager who oversees the company's pocketbook. So, does a sales online training course truly make sense and cents? How can it improve the health of your bottom line and boost customer loyalty? Are there any far-reaching sales online training benefits that can help you make a stronger business case? Here are 7 convincing reasons why you should invest in sales team online training and ongoing skill development.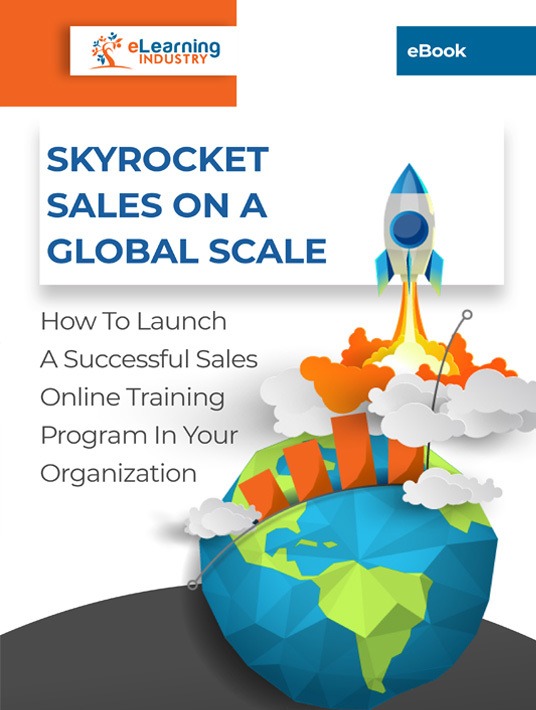 eBook Release
Skyrocket Sales On A Global Scale: How To Launch A Successful Sales Online Training Program In Your Organization
Get to know how to launch, enhance and retain successful programs in your organization.
1. Impart Essential Sales Skills
Skills are a hot commodity. Your sales team must be able to communicate with customers, actively listen to their needs, and negotiate deals. There's also a fair amount of persuasion involved. These sales skills are part of the online training package. You can use video demos, simulations, and personal anecdotes to cultivate these talents and facilitate practical application. Sales staffers are more likely to seal the deal if they know how to engage with customers on a personal level.
2. Prepare Employees For Real-World Challenges
Learning about customer's excuses and personality quirks is one thing. However, many sales employees still struggle with customer service. Traditional training gives them a vague idea of what to expect in the workplace. However, an online sales training course builds experiential knowledge. Employees know how to overcome real-world challenges because they've already been exposed to common stressors. For example, customer service simulation teaches them how to handle personality conflicts and empathize with difficult customers. Finally, online training delves into company policies that relate to their work roles and tasks. For instance, they understand how COI compliance comes into play so that they can spot a bribe and tactfully decline.
3. Build Product Knowledge
Product knowledge is usually accumulated over time. Sales employees gradually pick up product features, specs, and benefits as they interact with customers. However, they still need a solid grasp of your product line from day one. Sales online training imparts the basics so that they're able to match customers with the right items. There may be eLearning infographics or demo videos to improve knowledge retention and active recall. As well as JIT support tools to refresh their memory and help them build product know-how on the spot.
4. Improve Brand Image
Launching a sales online training course benefits your brand image two-fold. Firstly, it helps you attract new top talent. Word gets around that your company values employee development and that you provide sales staff with ongoing support. Which draws in new recruits who contribute to your bottom line. Secondly, a strong sales online training strategy leads to better customer service. Your organization is known for its amazing Customer Experience, thanks to a highly skilled sales team who knows product specs and features.
5. Prevent Workplace Mistakes
Some mistakes are merely learning opportunities. They go unnoticed by team leaders and customers, alike. But others can cost you a pretty penny. Such as compliance mishaps that lead to on the job accidents or diminish your company's credibility. For example, the sales employee misinforms a customer during the transaction, which results in a loss of future business. The customer no longer has faith in your brand because they've been misled, even if it was an honest mistake. Sales online training keeps employees up-to-date and helps them learn from their errors in a safe setting. Simulations, branching scenarios, and video tutorials allow them to see the negative/positive outcomes of their decisions. Before they even have a chance to make those mistakes on the sales floor, where it really counts.
6. Retain Top Performers
Your top talent is more likely to stay with the organization if they have your company's support. If they know that prioritize their ongoing development and provide personalized online training resources to help them succeed. As such, a sales online training course can help you reduce new hire recruiting and training costs because you don't pay for frequent replacements. Your top performers keep contributing to your profit margin and building vital skills on the job. Instead of taking those talents with them to another organization that does value L&D. The catch is that top performers expect online training beyond onboarding. It should extend into every job title and experience level to address their moment of need. Instead of just giving them the basics and expecting them to fill in the gaps on the sales floor.
7. Improve Customer Loyalty
Above all, sales online training courses have a direct impact on customer satisfaction. Nobody wants to deal with a sales employee who's completely unaware of your product line or the sales policies. They want answers to their questions and certain assurances from your staffers. For example, how long do they have to return the item? How do they upkeep the product to get the best value for money? Online training makes your sales team more confident and self-reliant. They can pass crucial info onto customers and help them make the best buying decision. Rather than shrugging their shoulders or referring them to the closest manager to address their concerns.
The success of your online sales training course depends on back-end talent and front-end engagement. Your L&D team must have the skills, time, and tools to create top-notch content for staffers just as employee training participants must be actively involved in the process to maximize the benefits. For this reason, many organizations choose to outsource sales online training to reduce development time and improve resource allocation. Which also produces high-quality content your employees can get behind.
As a general rule, your sales team should be well-rounded. Is a new sales online training course worth the investment? Download the eBook Skyrocket Sales On A Global Scale: How To Launch A Successful Sales Online Training Program In Your Organization and get to know how to launch, enhance and retain successful programs in your organization.