Is Your Content Helping You Connect With Your Readers?
Creating content has become a very popular way of promoting the services of your brand to potential clients. As a result, many businesses are devoting resources to creating an online community where professionals can turn to for specialized insight. However, to be established as a thought leader and engage readers, you need to create an emotional connection with them. No matter what you're talking about, keep in mind that no one wants to read a dry blog post that sounds as if it was written by a robot. If you're wondering how to achieve that, read on to discover 7 secrets that will make your content more emotionally engaging.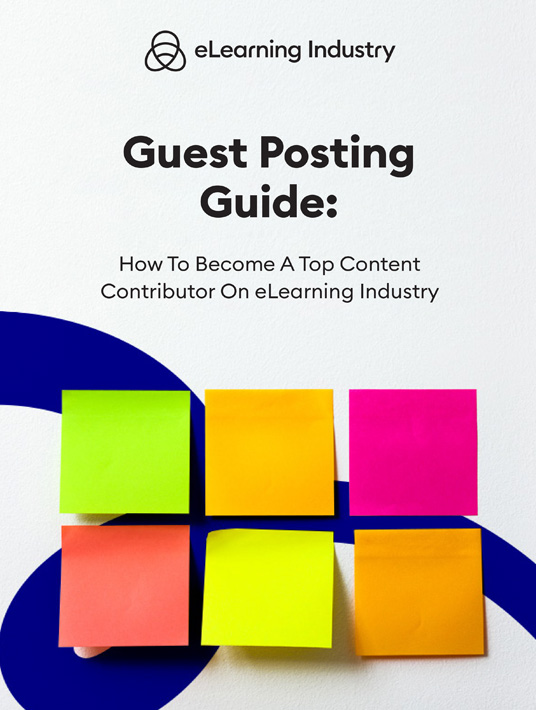 eBook Release
Guest Posting Guide: How To Become A Top Content Contributor On eLearning Industry
Discover what you gain by guest blogging and what are the basics of writing a guest post for eLearning Industry.
7 Secrets To Create An Emotional Connection With Your Audience
There are quite a few factors one can incorporate in their content to make it compelling. The tips we share below will help you create a trusting relationship with your clients that will keep them returning to your platform.
Be Unique
An important factor that attracts (and maintains) an audience is your ability to stand out. If someone can find content exactly like yours on numerous other websites, why would they choose you? Therefore, make sure to offer your audience unique insights that they can't find somewhere else. Instead of tackling the same old topics your competitors are talking about, come up with your own topics and offer your unique opinion. Create a sense of exclusivity and watch them return to your website week after week.
Be Honest And Authentic
A brand that is disingenuous or whose business actions don't align with its brand messaging can't hope to gain a loyal following. To create an emotional connection with your audience, you need to back up your brand messaging and content with actions. Specifically, always keep your values and mission in mind when building your USPs. This way, you will create a positive brand reputation and a meaningful and long-lasting relationship with your clients.
Tell A Story
Do you want to create emotionally compelling content for your platform? Tell a story! When you take your personal experiences and knowledge and turn them into a story, it is easier for the reader to relate and feel invested. Remember not to overshare. The story of how you started your business can definitely be inspiring, but not every detail is interesting or relevant. Choose the aspects that will be the most helpful and interesting for your audience.
Listen To Your Target Audience
But how can you be certain what your audience wants to hear about? Well, of course, by actively listening to them. When you post your content, your audience interacts with it. They express their questions, various pain points, and interest or disinterest. As long as you keep your eyes open, you can use that data to figure out what they want to engage with. A brand that is in tune with its audience's needs is more likely to create an emotional connection with them.
Speak To Your Audience Directly
You should know that your brand needs a unique voice. One that expresses your business values via your website or social media and is recognizable by your audience. Even though that voice appeals to many, it is personal for your clients. So, keep it personal. Think about some of the clients you interact with most often and create your content as if you're speaking directly to them. This feeling of one-on-one communication is definitely more engaging to readers and will help you build an emotional connection with them.
Create A Sense Of Community
Creating a sense of belonging and community should be high on your list. When people realize that your platform is a reliable and safe space where they can get valuable information regarding their professional concerns, they'll become more engaged with your content and your brand. You can do that by addressing the issues they really care about and communicating with them through comments, emails, or polls. You can also spark up a conversation and healthy debate. This way, you'll achieve more engagement as well as inspiration for future topics to cover.
Use Humor
It goes without saying that you want your brand and content to be taken seriously by your audience. However, that doesn't mean that it has to be rigid, dry, and matter-of-fact at all times. Utilizing humor can create an instant emotional connection with your audience. It shows that your business is made up of humans who don't take themselves too seriously. So, if you've been feeling that your content has been lacking some "spice" lately, make sure to add a couple of humorous jokes or puns and see what your audience thinks about it.
Conclusion
There are many things you can do to make your content more compelling to your audience. From forming a unique brand voice and honing your story-telling skills to keeping open communication lines, everything is done so that you can create a lasting relationship with your audience. But just like any relationship, what's going to keep it alive is consistency. Create a calendar and post on specific days so that your readers know when to expect (and look forward to) your content. We're certain that as long as you work on your bond with your readers, creating an emotional connection with them and building a loyal clientele will happen naturally.
Download our eBook Guest Posting Guide: How To Become A Top Content Contributor On eLearning Industry to learn what you can gain by guest blogging and what are the basics of writing a guest post for eLearning Industry.