Ways To Build A Growing Online Learning Community
If you want to extend the reach of your course and your business, you're going to want to build an online community. Why? Because turning your course into a community gives you the chance to add value to your course offering, increase engagement from your students, and much more.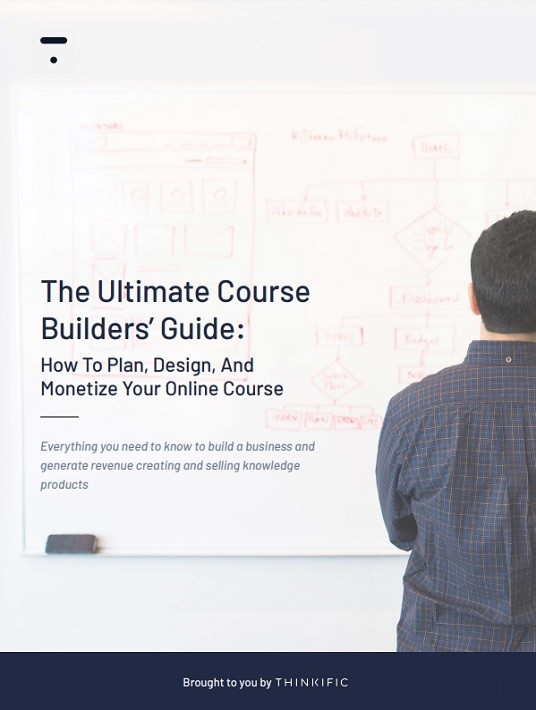 eBook Release
The Ultimate Course Builders' Guide: How To Plan, Design, And Monetize Your Online Course
Uncover tips to build a business and generate revenue creating and selling knowledge products.
Why Build An Online Learning Community?
When you're creating an online course, your aim is to produce the best possible resource for your students. While you can achieve this with top-quality content and design, if you want to take your learning experience to the next level it's a terrific idea to include community engagement.
Encourage Collaboration
Community engagement is a great way to encourage collaboration between your students. A dedicated community space brings people together, whatever their background, location, or profession. With the right online learning community, you can unite your students around your course and create a positive, supportive environment for them.
Increase Brand Loyalty
Brands that are able to cultivate a community foster more loyal customers. People like to feel part of something bigger than themselves and an online learning community is a great tool to build this feeling. If you can provide access to your community as part of your course offering, you not only draw in new students, but also increase retention rates long after they've completed their course.
Establish Yourself As An Expert
An online community is really useful for increasing the perceived value of your course—especially if you engage with students who ask questions. In your community space, students have the chance to interact with you and get useful nuggets of wisdom direct from the horse's mouth. An online learning community can help to cement your status as a trusted expert and advisor. It's also a handy space for collating feedback on what you can do to improve your course.
3 Tips To Cultivate Your Online Learning Community
If you're new to the online community world, here are some top tips to help you cultivate your online learning community.
1. Turn Customers Into Brand Advocates
If you want to grow your online course community from scratch, you need to get help from your existing students. If you can work to make sure your earliest students fully buy into your brand—by being responsive and building up a personal connection with them—these individuals can help to do a lot of the leg work for you.
When you have loyal customers, they go out and spread the word about your community. They're the best salespeople because they genuinely believe in your brand and your products. They also tend to be more active in the community itself answering questions, commenting, and liking other users' posts.
2. Encourage Questions
One of the best ways to encourage more engagement in your online learning community is to create space for students to ask questions—both to you and to each other. Asking and answering questions is a great place to start when you're cultivating your online learning community.
The community collaboration space means that questions tend to get answered faster than if they're all coming to you directly, and it can also help to provide students with a range of different perspectives. Asking questions also increases the social learning element of your course—students aren't only learning from your course.
3. Try Cohort-Based Learning
You can also use your online community for cohort-based learning. Cohort-based learning is when a group of students—a cohort—complete your course at the same time. They progress through the course as a group, helping to increase the sense of social cohesion and connectedness even in the online learning space. Though your students will be remote, an online learning community can help to bring them together.
Cohort-based learning gives you the chance to set group exercises and activities which can make your course content more dynamic and engaging. This is a great way to offer students something a little bit different from your competitors, and when done well, it can improve learning outcomes.
Define Your Community Goals
When you're setting up your online learning community, it's a good idea to start by clearly defining your community goals. This will help you to go into the process with a plan and ensure that you're focusing on metrics that will help to grow your business long term.
As a course creator, you might like to lay out the purpose and scope of your online learning community. Figure out how much involvement you will have, how the space will be moderated, and what topics you will discuss.
You can also set out KPIs for yourself to monitor the growth and success of your online learning community. Some ideas for KPIs include:
Number of new sign-ups each month
Total number of users
Lost users per month
User engagement, e.g. total number of comments
Total number of inactive users
By setting measurable goals, you can keep track of the health of your online learning community. You can also get a sense of what works and what doesn't. For instance, if you introduce a new focus for your community and your engagement suddenly drops, you know you need to consider a different method.
Provide Community Guidelines
To help make your online community an inclusive and enjoyable space for all your students, it's advisable to lay out some community guidelines for your members. This is especially important for moderating member behavior, including what topics are appropriate for discussion in the community space.
You should also outline how members can log complaints and your resolution process for dealing with these. It's important to clearly state that you have a zero-tolerance policy for discrimination and harassment.
Promote And Market Your Community
If you want to grow your community and encourage more members, remember to promote it! Publicize your online learning community on your social media channels, email communication, and your website. Make sure you also refer to it in your course content and highlight the benefits of joining for students. Even if you choose to keep your online learning community as a private, students-only space, you can still promote it as a lead generation tool to entice new customers.
You can also utilize your community space as a method for providing feedback and peer-review opportunities to your students, helping to make the community a part of the course itself as well as an added bonus feature.
Download the eBook The Ultimate Course Builders' Guide: How To Plan, Design, And Monetize Your Online Course to learn insiders tips for creating, launching, and marketing your eLearning course. Also, join the webinar to bring your vision to life.
Additional Resources:

Thinkific Plus
Thinkific's powerful platform makes it easy to share your knowledge, grow your audience, and scale the business you already love. Whether you're educating 10 students or 10 million, you've got the easiest technology and best support in the business.