Ensure PPC Success For Your eLearning Directory List
An eLearning business directory listing can help you promote your online training solutions and stand out from the crowd, particularly when you add PPC to your marketing campaign. But how do you ensure PPC success and maximize ROI? One of the listing perks is that you get detailed metrics. You're able to track every aspect of your strategy, from CPCs to conversions. As such, eLearning content development companies have the chance to adjust their bids, keywords, and CTAs to generate more leads. However, the first step is to determine what PPC success means for your eLearning business.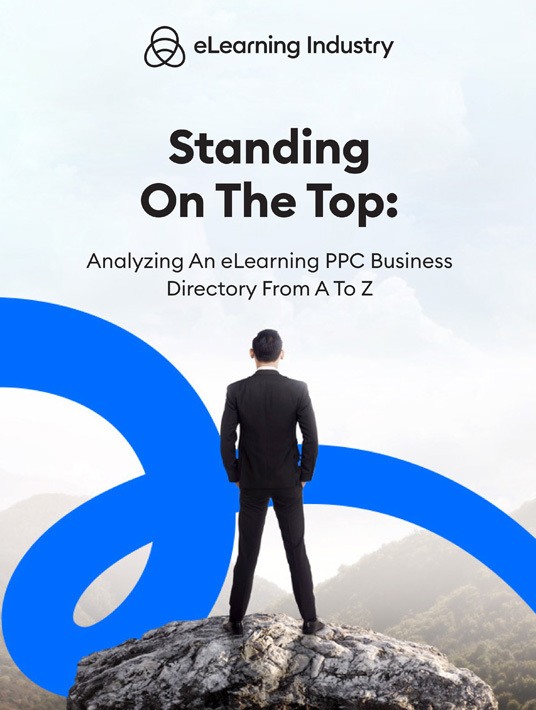 eBook Release
Standing On The Top: Analyzing An eLearning PPC Business Directory From A To Z
Should you list your online training solutions? An eLearning directory of companies outshines other marketing tools because it serves a single purpose, which is to help visitors make the best buying decision.
1. Define PPC Success For Your eLearning Business
Success is relative. While some eLearning content development companies focus on direct sales, others have different marketing goals. For example, you may need to increase attendance for your next promo event, or you want to expand your mailing list. Of course, the ultimate goal is to get new clients, but there are different ways to go about it. So, what's the primary aim of your PPC campaign this time around? How will you measure success for your eLearning company? First and foremost, you need measurable objectives and evaluation criteria.
2. Evaluate The CPC
The most notable perk of PPC campaigns is that you only pay when people click, unlike many other marketing tools that require a significant upfront investment. As such, one of the most important indicators of success is the cost of each click. Competitive keywords usually drive the bidding higher. On the other hand, it may be worth the investment if you get high-quality leads. Bear in mind that you're able to set a max bid amount, so there's no risk of sinking half your marketing budget into a single click.
3. Calculate Customer Acquisition Costs
How much do you expect to spend for each new customer? Setting the max acquisition cost helps you keep your budget in check, for example, you need 20 new clients this quarter to warrant the PPC investment. The goal is to turn a profit, not just recoup your marketing costs, so divide your total budget by 20 to calculate your customer acquisition average. Let's say that your budget is $800. That means each customer will set you back $40. The catch is that sometimes you get delayed results. For instance, your eLearning business might get new clients six months from now because of your directory listing. This lowers the customer acquisition costs after the fact. Also, you need to factor in sales. You may only need ten new clients if they bring in more revenue than expected.
4. Track eLearning Business Directory Listing Click-Throughs Versus Conversions
Every click is a small marketing victory. However, you really want to convert those clicks into sales. As such, you need to monitor both metrics to identify sticking points in the marketing pipeline. For example, your listings are successful. You know this because there's a surge in visitors. They even click the website link, but then they fall off the map. These leads don't sign up for your services, submit RFPs, or contact you for more information. The question is, what's stopping them?
5. Analyze Clicks Versus Impressions
Another way to measure PPC success for your eLearning business directory list is to compare clicks versus impressions, which helps you pinpoint issues with your PPC strategy itself. For instance, only a small percentage of users click on your PPC ad when it shows up. Obviously, they're interested in related products or services because they're searching for targeted keywords, so maybe you need to take a closer look at your CTA or focus on other buyer personas/groups.
6. Monitor Daily PPC Performance
Very few marketing strategies break it down by day. You usually get the overall picture. But listings with PPC help you track daily performance for a broad range of KPIs including CPCs, conversions, and visitor stats. As a result, you can optimize your landing page and PPC as soon as you identify a problem. For example, your conversion rates have gradually decreased over the past week. What's causing this trend and how can you improve your listings to bring those numbers up again? You can also evaluate bigger time windows to spot patterns and ensure long-term success.
7. Set Marketing Milestones
Many eLearning content development companies make the mistake of biting off more than they can chew. It's essential to set manageable milestones that allow you to measure success along the way, instead of waiting until the end of the campaign to evaluate the results. That said, your marketing schedule should include a monthly review session. This gives you the chance to get a high-level overview of PPC performance, then create a new plan of action for the next phase to improve ROI. For instance, next month you may want to focus on new markets or keywords based on the performance metrics.
Conclusion
An eLearning business directory listing with PPC can give your marketing strategy a jump start, whether you're new to the industry or just need a little promotional boost to expand your client base. It also includes a landing page optimization to ensure PPC success and get rapid results. Best of all, you have total control of your marketing spending, since the PPC campaigns feature transparent geo-bidding for over 200 countries.
The eLearning Industry directory gets more than 30,000 visitors. Maybe that's why hundreds of vendors list with us to reach their niche audience. There are even ratings and reviews to help buyers qualify vendors, which gives you the opportunity to build social proof.
Download the eBook Standing On The Top: Analyzing An eLearning PPC Business Directory From A To Z to launch your listing and achieve PPC success.