Authoring Tool Software Criteria To Measure PPC Success
Authoring tool software criteria for PPC campaigns can help you fine-tune your strategy and stretch your spending. Unlike many other marketing methods, there's an exact science behind it, a formula to follow if you want to evaluate success and calculate ROI so that you can decide if your current approach is working, and how much you should spend on PPC moving forward. Success means something different for everyone. But I think we can all agree that the ultimate goal is to maximize sales and minimize spending, regardless of your desired outcomes or objectives. After you list in the directory for authoring tools, use these metrics to measure success.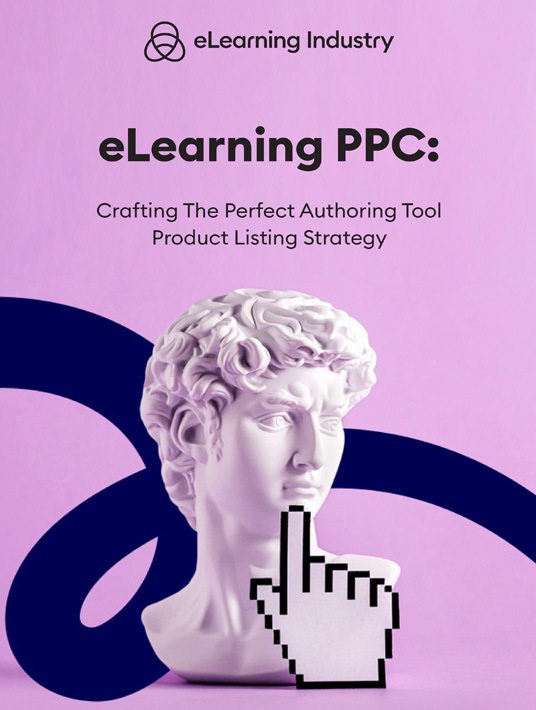 eBook Release
eLearning PPC: Crafting The Perfect Authoring Tool Product Listing Strategy
You have the opportunity to maximize results with a PPC listing, which drives even more traffic to your landing page and improves conversions!
1. Overall Clicks
This is the most straightforward marketing metric. It's simply the number of people who clicked on your PPC link. That said, it's also one of the most crucial criteria for success since it sets the benchmark for your marketing costs. For instance, 250 leads have clicked on your ad this month, which was your overall PPC spending. How many sales-free trial/demo sign-ups did you get from those clicks? And how many of those resulted in sales?
2. Click-Through Rate (CTR)
The beautiful thing about PPC ads is that you only pay for clicks. However, you should also look at the complete picture. For example, click-through rates help you determine the overall success of your campaign based on the clicks to impressions ratio. If your ad appeared 2500 times this month and there were 375 clicks, then your CTR is 15%. Is there anything you can do to drive more traffic to your landing page? Maybe improve your CTA or include different keywords?
3. Cost-Per-Click (CPC)
The cost-per-click is usually an average, as PPC campaigns don't involve flat fees. To calculate CPC, simply divide your total cost by overall clicks. Of course, some clicks are costlier than others, which is why it's essential to evaluate daily PPC performance to see which keywords are outperforming others. The best eLearning authoring tools can create a directory listing with PPC and flexible reports, which allows you to monitor KPIs and CPCs with graphs and charts.
4. Customer Acquisition Cost
The customer acquisition cost or cost per acquisition (CPA) determines how much you've spent for every new customer. Let's say that your marketing budget was $500 last month, and you acquired five customers. That means that your CPA is $100. But that number is only half of the equation since the total sales are more important. For example, those five customers purchased multiple licenses each for a grand total of $5000, and that's a significant profit margin.
5. PPC Quality Score
This is a score primarily used by Google. Essentially, it determines how relevant your keywords are based on the search query. The click-through rate, your landing page, and ad group are all used to calculate the score. The main benefit of a high-quality PPC score is that you rank higher in the search engines. Plus, it ultimately factors into the CPC calculations and bid amounts.
6. Conversions
This is the number of site visitors who actually converted into customers. For instance, you had 200 click-throughs and 20 of them purchased your eLearning software. That translates into a conversion rate of 10%. However, you never know which visitors will click, then come back later to buy your product. As an example, they have to make a business case to secure funding after their fact-finding mission.
7. Projected Sales Versus Actual Sales
This authoring tool software criteria for PPC success is a bit more challenging to evaluate, as it pertains to expectations versus reality. In short, how many sales did you get from the listing with PPC, and how many people actually clicked that "buy" button. You also have to consider free trials and demos. These leads provided their basic info to sign up, which is valuable since you can follow up and add them to your marketing list. They weren't direct sales, but they might purchase your platform in the near future.
8. Length Of Time
How much time does it take for your PPC campaign to yield results? One of the perks of a directory listing is that buyers can see your product page right away. It's free to list, then you can optimize performance with PPC. As such, you need to determine how much you spend every month and then adjust your spending. For instance, you should devote more to your PPC budget leading up to a special promo or event. You can also evaluate reports to see if there are any peak marketing periods.
PPC Budgeting Bonus Tip
Setting a realistic PPC budget can be a daunting task. You need to consider everything from sales forecasts to current marketing trends. The good news is that you have experts on your side when launching a PPC listing. Experienced marketing advisors and landing page consultants can help you craft a budget that's just right for your business. You can also adjust your spending cap at any point to maximize resource allocation.
Conclusion
Success is different for every organization. However, this eLearning software criteria for PPC campaigns can help you measure accurate ROI and improve your profit margins, which means that you can set your own parameters for success based on company goals and objectives. Also, keep in mind that listings with PPC come with a personal marketing advisor. They can point you in the right direction so that you minimize spending and achieve rapid results.
Our exclusive eLearning software directory has all the leading vendors. There's just one missing (yours!). Take a moment to evaluate our platform and see why it's a good fit for your marketing strategy.
Download the eBook eLearning PPC: Crafting The Perfect Authoring Tool Product Listing Strategy for insider tips to launch a successful PPC plan of action.