How To Build Your Personal Branding And Boost Your Business In A Guest Post
There is no doubt that the joys of blogging are plenty: improving your writing skills, sharing your stories and experiences, and creating a community that is open to offering and receiving valuable insight. But despite the personal benefits, what pulls professionals to blogging is the promise of personal branding and boosting their business. In this article, you'll discover tips on how to promote your personal brand and business by guest posting for the eLearning Industry website.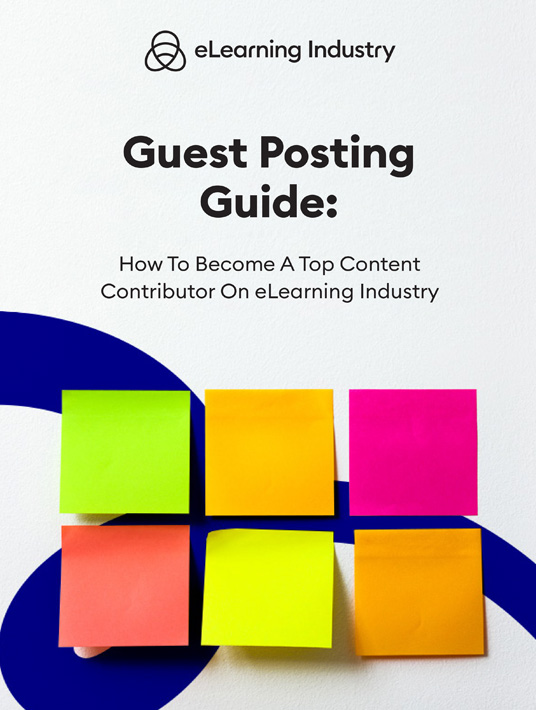 eBook Release
Guest Posting Guide: How To Become A Top Content Contributor On eLearning Industry
Discover what you gain by guest blogging and what are the basics of writing a guest post for eLearning Industry.
3 Ways To Promote Your Personal Brand In Your Guest Post
Your personal brand refers to the way you choose to promote yourself. It encompasses the special skills, expertise, and personality you want the world to associate with your business. It's what sets you apart from the competition and allows you to establish yourself as an authority in the industry. But how can you build your personal branding when you are guest blogging for another website? Here are 3 ways you can incorporate your personal branding in your guest posts without coming off as overly promotional.
Create An Author Profile
Usually, when you first sign up for a website to create guest blogs for them, you create an author profile. But instead of treating this as nothing more than a prerequisite, use it to your advantage. Describe briefly who you are, what your business does, and what makes it special. Add your full name and a picture to make your profile approachable and create a personality people can associate with your brand. Your author profile is also the place where readers find links to your website and social media, as well as any previously published guest posts. These will drive traffic to your website and enhance your online presence.
Link To Your Website
Backlinks are another way you can subtly enter your personal branding in a guest post and drive traffic back to your website. Although promotional links that lead to landing pages or sales pitches rarely get the green light, you have a much better chance if you add a couple of informational links to your content. Those no-follow backlinks can lead to informative content on your website that could be supplementary to your guest post. Consequently, you enhance your argument and build your authority while allowing readers to discover your personal platform and the rest of your content.
Choose Your Topics Wisely
The tips mentioned above help readers put a name to the content they're reading and increase awareness of your business. However, if you want your personal branding to really shine through your guest posts, you need to be consistent. Figure out your niche and the way you want to approach issues, and create your personal style. Blogging about irrelevant topics or alternating between writing styles can prevent you from creating a unique voice for your brand. As a result, you'll blend into the rest, and readers won't return to read your content.
How To Turn Your Guest Post Into A Business-Boosting Opportunity
These days, everyone is trying their hand on guest posting as a marketing strategy for their personal brand and business. And with good reason, as it increases website traffic, brand awareness, and SEO rankings. However, writing a guest post doesn't automatically guarantee success and an influx of visitors. This article aims to help you make the most out of your guest posts and turn them into opportunities to boost your business. Here are 6 tips to get you on the right track today:
1. Identify Industry Influencers
Before you start writing, you need to figure out who you're writing for. Start by identifying your target audience and then search for websites that cater to them. You can find those by searching online for target keyphrases that you're interested in writing about, as well as websites your competitors use for exposure. Compile a prospect list of the top relevant sites that attract the most traffic, shares, and links to their articles. Finally, make sure that they accept guest posts and are looking for new content at the moment.
2. Build Relationships
Now it's time to create a relationship with your top picks. Although cold pitches work for some people, most websites won't immediately trust someone that sprung up in their inbox. Therefore, try to get acquainted with their website before you send your content. Read through their articles, sign up for their newsletter, and engage with them through comments and shares on social media. This way, when you present them with your content, they'll be more inclined to look into it and maybe publish it. In any case, you're gaining valuable contacts for the future.
3. Hone Your Pitch
Pitches differ from one another, but one thing is certain: they can get you approved or rejected in a matter of seconds. Editors receive countless articles every day, so you need to make yours count. Clearly communicate your personal brand, the topics you deal with, the title of your article, and how it would benefit readers. Be concise, to the point, and authentic. This isn't a job interview; you just have to prove that your unique knowledge and experience will add value to their site's content.
4. Create Quality Content
In a world where there is no shortage of guest bloggers, you need something more than a good pitch to stand out. And that is content that offers a unique and informed perspective to professionals. To find the best topics to tackle, try to solve problems that you or people you know are facing, look at the most common questions people ask, or share advice that you would have found useful at an earlier stage of your career. Make a list of potential topics and update it frequently to keep your content fresh.
5. Know Your SEO
An extension of writing quality content is knowing how to make it SEO-friendly. Using keywords that generate the most traffic and adding relevant and informative inbound and outbound links shows the webmasters you've done your research. SEO techniques help your content rise through SERPs, benefiting both you and the website that's publishing your guest post. However, there's no need to flood your content with keywords. Use them moderately and let your authoritative content do the rest.
6. Promote Your Content
If you want your guest post to efficiently boost your business, you shouldn't leave all the work to the website. Once your content is published, share the link on your social media profiles to attract more traffic. You can also send a thank-you letter to the publisher to further develop your relationship with them. Remember to keep track of your published guest posts so that you can link back to them in the future. This way, you can improve your SEO ranking and promote your personal brand even more.
Conclusion
Success doesn't come overnight, so you should be prepared to work hard until your guest posts start bringing in results. If your content gets rejected, return with a better-executed post, or better yet, a more engaging topic. Follow-up emails can be annoying, but they are better than giving up. So, be patient and keep improving your guest blogging marketing strategies with the tips we have shared. Before you know it, you'll be able to create guest posts with high approval rates that generate valuable traffic for your website and boost your business's success.
Download our eBook Guest Posting Guide: How To Become A Top Content Contributor On eLearning Industry to learn what you can gain by guest blogging and what are the basics of writing a guest post for eLearning Industry.