Make The Most Of Video Conferencing Software Reviews
The great thing about video conferencing software reviews is that they offer a sneak-peek into customer experience (CX) without spending a dime. You can also evaluate the tool's usability and overall usefulness to ensure it meets your standards. But what should you look for? How can the pros and cons improve ROI and narrow the options? Above all, ratings and reviews should be authentic so that you know how the platform performs in the real world. No sponsored testimonials that set the bar high and eventually lead to post-purchase regrets. These tips can help you make the most of video conferencing software reviews to benefit your bottom line.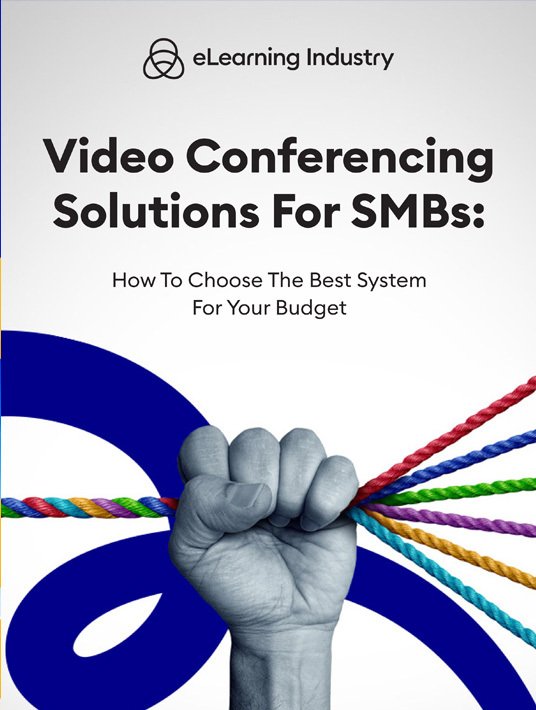 eBook Release
Video Conferencing Solutions For SMBs: How To Choose The Best System For Your Budget
Is there a cost-effective way to vet vendors and choose the best tool in your price range? This ultimate guide walks you through every step of the process.
Top Tips On Using Video Conferencing Software Reviews To Maximize ROI
1. Rely On A Reputable Online Directory
Niche-specific directories gather all the information you need to make the right buying decision, including honest reviews that aren't sponsored by the vendor or their competition. Verify how long the directory's been around and if it has a positive reputation. There should also be supporting documentation to help you get the best value for money, for instance, articles and tip sheets that walk you through the process and highlight key features to look for.
2. Consider The Use Case
Users who leave reviews and ratings in an exclusive online directory must provide some background information, such as their industry, company size, role, and focus. Thus, you can focus on reviews that align with your use case and software requirements. For instance, the reviewer is in the same industry and staff size. So, when they say that the tool lacks scalability and is challenging to use, their opinions carry more weight. That said, you should still read all the reviews to get the complete picture.
3. Evaluate The Performance Overview First
The performance overview at the top of the listing sums up the user experience. It covers usefulness, usability, and CX, as well as the likelihood to recommend score and overall rating. It's a quick way to evaluate vendors before you dive into the user reviews and individual ratings. That said, you may want to dig deeper if the vendor's already on your shortlist. For instance, they received a 75% satisfaction score. Why did users deduct stars? Can they provide a valid reason?
4. Weigh Pros And Cons That Align With Your Priorities
Even the best video conference technologies may fall short for some companies. It's because their priorities simply don't mesh. They might need advanced recording tools to build their webinar library. However, the platform doesn't include that in the basic pricing plan. It's crucial to evaluate the pros and cons of each tool based on your L&D strategy and employee expectations. Something that might be a deal-breaker for one business is minor for another.
5. Look For A Pattern
Most of the reviews are favorable, but there's one that falls at the other end of the spectrum. It's a scathing review of the vendor and their business practices. In fact, this review seems to contradict all the others. Fraud prevention helps prevent disingenuous ratings and reviews, but you still need to consider the overall performance and look for patterns. For instance, that one negative reviewer might have a score to settle. The vendor didn't give them a discount or maybe they're simply having a bad day. In other words, don't let one review sway your opinion either way.
6. Visit Their Social Media Page And Website
Reputable review platforms are the best place to start. However, you should always verify their social media presence to see how they interact with customers. Does it take them a week to respond to questions that people leave on their page? Do they snap at customers who leave negative opinions, even if they're perfectly civil? Do they seem to know a lot about their product and video conferencing technology? Don't stop at their social media profiles. Check out their blogs, online forums, and YouTube channels, if applicable. Finally, look for review sites that allow vendors to respond so that you get both sides of the story. For instance, they're able to leave a brief reply to give context, or even invite customers to email them directly and resolve the issue.
7. Go Beyond The Overall Rating
That overall rating at the top of the listing isn't the be-all and end-all. There are a variety of factors to consider. For example, many of the negative reviews date back two years ago but the more recent reviews are much improved, which tells you that the vendor has taken the feedback into consideration and made significant changes to their business strategy.
Bonus Tip: Contact Vendors For Clarification
Don't hesitate to reach out to video conference companies directly to evaluate their customer service and support. You don't have to wait until after you purchase the video conferencing system to test their insider know-how or customer care. For instance, send an email and see how long they take to respond. More importantly, how do they reply? Is it a template email that doesn't even answer your question? Or do they take the time to personalize the response and address your concerns?
Conclusion
Video conferencing software reviews shouldn't be all-out attacks on the vendor, nor should they sugar coat the UX for the sake of sparing the vendor's feelings. First and foremost, you need to find a review platform with fraud prevention, as this weeds out the extremes and provides you with honest user feedback. For example, every review in our video conference companies directory is manually checked before it goes live. Users must also sign in to leave their rating, just as vendors need to create an account before they list.
Is there a cost-effective way to vet vendors and choose the best tool in your price range? Our eBook Video Conferencing Solutions For SMBs: How To Choose The Best System For Your Budget can help you find the best tool for your business!