How A Video Conference Software Directory Takes the Stress Out of Searching
They say that you get what you pay for. The exception to that rule is an exclusive video conference software directory. It features all the product specs, selling points, and support services in one location. Best of all, it's free to use and easy to navigate. You get to peruse all the top platforms in your price range and read user reviews, as well as compare the web video conferencing software solutions on your shortlist side-by-side. So, let's break down the many ways that listings can take the stress out of your software search.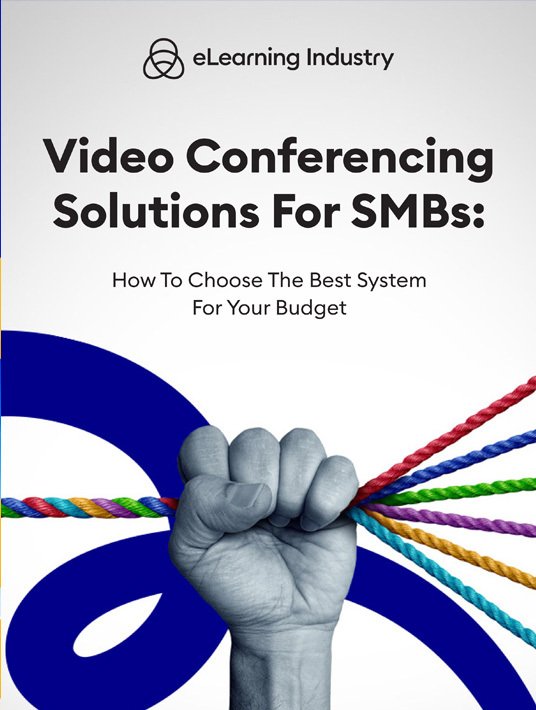 eBook Release
Video Conferencing Solutions For SMBs: How To Choose The Best System For Your Budget
Is there a cost-effective way to vet vendors and choose the best tool in your price range? This ultimate guide walks you through every step of the process.
Crucial Ways A Video Conference Software Directory Can Simplify Your Search
1. Centralizes All The Vendor Vetting Info
Let's be honest, there's nothing fun about software window shopping. You have to visit countless websites, looking for specific buzzwords that indicate whether the tool's right for you. And that's only if you find the right keywords to search for. These days, many companies use underhanded SEO tactics, so they show up even if they don't really meet your requirements. However, an online directory makes it easy to evaluate top vendors because they're all gathered in one virtual location. There are even built-in filters to simplify the process, for instance, only display vendors with specific pricing models or deployment types.
2. Allows You To Quickly Compare Product Features
Most vendors outline all their key selling points on their website or landing page. The trouble is that they're usually scattered around, or you have to compile your own comparison list after you visit each vendor. And who has that much time...or patience? The exclusive online directory gives you the chance to quickly identify the web video conferencing software features. You can even choose up to three vendors and evaluate them side-by-side. Plus, all their selling points are categorized so it's easy to find tools that offer the best value for money. For instance, which platforms have whiteboards and customizable branding?
3. Outlines Popular Pricing Options
Going over budget isn't an option, but how do you know which vendors fall into your price range? The online directory covers every aspect of pricing including the model, license type, starting price, and a brief cost overview. For instance, the provider can add a description of their fee structure and bulk pricing options. As such, you can rule out vendors that you simply can't afford and zero in on those that improve ROI.
4. Filters Out Sponsored Reviews
These days, it's hard to distinguish paid reviews from authentic ones. In fact, some companies invest in marketing campaigns that drag other software's reputations through the mud. For example, they hire people to leave negative reviews for competitors. One of the perks of an exclusive online directory is fraud prevention. They manually review all the comments left by users before they're posted to the site. Users also have to log in with their LinkedIn or eLI accounts to submit a review.
5. Focus On Platforms That Support Your Use Case
You need a video conferencing system that aligns with your use case, one that serves its niche purpose for your organization so that you can get the most from your investment. As an example, you're looking for a tool that handles webinars and VILT sessions so you can focus less on back-end collaboration features and more on event hosting. Filter directory results by customer type and industry to find the perfect fit. You should also check out the product overview for more details like the real-world benefits and sectors that they cater to.
6. Find Vendors That Offer Free Trials And Demos
The only way to see if the system lives up to expectations is to try it for yourself. Another reason to search online directories is to identify which vendors offer free trials or demos. They usually mention this on their website but, once again, listings help you save time and simplify the search. The pricing options section includes a spot for free test drives, so vendors can specify whether they offer trials and details for how to sign up.
Insider Tip: How To Qualify Exclusive Online Directories
A major hurdle is finding exclusive directories that you can trust. Try to avoid generic sites, as they usually skip over the key selling points. Or they don't have any submission guidelines, so everyone can create a listing. Ultimately, you need a directory that specializes in online training technologies and eLearning providers, as they understand which features and support services deliver the best ROI. In other words, which USPs matter most to your organization. So, how do you qualify directory sites before diving in headfirst? Above all, they should have a solid track record, for instance, they've been around for years and they're active on social media. Their name is frequently mentioned in eLearning discussion groups because they're an industry thought leader. It's also crucial to consider their traffic stats and the number of listings. As an example, eLI features hundreds of software providers and outsourcing partners.
Conclusion
A video conference software directory helps kick off your search because all the crucial buying info is in one spot. Then you can visit vendor sites and social media profiles to dig deeper, or even contact them directly to submit video conference system RFPs and ask targeted questions. It's also important to note that not all directories are not created equal. Don't let sponsored ratings or reviews cloud your judgment. Instead, consider the source and opt for directories with social proof and tie-in resources.
Is there a cost-effective way to vet vendors and choose the best tool in your price range? Our eBook Video Conferencing Solutions For SMBs: How To Choose The Best System For Your Budget can help you find the best tool for your business!