Find The Ideal Web Conferencing Tool Through An Online Directory
Contrary to popular belief, online meeting platforms aren't the same as free video chat tools. Built-in whiteboards, breakout rooms, and webinar support are just a few features that set them apart. So, how do you find the best paid solutions for your SMB? It all starts with a web conferencing software directory that sums up the key selling points, support options, and pricing models. Once you find a reliable site that's free of sponsored reviews, how do you choose the best web conferencing tool for your team? Here are 7 top tips to make the most of web conference listings and avoid buyer's regret.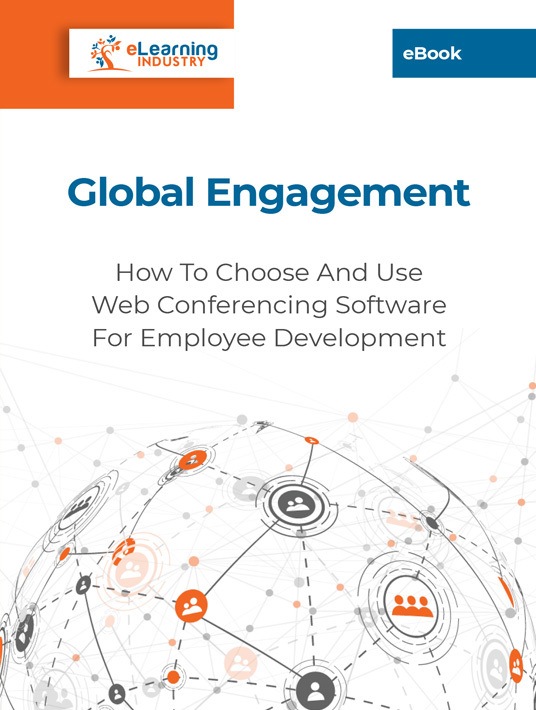 eBook Release
Stay Locally. Engage Globally!
Looking for a web conferencing solution? Read this guide and make the best choice according to your needs!
1. Choose A Reliable Online Directory With Unbiased Reviews
The digital meeting solutions directory should be free of exaggerated claims and biased ratings. Furthermore, there must be evaluation criteria in place so that the scores carry weight. For example, the overall satisfaction rating can be based on Customer Experience and usability. The online reviews should explore the pros and cons of the platform and include specific use cases. Should the user provide some basic info, such as project scope and industry? Do they have to log in through a social media account? These measures are deterrents to ensure that online reviews are authentic and unsponsored.
2. Expedite The Search With Built-In Filters
You may not have the time—or patience—to peruse the entire webinar management tool directory. Fortunately, there are integrated filters to speed up the search and help you narrow down the options. Simply select the features you're looking for, pricing options, industry or customer type to quickly identify top contenders. You can also organize results by the highest rating to see who outshines the web conference competition.
3. Evaluate The Platform's Key Selling Points
Every listing includes a detailed list of the online meeting platform features. These range from whiteboard to instant messaging. Do you need a web conferencing tool with multi-language support or third-party recording? Can your L&D team benefit from attendance and online training materials management? Does it feature built-in recording and editing tools so that you can upload the event to your online training library? Can you integrate social media and discussion boards to boost online collaboration?
4. Determine The Best Deployment Type And Pricing Model
Some platforms are hosted on the cloud, while others are locally installed. You must determine which deployment type is best for your organization. Do you need a mobile application for anytime, anywhere accessibility? Will a cloud-based platform streamline collaboration among your geographically dispersed L&D team and/or external partners? Another factor to consider is the pricing model. Are you looking for a one-time licensing fee or a monthly subscription? There are also free or freemium options, but they usually have limited features or require a high degree of IT expertise.
5. Consider Customization Options
One of the primary perks of paid digital meeting solutions is that you can customize the platform, for example, by incorporating your logo and color scheme. But different vendors offer different customization options. Can you personalize the eLearning templates to reflect your brand image or training topics? Are you able to integrate third-party software to maximize functionality? Customization goes beyond brand identity. You must also ensure that the online meeting platforms are compatible with your existing online training toolbox and content formats.
6. Compare Your Top 3 Contenders
The online directory has a comparison tool to help you weigh the top 3 contenders side-by-side. However, you can also delve deeper into their background, features, and ratings on your own. Compile a shortlist then check out their respective landing pages. Have your evaluation criteria on-hand so that you know which USPs to prioritize. For example, you may need a web conferencing tool with instant messaging and breakout rooms to offer personalized support. But maybe you're also looking for online meeting platforms with a vast knowledge base so that you can troubleshoot issues in-house.
7. Contact Prospective Vendors For Detailed Specs
The web conferencing software directory gives you a detailed overview of the platform's features. But you may need to contact the web conferencing vendor for more info. Visit their site to learn more about their customer base, industry experience, and technical specs. Which formats does the platform support, and can you repurpose existing assets? Do they offer more advanced support options, such as phone or live chat? What is the process of downloading and setting up the web conferencing tool? Are there tutorials and demos to walk you through each step? How many users does it accommodate at one time?
Set up a meeting with the vendor or simply contact them via email with a list of targeted questions. You can also sign up for a free demo to see how it performs in the real world. Can your employees quickly customize the platform and master the features or should you expect a long setup process?
An exclusive web conferencing software directory shouldn't be the end of your search. You still need to vet web conferencing vendors, sign up for free trials/demos, and gather team feedback after the test drive. There's also a fair amount of prep worked involved before you click on the first listing. Create a budget, implementation timeline, and must-have features list so that you know what to look for. Ask for input from your L&D team and front-end users to gauge their level of tech experience. You must also get a rough user count and identify their accessibility preferences. An in-depth TNA might also be in order so that you can disclose gaps the web conferencing tool can help you fill in.
Want to learn more about the benefits web conferencing software can offer to your organization? The eBook Global Engagement: How To Choose And Use Web Conferencing Software For Employee Development is full of helpful tips and innovative solutions that will help you retain the effectiveness of your online training strategy and build a strong company culture even if your workforce is working from home.