Become A Trusted Partner To Your Organization
With increased pressure to be more agile and responsive than ever—hello, pandemic, I'm looking at you!—it's understandable that L&D teams might be looking for ways to scale back or sidestep the training needs analysis process altogether. But this is a mistake.
As L&D professionals, we all face similar learning design challenges. We need to create solutions that:
Meet the needs of the business and impact performance
Deliver engaging, relevant, and meaningful experiences for learners
Are designed and developed within a defined set of constraints (time, scope, and cost)
Have leadership sponsorship, buy-in, and backing
These challenges apply whether we are developing an enterprise-wide solution that is being rolled out to tens of thousands of people or a targeted solution for a smaller team.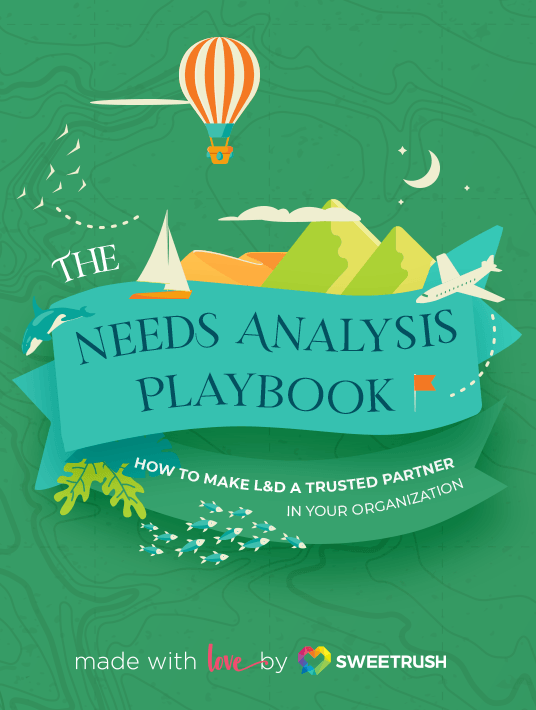 eBook Release
The Needs Analysis Playbook: How To Make L&D A Trusted Partner In Your Organization
Elevate your eLearning solutions and achieve business objectives. Discover insider secrets to conduct a needs analysis and obtain stakeholder buy-in.
But how can we impact the business and affect performance if we don't know what the business needs or the desired outcomes are? How can we engage learners if we don't know what they find engaging? How can we stick to a budget and timeline if we don't fully understand what the solution looks like? And how can we get leadership buy-in when we don't fully understand any of the above yet? The truth is that we can't do any of these things without performing a needs analysis.
Let's break each challenge down one by one and show you how a needs analysis is an essential step that will set you up for success.
Learning Design Challenge 1: My Solution Needs to Meet the Needs of the Business and Positively Impact Performance
Training Needs Analysis Solution: Perform a Stakeholder Analysis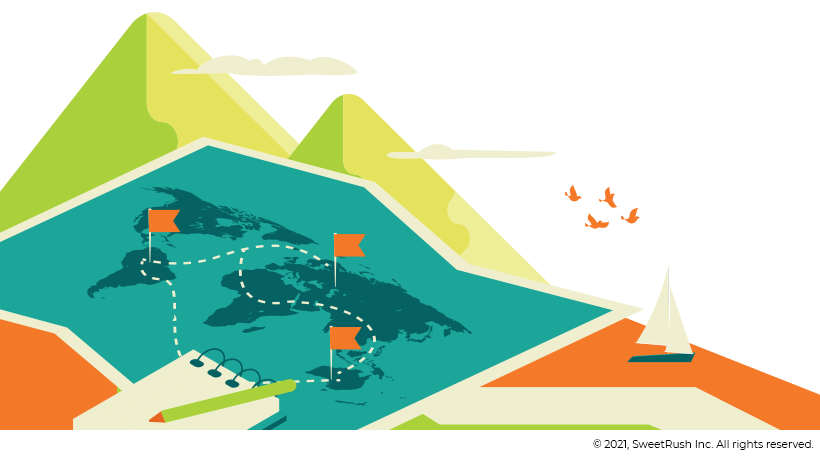 Think of the stakeholder analysis results as your North Star. The knowledge and insights you capture here will steer everything that follows—not only in the rest of the needs analysis but also throughout the process of designing, developing, implementing, and evaluating your learning solution. The stakeholder analysis tells you:
What has driven the business need and what the problem is that you are trying to solve
What the desired outcomes are and what success looks like
Who the target audience is and whether you need to consider other audiences' needs, either now or later in the process
What the performance gaps are and what your learning objectives should be
Which evaluation strategy you need to implement and how you will measure success
Above all, the stakeholder analysis will give you the answer to the $10 million question: Will training solve the problem? And what, if anything, will you need to ensure success (business champions, change management strategies, updates to policies or procedures, mindset shifts, etc.)?
Sounds Great! How Do I Do It?
Partner and consult with your stakeholders to find out what it is they are looking for. Engage them fully in the process, and keep them informed throughout. In Chapter 1 of our new guide, The Needs Analysis Playbook, you'll find the six stakeholder questions that will get you the answers you need.
Learning Design Challenge 2: I Need to Create an Engaging, Relevant, and Meaningful Learner Experience
Training Needs Analysis Solution: Perform a Learner Audience Analysis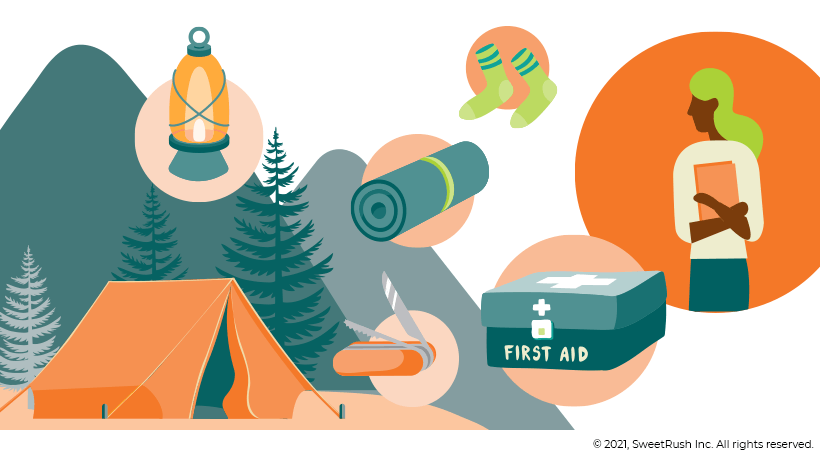 We live in an age in which customer experience (not the product) is king. So what does this mean for L&D? We need to shift our approach to learning solution design and focus on the entire learner experience, instead of only on outcomes.
With the best will in the world, stakeholders and managers will try to "help" you by telling you things like: I know these learners well; I've worked with them for years; or, I know what they will respond to. But the truth is: No one can tell you how the learners like to learn except the learners themselves. 
During the learner audience analysis, you'll uncover:
What learners already know and what they can do
What factors are enabling them to perform and what barriers are preventing them from performing.
When, where, and how they like to learn; what motivates and engages them; and what could be a turnoff
Sounds Great! How Do I Do It?
Head straight to the source. Meet with a representative sample audience, and find out what you need to know in order to create the best possible experience. For a list of questions and techniques to help you interview learners without actually interviewing them, see Chapter 2 of The Needs Analysis Playbook.
Learning Design Challenge 3: My Solution Must Account for the Project Constraints (Time, Scope, and Cost)
Training Needs Analysis Solution: Analyze the Constraints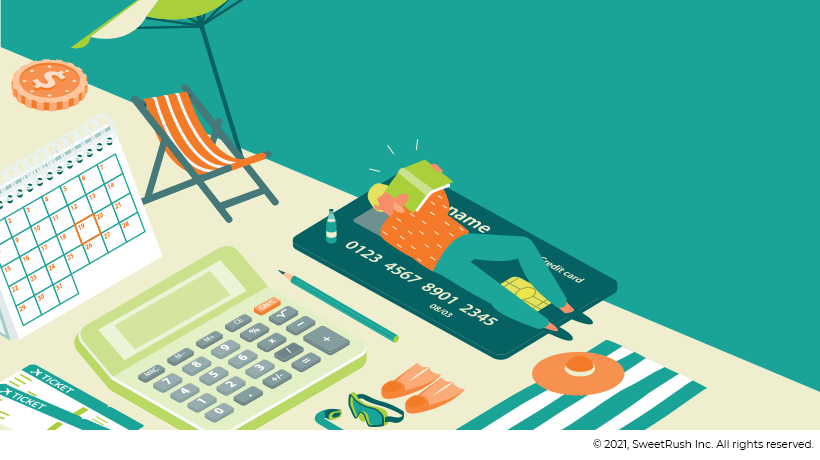 Constraints can be defined as anything that sets limits or places boundaries on your learning solution. Constraints are usually discussed in terms of scope, time, and costs.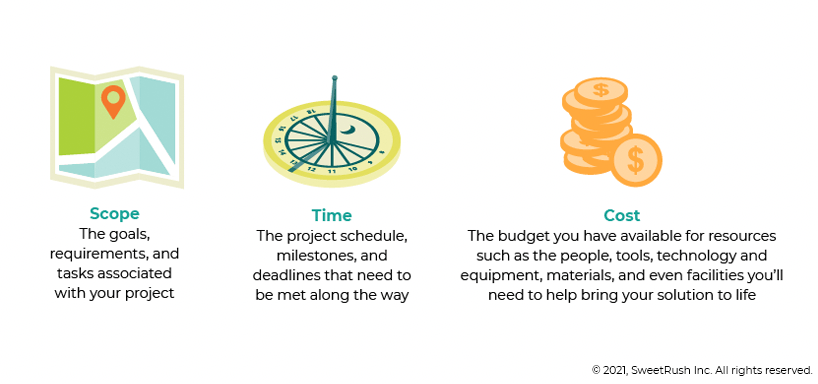 Depending on how you have been engaged to work on your learning solution, you'll be dealing with constraints in one of two ways: you'll have been given a fixed budget and timeline to work with or you'll be in a position to influence the constraints. Each situation requires a slightly different mindset and approach to the analysis but is equally revealing.
If you're working with a fixed budget and timeline, mapping out all of the constraints will help you to quickly identify whether what you are setting out to do is achievable. You'll be able to see what your big ticket items are and where you might need to scale back any efforts—also, what, if any, wiggle room you have to play with.
If you're in a position to be able to influence the scope, time, and cost of the project but need stakeholder approval, mapping out the constraints will help you facilitate that conversation.
Sounds Great! How Do I Do It?
Map out the tasks (scope), time, and resources—think people, equipment, materials, and other costs—you anticipate needing. You can use ADDIE as a framework here by identifying what (and who) it will take to design, develop, implement, and evaluate your solution. Visit The Needs Analysis Playbook Chapter 3 for a much deeper dive into this critical step.
Learning Design Challenge 4: I Need Stakeholder or Leadership Buy-In, Sponsorship, and Backing
Training Needs Analysis Solution: Prepare a Needs Analysis Report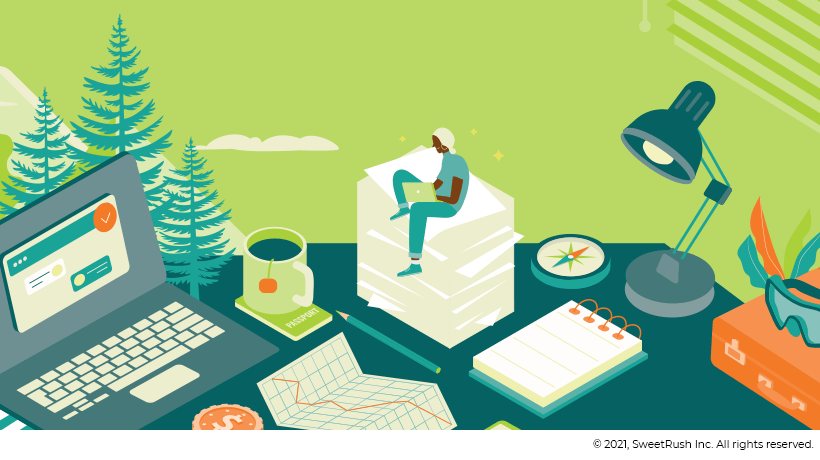 You've put in the time. You've asked the questions. Now it's time to step back, take a deep breath, and get ready for the final push to the finish line as you prepare your needs analysis report.
Why prepare a report? If you want to get buy-in from stakeholders and if you want L&D to be seen as a trusted partner, you need to speak their language. You need to show the stakeholders that you have listened to and understood their needs. That you care about the learner experience as much as you care about the outcomes. That you understand the constraints and have anticipated any potential red flags. And, most importantly, you need to show them how your recommendations meet all of their needs.
The needs analysis report solidifies your position as a consultant by:
Translating the work you've done as a learning professional into language that stakeholders understand
Turning wants and needs into problems and solutions
Showing what success looks like, what it will take to get there, what the risks are, and how you will measure it
Backing up your recommendations with data and insights
Sounds Great! How Do I Do It?
Begin by gathering all of the data and insights you have collected and asking, so what? What does this information tell me about what the solution should be? And how does it align with the business need?
Treat each piece of data like this until you have a clear picture of what your solution needs to consider. When writing your report, structure it in a way that takes the reader on a journey: Start with the business needs, then describe your analysis approach before presenting your findings and recommendations. See Chapter 4 in The Needs Analysis Playbook for a step-by-step guide to data analysis, synthesis, and report writing.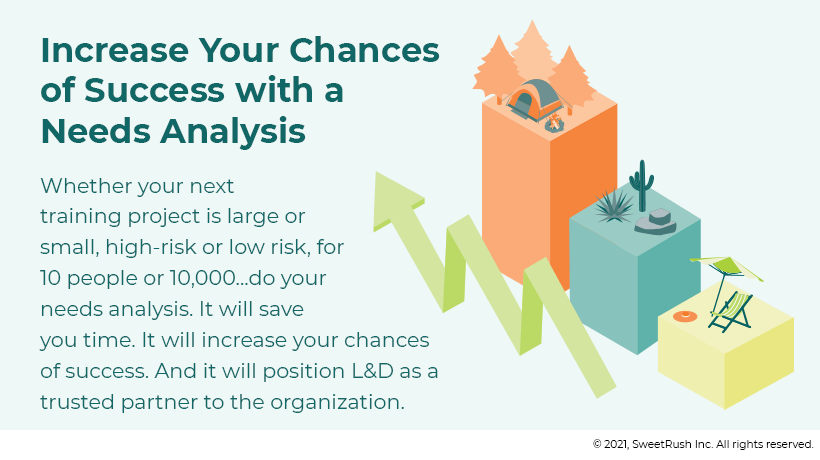 Need help navigating needs analysis? Take a journey with us and download our eBook, The Needs Analysis Playbook: How To Make L&D a Trusted Partner in Your Organization. This essential guide walks you step-by-step through all four steps of the training needs analysis process (stakeholder analysis, learner audience analysis, constraints, and the needs analysis report) and is packed with additional tips and resources to help you succeed.

SweetRush
Our job is to help you achieve your objectives and be successful. Engage us at any point, from analysis to custom development (including e-learning, mobile, gamification, and ILT) to evaluation.