Launching A Successful VILT Strategy
Every organization should prioritize compliance, like maintaining a sanitary workspace or staying home when you're sick. But the COVID-19 crisis takes it to a whole new level. The challenge is that new performance behaviors and habits take some "getting used to." They aren't second nature to employees. At least, not yet. So, how do you help your team acclimate to the new normal when ILT is no longer feasible? Our eBook, LMS Buying Guide: How Virtual Classroom Software Will Help You Overcome The COVID-19 Crisis, has all the info you need to launch a successful VILT strategy, from choosing the right tool to developing engaging activities. First, let's take a closer look at 6 virtual classroom LMS implementation mistakes you should avoid.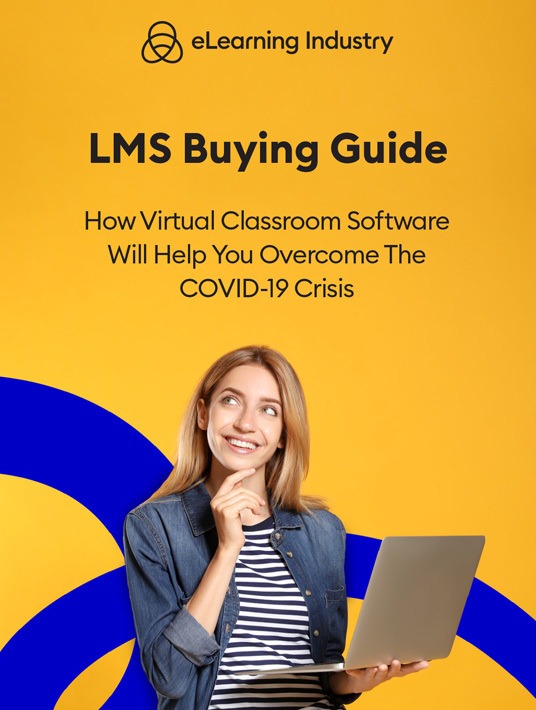 eBook Release
LMS Buying Guide: How Virtual Classroom Software Will Help You Overcome The COVID-19 Crisis
Discover all the insider tips to choose the best virtual classroom software for your business and adapt to the new reality.
Virtual Classroom LMS Implementation Mistakes
1. Unrealistic Budget
Some organizations rush into vendor vetting with outdated budgets. Or they're working general estimates instead of concrete figures. You must develop a realistic budget before doing your LMS homework. How much can you spend on a new Learning Management System? What do you expect from the investment? And is there a spending cap per active user? While you're at it, create an implementation timeline so you know how much to allocate for payroll.
2. Limited Vendor Support
Different virtual classroom training software vendors provide different support options while some stick with FAQs and online forums. Others have phone, email, and live chat assistance. The secret is to choose a vendor that delivers the right level of support for your team. Keep in mind that certain services involve additional fees. But they're well worth the investment if your staffers are less experienced and need that one-on-one guidance. For example, they can call the tech experts to resolve software glitches or authentication errors. This is more cost-effective than hiring a full-time support team for your virtual classroom training program.
3. Learning Curve Miscalculations
Your L&D dream team should master the new tool from day one, right? Worst case scenario, they need a few days to explore the features and find their footing. In reality, your employees will need plenty of time to overcome the learning curve. Granted, it shouldn't take them months to learn the most basic functions. But it's never wise to rush the process. Survey your team to gauge their level of experience. Then leave a little buffer in your learning curve estimates. Also, consider creating support resources like online training tutorials and product demos. Or see if the vendor already has them in their knowledge base.
4. Prioritizing Price
Price is always an important decision-making factor. However, it should pale in comparison to value for money and ROI. The tool may be more expensive than other virtual classroom software, but does it deliver better value? Does it offer more features that, ultimately, benefit your bottom line? The tricky thing about ROI is that it involves intangibles. Essentially, training elements that are more difficult to measure or trace back to LMS features, like knowledge retention or boosting team morale. That said, you can use employee feedback and assessments to fill in the Big Data gaps.
5. Ineffective RFPs
RFPs need to strike a balance. You can't include too much information because vendors don't have time to peruse a 20-page document. On the other hand, you can't just jot down your spending cap and online training use case. As it doesn't give vendors enough information to work with. Effective RFPs get results. So, include the project scope, online training objectives, and other pertinent details if you want accurate cost estimates.
6. No Training Needs Analysis
Many businesses are switching to virtual classroom software in response to the Coronavirus crisis. But that's not the only reason. You need to conduct a Training Needs Analysis to identify existing gaps. Namely, those that were already there before the pandemic changed the L&D landscape. Performance, knowledge, and skill gaps are still relevant. Thus, you need a virtual classroom LMS that addresses all these core issues and the new COVID-19 compliance topics.
How To Launch Virtual Classroom Training For Your Remote Workforce
Employees expect a safe training environment that provides ongoing support. Virtual classroom software can help you meet their needs as well as minimize the emotional impact the pandemic has on your remote workforce. Here's a brief glimpse of what you'll find in LMS Buying Guide: How Virtual Classroom Software Will Help You Overcome The COVID-19 Crisis:
Benefits Of Virtual Classroom Software Versus ILT To Face The Coronavirus Crisis
Tips To Choose The Best Virtual Classroom Software Today
Virtual Classroom Software Comparison Techniques To Maximize ROI
Crucial Features To Look For In Your New Virtual Classroom Software
Secrets To Set A Realistic Virtual Classroom LMS Budget
Tips To Use A Virtual Classroom LMS Directory To Qualify Vendors
Steps To Write A Winning RFP For Virtual Classroom Software
Virtual Classroom LMS Support Services That Drastically Improve Functionality
Virtual Classroom Software Activities To Prep Your Team For The New Normal
Stress-Free Steps To Find The Best Virtual Classroom Software Vendor
We're in this together. Every organization needs to set the example and ensure the safety of their employees and consumers. LMS Buying Guide: How Virtual Classroom Software Will Help You Overcome The COVID-19 Crisis features insider secrets to choose and use synchronous solutions to mitigate risks. But the benefits go beyond that. Virtual classroom training gives your team real-time support and JIT tools to bridge gaps autonomously, as well as resources to cope during these turbulent times and manage work-related stress.