Creating HTML5 Courses With iSpring Suite 9
Whether you are learning a language, watching cooking lessons, or undergoing business education in digital form, a well-developed eLearning course can be a great help in acquiring the knowledge you need.
Businesses can save a huge amount of money, as an instructor doesn't need to travel to new hires to teach them about work safety and other topics, and the training doesn't distract employees from work. Now, it's enough to place a course online or provide employees with tablets to let them learn interactively.
In fact, you can even take an exam at your own pace, which can be controlled by management or the HR department.
Today, I'll talk about an eLearning authoring tool that is designed to create HTML5 courses and can be used to accomplish each of the above. The tool is very easy to use, yet has versatile capabilities and allows you to create professional-looking training materials.
eLearning Authoring Tool For Creating HTML5 Courses
I've already given a detailed review of the previous version of iSpring Suite. Nevertheless, I will start almost from scratch, because although the basic capabilities have not changed, the authoring tool has just reached the point where we have to admit that this is one of the best choices for developing digital training content.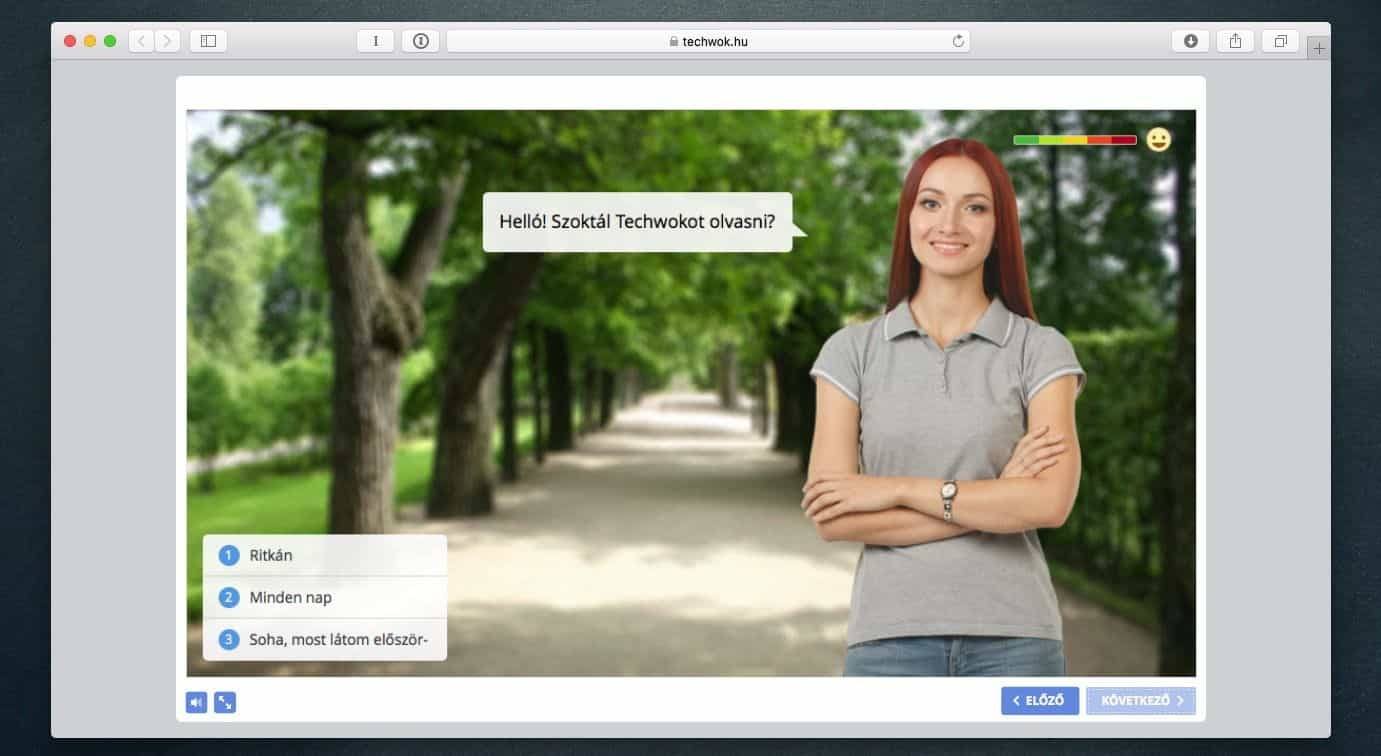 In many ways, iSpring Suite offers more authoring capabilities compared to the most famous tool in the category, Adobe Captivate, though it's much easier to use. iSpring publishes courses to HTML5 format, which plays on almost any modern platform: desktops and laptops (Windows, MacOS, Linux), smartphones, and tablets (Android, iOS). Courses work in any browser, support SCORM, AICC, xAPI, etc., and can be uploaded to 130+ LMSs.
But can we create a multimedia tutorial that anyone can view on any device, and, if possible, can you also take an exam in a built-in learning system? Let's talk about it!
iSpring Suite 9: When PowerPoint Comes To Life
One of the peculiarities of iSpring Suite 9 is that it is not a standalone tool or a web app. It's a PowerPoint add-in that is nicely embedded in Microsoft's popular presentation application. Hence, authoring takes place in an interface that is absolutely familiar to most people, and the course content can be built simply in PowerPoint slides.
PowerPoint now has a sophisticated editing toolbar, so in many cases no special graphics software is required, because PPT itself allows you to crop and fine-tune images and draw diagrams, buttons, and other items.

Of course, the structure of a digital course is somewhat beyond the capabilities of PowerPoint. But thankfully, we can find all that's lacking in the presentation software by clicking on the iSpring Suite 9 tab on the ribbon. The package itself is not just a PowerPoint add-in, as we get a whole bunch of applications for different tasks.
Narration, Timing, And Playing
We rarely create digital training materials without audio or video narration. A narration can be recorded right in the authoring tool after configuring the microphone. If you have pre-recorded audio, you can also import it.
Click the Manage Narration button to sync an audio narration to the presentation slides.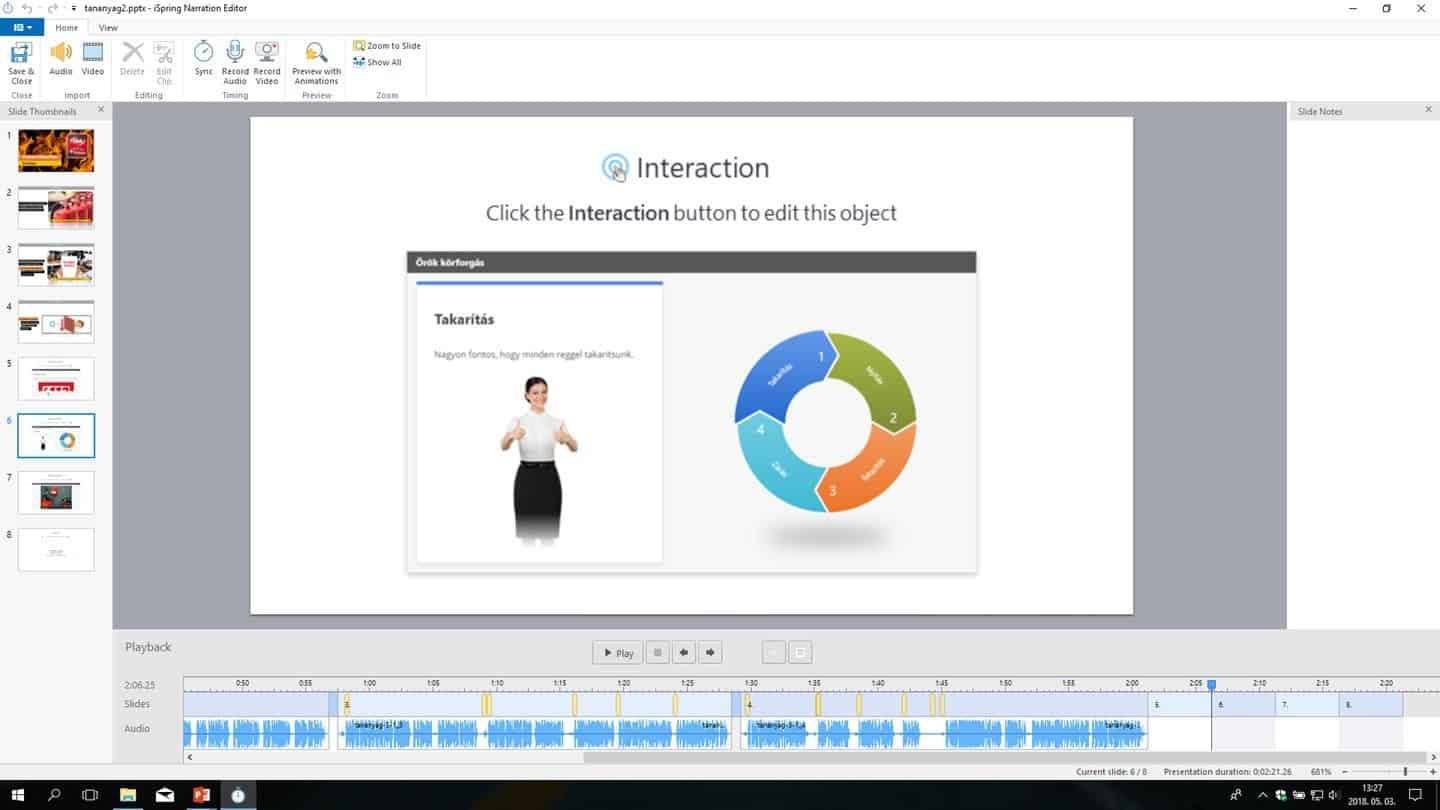 We can sync the slides with the different parts of a single audio recording, as well as add a separate audio file for each slide.
The Manage Narration section also plays an important part in setting timings, as it allows us to determine the exact time when a particular object (shape, image, drawing, video, etc.) will appear. The entrance and exit effects can be set in PowerPoint for each object, but iSpring synchronization is more practical because it can be tailored to an audio narration.

If you use video narration, you may want to switch the course player from Universal to Video Lecture instead of adding a video to a slideshow. This player makes screencasts or other imported videos appear next to slides so that they don't cover any essential course content.
Extra Features, Interactive Elements, And Assessments
Another cool thing about video is that the package includes the Screen Recording module, which can be used to create high-quality screencasts. You can capture your screen and then complement the video with subtitles, annotations, images, and highlights. In most cases, there's not even any need for post-production in other video editors.
We can record narration during a screen recording to comment on what's happening on the screen. In this case, a screen capture will take up a full slide, the structure of which will change accordingly, so we don't have to deal with it separately.
When capturing your screen, you can simultaneously record a webcam and then merge the two recordings in the built-in video editor.
However, iSpring's new capabilities are far beyond videos and screen captures. iSpring Suite also delivers interactive modules to make the most versatile and complex tutorials easy to make.
These Interaction modules are embedded on a slide using a special editor. The interaction design is partially customizable. In the new version, you can create 12 different interactive modules:
Steps. You can show a certain process step by step. The number of steps can be as many or as few as you like, and you can use text, images, and video for each one.
Timeline. You can create a timeline that comes in handy in many situations. This interaction is essential when creating teaching materials on historical events.
Cyclic Process. A life cycle or at any other repeating process can be modeled step by step.
Labeled Graphic. You can select any number of details to describe a text, image, or video. This interaction also works great for explaining the design and functionality of a piece of equipment. You can place markers anywhere in the picture so that small icons indicate what kind of content is assigned to a particular item.
Guided Image. Somewhat similar to the Labeled Graphic template, but instead of markers, it allows you to refer to a single point of a picture with an arrow pointing to it. Of course, the arrows can be customized.
Hotspot. This one looks like the previous two, as we can also mark different areas in a picture. But with this template, you don't have to choose one point. You can also draw a custom shape and provide a description for it.
Circle Diagram. This is a spectacular pie chart maker that lets you provide detailed information for each sector of a circle. It's an incredibly handy template, in which you can create not only segments, but also layers (meaning you can create additional circles within the circle). Quite complex imagery can be designed in seconds.
Glossary. This module can be used to explain words and phrases. In fact, you can incorporate a complete dictionary program into a course, in which you can browse the entries comfortably, and there is also a search option. We're not saying that we want to replace a handwritten course summary, but this feature would be more than enough to learn the basics of a course.
Media Catalog. This is a beautiful picture gallery where you can give a detailed description of each image. The pictures themselves are lined up in a grid. This template has countless applications, so it's a pleasure to include it in a course.
FAQ, Accordion, Tabs: These are three different interactions, and all of them are actually built on a piece of paper, but their layouts vary. You can find detailed descriptions on the website. The main difference is that the FAQ has a horizontal layout, the Accordion has a vertical one, and Tabs are tabbed. It's not a dictionary replacement, but you can use these interactions for materials where you want to show 4-5 different areas. It's easy to switch between them, and almost the entire screen can be used to show the section that is selected.
Interactions are a good choice when you would like to make learning more engaging and captivating instead of showing content in a presentation-like manner. It's great that we don't have to worry about the interaction layout and graphic design. They function in a meaningful way, so they automatically fit to screen size, resolution, and ratio. There is little to customize, but there are more constraints than with plain slides, where you can use the entire PowerPoint toolbar. Such an interactive module will surely look good on any device (the slides automatically resize, but their layout doesn't change, which should be taken into consideration when designing for multiple devices).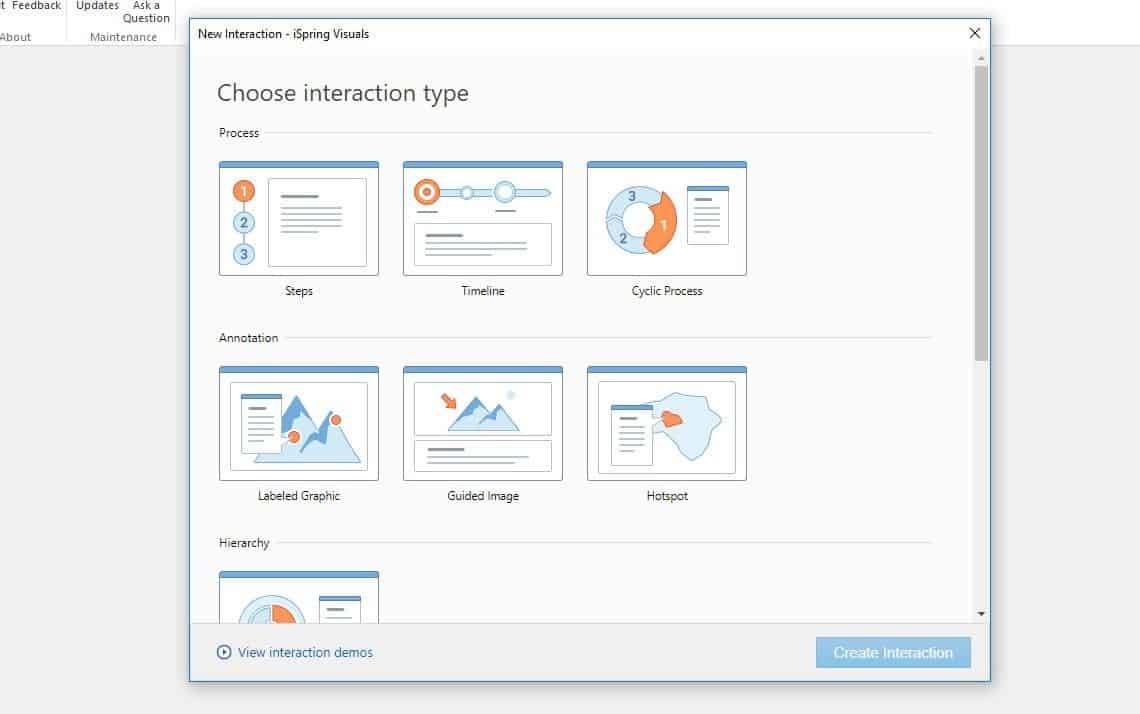 Dialog Simulations are responsive as well. These are kind of interactive games that present a dialogue process. There's a tree structure which clearly shows dialogue scenes and how they are related. Students can actually talk to a virtual instructor. You can find more of them in the character library, as there are a lot of high-quality photos of both men and women with all kinds of poses and various occupations).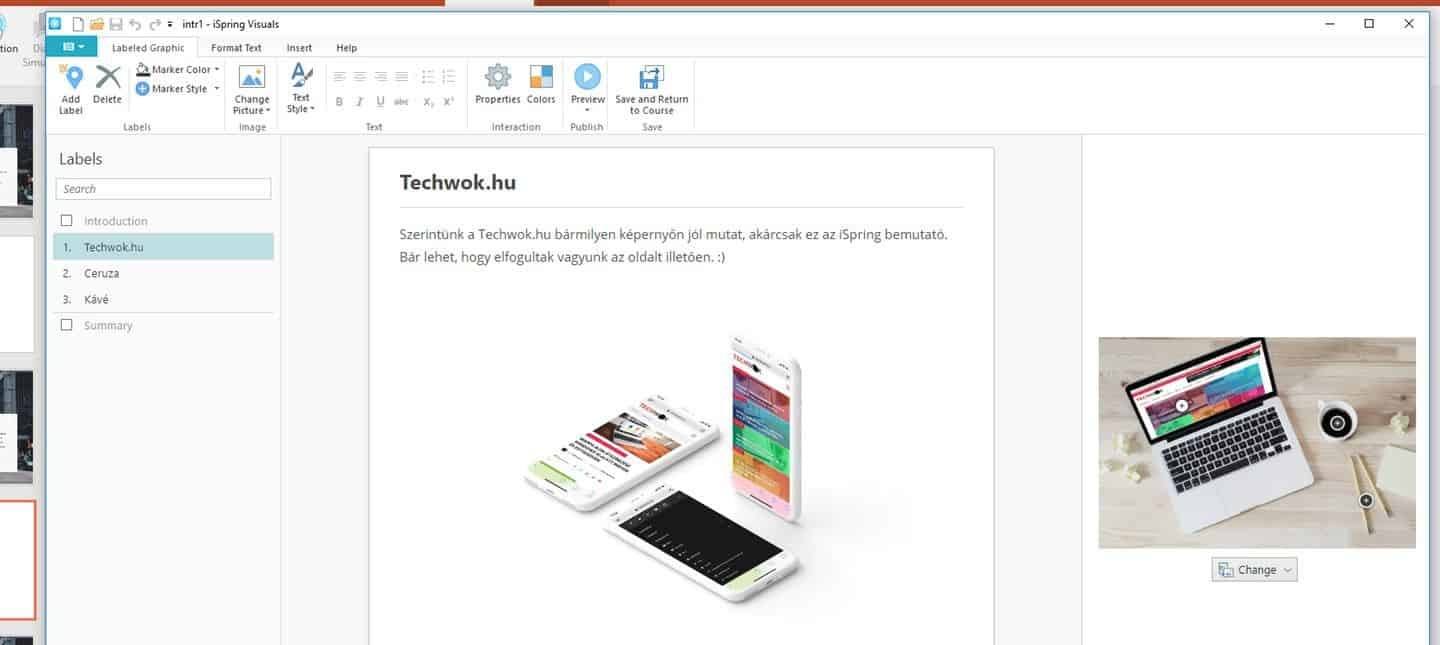 A dialog simulation is great for making training materials more personal and adaptive. You can add multiple reply options for each scene so that users can "talk" down different paths.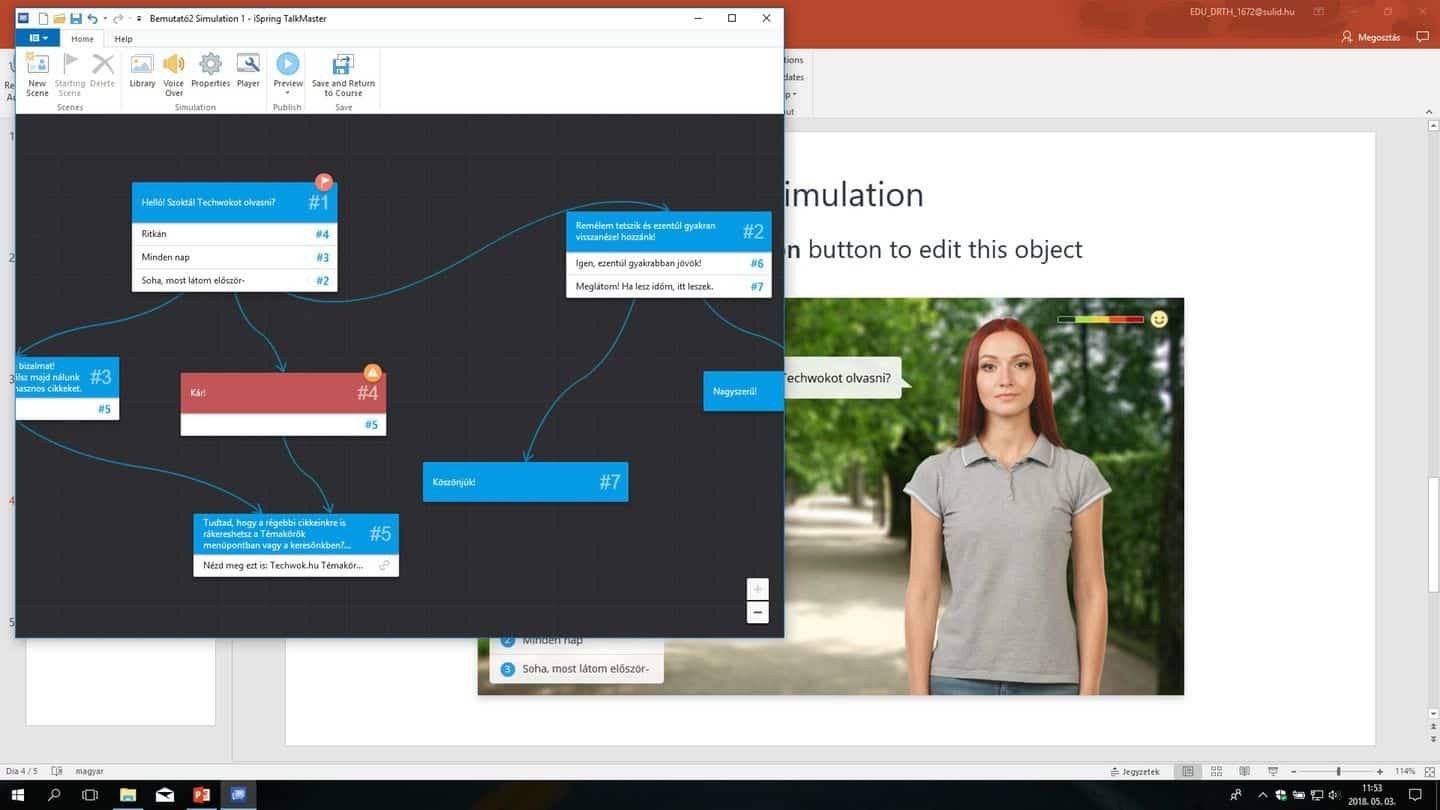 The iSpring tab on the ribbon also includes modules for conveniently inserting YouTube videos and web objects. With the latter, you can even add complete web pages to the material, but they will need to be displayed online later, so it's only useful if you don't want to use the course offline (the final result is HTML5-based, which doesn't mean it can only run from a server). The selected page can also be opened in a separate new slide or in a part of the current slide. For example, if you want to present an online interface, you can add it directly to the course.
Quiz And Exam Editor
When designing an eLearning course, the ability to interactively assess students can be of crucial importance. To do this, the latest version of iSpring QuizMakerhas been integrated into the package. Using this tool, you can create responsive quizzes. With incredible speed, you can create tests with a completely customizable design (background, color, graphic elements, etc.).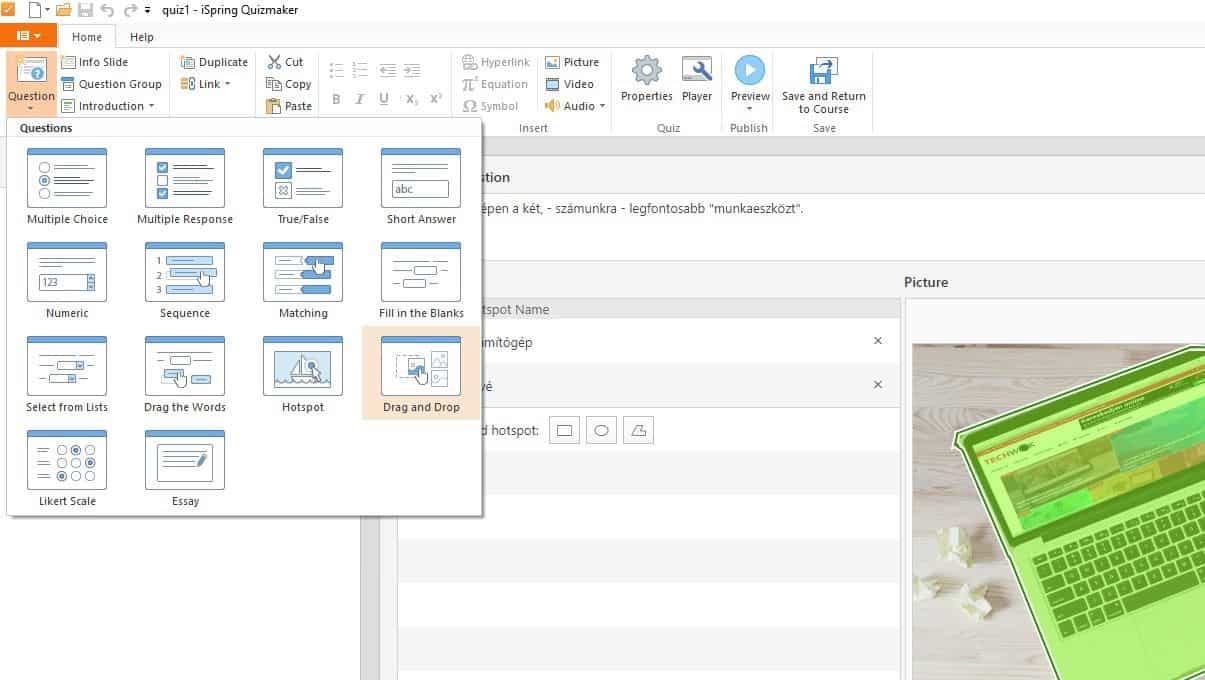 The quiz questions are responsive, so their layout adapts neatly to the size and orientation of the device's screen. If you have tests with a lot of questions, you will really appreciate the convenient and fast editing interface. As for the question types, the tool provides a wide variety:
Multiple choice / multiple response
Simple true/false questions
Short or long fill-in-the-blank questions that have predefined options or require the learner to type an answer
Math problems (equal to, lesser than, greater than, etc.)
Sequence
Matching
Hotspot (to select the appropriate area[s] in a given image)
Drag and drop questions
Likert scales (to evaluate to what extent you agree with a statement)
Of course, we can use these questions in whatever order we want. In the case of a survey, the question order may be random, and the answers can be mixed. In fact, we also have the possibility to compile question groups, from which a certain number of randomly selected questions are put on the test (for example, grouped by topic).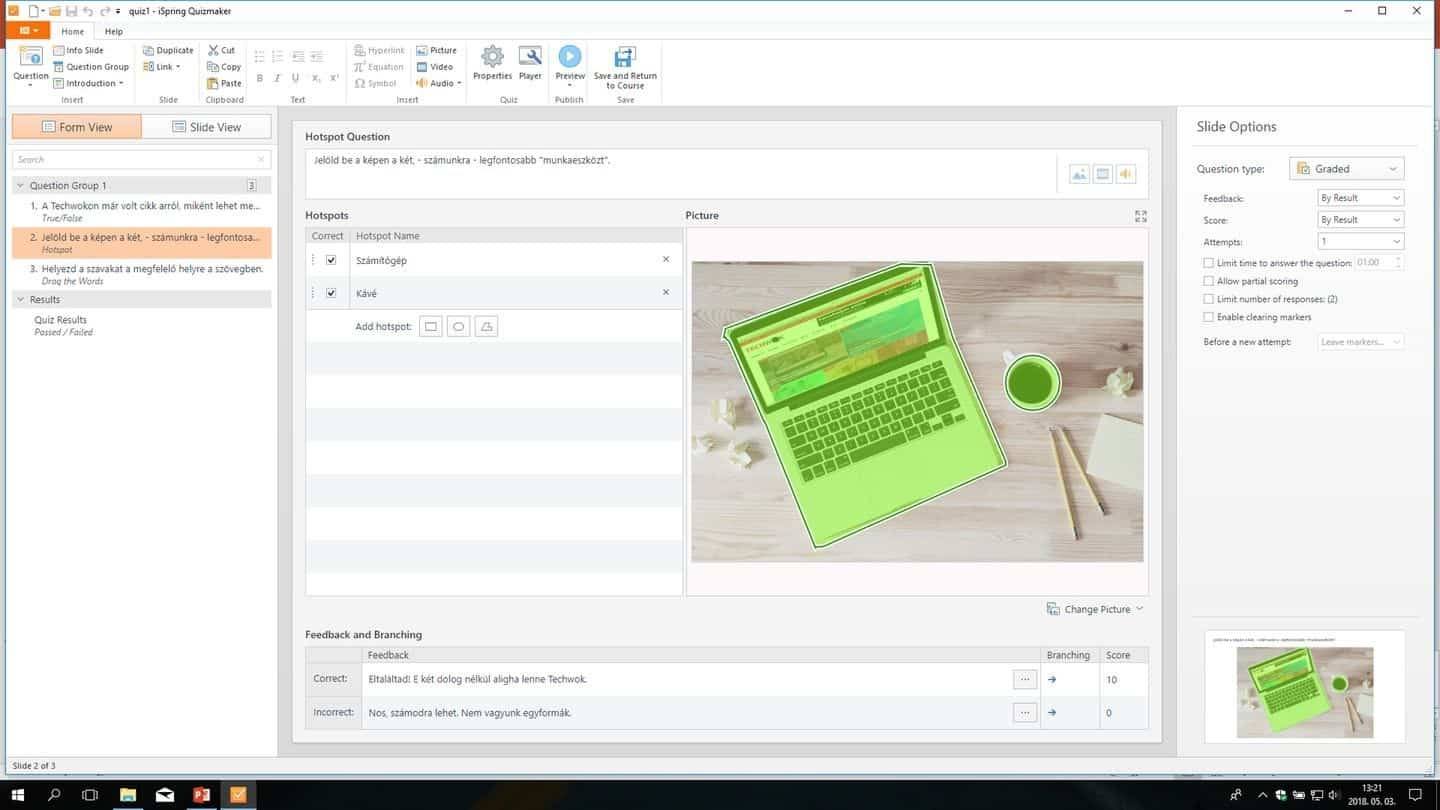 Each question has its own options and general settings: you can specify how many attempts there are to answer the question, show the solutions, and customize the score and how the question is counted in the total score.
You don't have to just create plain text questions. The tool allows you to use pictures, audio, and videos. You can set a time limit for answering, or give learners the option to postpone a specific question and answer it later.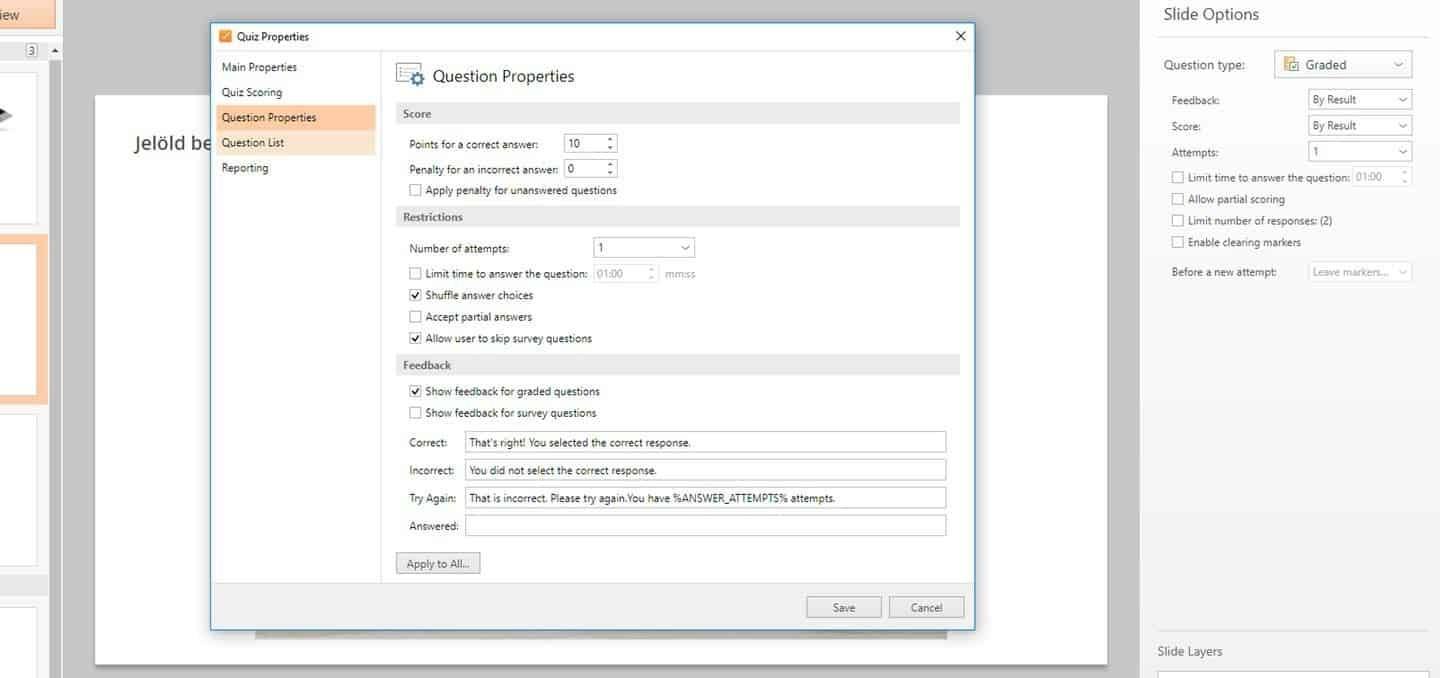 The great thing is, if you don't have an LMS system, but would like to get feedback and results for the tests, you can configure the quiz to automatically send the results via email. This way, both course developers and test takers can get feedback on the results achieved with details for correct and incorrect answers.
Cross-Platform Publication And Localization
We have tried to go through all the features of iSpring Suite 9, but there's not enough room in this article, as the tool is truly comprehensive and useful. Although the authoring interface is in English, the player, interactions, quiz questions, and so on can be fully translated. That means that if we are preparing a Hungarian course, we don't have to be afraid that some parts may remain in English.
All dialog boxes, buttons, and labels can be overwritten as desired. Plus, you can save the rewritten version as a preset so that so once you have prepared the Hungarian menus and buttons, you can use them later in any further courses.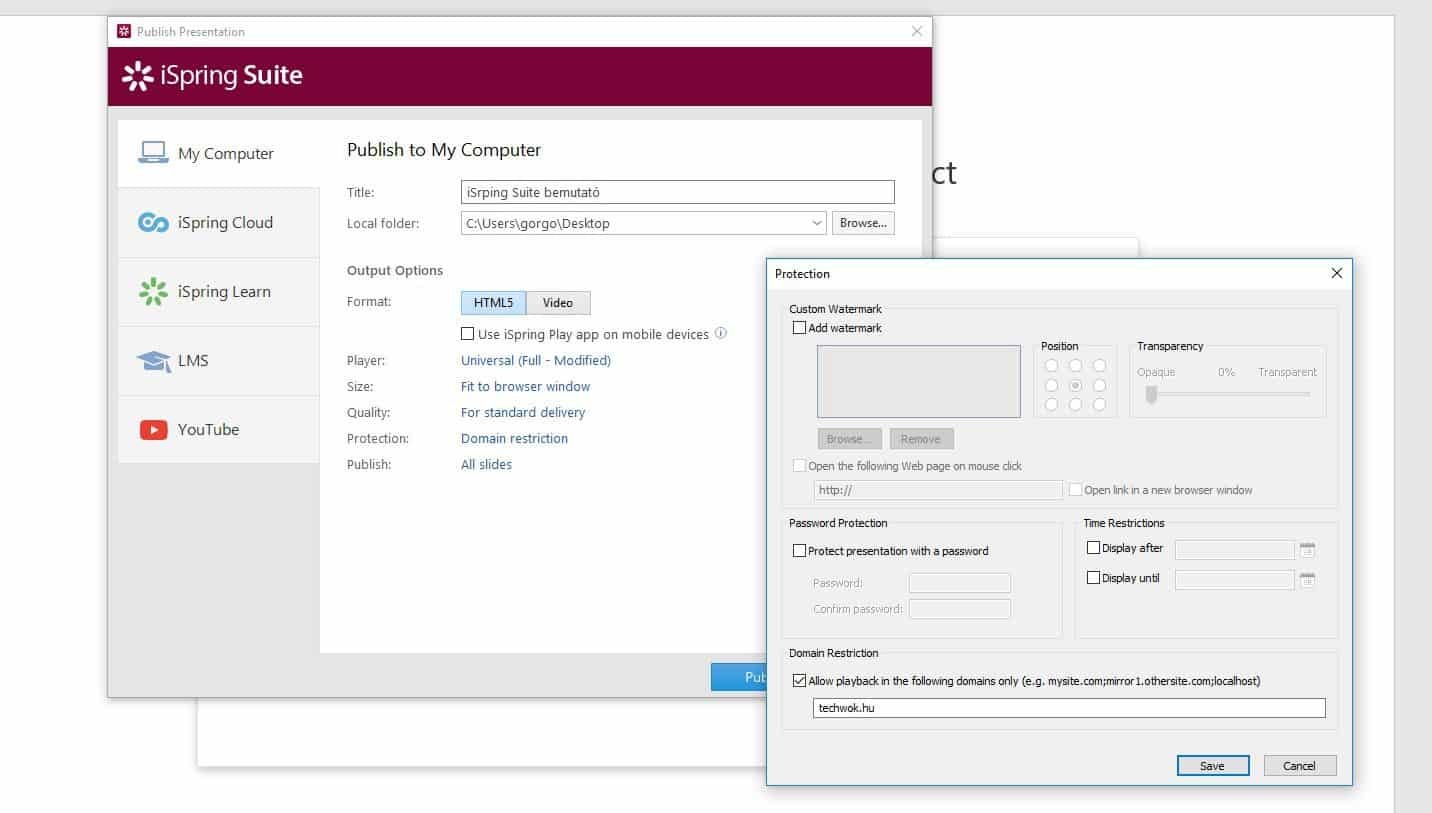 A finished course is absolutely cross-platform, since all modern browsers can play HTML5 content on virtually any system. As a result, learning materials can be used on Windows, MacOS, and Linux, as well as iOS or Android. As mentioned above, the interactive elements are fundamentally responsive, so they are perfectly displayed on both desktop computers and smartphones.
The authoring toolkit itself is designed for Windows. iSpring Suite 9 is not macOS compatible, so it can only be integrated with Windows-based Microsoft PowerPoint (there are, however, 32 and 64-bit versions). Nevertheless, Mac users don't have to give up; they can use iSpring via Bootcamp, so there's no problem. In fact, iSpring can also be easily used (and surprisingly quickly) in Parallels Desktop. The only problem here is the quality of camera video recording, but even a screencast video can be easily recorded using a virtual machine.
The player interface itself is fully customizable. You can display the course outline, notes, and files attached to the particular course (PDFs, etc.), or fully depict them to emphasize them to students.
You can activate or disable buttons or panels. It's great that there are integrated marker tools and note-taking features, so students can highlight relevant information or take notes when taking a course. You can supplement the course with documents and links in the Presentation Resources section, as well as presenter data (photo and contact info).
As mentioned earlier, video tutorials can also be used to select a separate player that can split video and slides, either together or alternately, in the most user-friendly manner.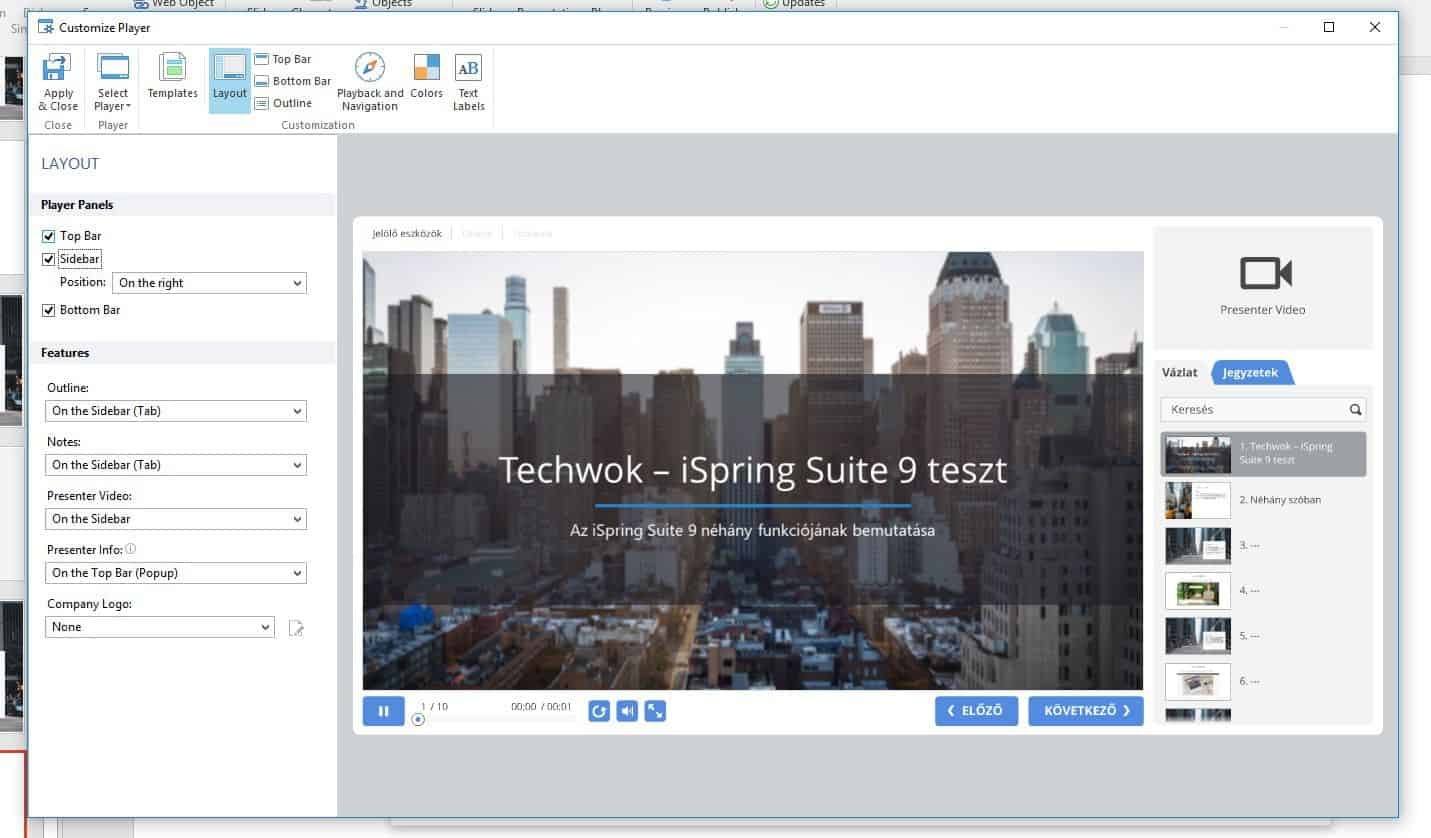 There are a lot of publishing options. Firstly, you can export the entire course in HTML5 format so that it can play interactively. If interactivity is not important for you, you can publish a course to a video that can then be uploaded to YouTube right from the tool. If you don't plan to publish your course on your own server, you can use iSpring Cloud or iSpring Learn LMS, a complete eLearning solution.
These are separate services, which means that they're not included in the package, and you have to subscribe to them separately. If you have a SCORM-, AICC-, xAPI-, or cmi5-compatible LMS, you can, of course, upload the finished course to it.
If you don't have your own LMS but want to protect your course somehow, you can place a watermark (even with a link) on it, limit the time when it's available for viewing, set a password, or set domain restriction to allow the course to play only on the specified domains.
Another important publishing option is that you can choose between lossless and lossy image compression. Lossy compression may be somewhat disruptive for image quality, but will make the course more space-saving, which also means that it will load faster over slow connections.
Additional Content And Templates
There are also a few things we have not talked about thus far. For example, by clicking on the Character button, you can make a course more clear using your choice of characters of various ages and genders.
In addition, there are a few course templates to choose from, several backgrounds, and various objects. You can extend this collection by subscribing to the iSpring Content Library.
Another interesting thing is the iSpring Play app for both Android and iOS, which can be used to play content on smartphones even more comfortably. Users can also download courses to a smartphone or tablet and view them offline.
Summary
It is always difficult to evaluate an eLearning development tool, as today it has to satisfy so many requirements, so there always will be some gaps. Anyway, iSpring Suite 9 is one of the leaders in the category.
Compared to Adobe Captivate, for example, iSpring wins for several reasons: the faster and more transparent quiz maker, all the interactive modules, and the dialogue module. Plus, there are a lot of editing features within the tool, since it is based in PowerPoint, which offers a lot of editing capabilities.
The editing process is also faster, since Microsoft has optimized the latest version of PowerPoint—apart from the gobs of toolbars and clumsy Open / Save windows, the MS Office suite is not that bad!—and the iSpring Suite modules also work well, even when dealing with multiple objects. There are, of course, some gaps; for example, the quizzes and interactions could be more customizable.
iSpring Suite is basically a one-time investment: you can buy the program for $770. There is also a Full Service package with extra services (Content Library, iSpring Cloud, extended phone support, and unlimited upgrades) for $970/year. To be fair, we should add a PowerPoint license as well, as we also need it to use iSpring Suite. Maybe it's not super cheap, but totally worth the price. Last but not least, the tool is a pleasure to work with.
We also made a brief interactive demonstration on our website that may help readers to complete the picture.
iSpring Suite
An all-in-one software solution for creating versatile learning content and teamwork on eLearning projects. Super easy to use; no coding or design skills are required.