ILT Training With TalentLMS
Online learning, with its effectiveness, lower cost, and on-demand availability has revolutionized corporate training (and even general education).
But while online content and rich interactive experiences offer a great way for learners to self-study most subjects, some kinds of training are still better done with an instructor at the helm, either in an actual classroom or in a real-time session. This includes anything that requires physical demonstration (from operating factory equipment to playing an instrument) or that is based on human interaction (e.g. teaching how to "read" a customer in retail sales).
LMS-based Instructor-led (ILT) training allows businesses to combine online and real-time (in a classroom or through teleconference) training sessions, and schedule, manage and monitor both from within their LMS platform.
In this article, we'll have a look at how TalentLMS handles Instructor-Led Training activities and run through the new ILT-related features and workflow improvements introduced by the latest platform update.
TalentLMS' ILT Concepts
The foundation of a TalentLMS course is individual pieces of content called "units". These can be one of the several types: rich text, web material, video, audio, presentations, SCORM content, tests, surveys, and so on. TalentLMS blends traditional online learning and Instructor-Led Training by making ILT training sessions just another kind of unit available to add to your course. This allows you to create your custom Instructor-Led Training design, combining regular online content with in-person training within the same course, and managing it all as a coherent whole.
An "Instructor-Led Training" unit, as it's called, in turn, consists of one or more sessions. Sessions allow you to schedule more than in-person training events for the same lesson. For example, if your ILT training events take place in 2 physical classrooms at the same time, you could assign your learners to attend one or the other. Similarly, you could arrange for different learners to take the same webinar at the time that is most convenient for them. The ability to have multiple classrooms- and/or online-based, real-time sessions for the same unit, gives you the ultimate flexibility to schedule your ILT training, based on the capacity of the physical classrooms, the convenience and personal schedules of your learners, and the desired number of attendants as set by your instructors.
Creating an ILT Course
TalentLMS instructors can create a new ILT training unit from the courses page, by selecting "Instructor Led Training" from the dropdown of available content types and giving their new unit a name. Once the new ILT unit has been created, they can proceed to add real-time sessions to it.
A session is defined by its start date (when it's "live"), duration (how long it lasts), and type (whether webinar or classroom based). For the latter, instructors will also need to fill in the classroom's location and capacity.
Upcoming ILT sessions are displayed on the learners' TalentLMS course dashboard and calendar, and they have the option to self-register to any session they want (its capacity permitting).
For online ILT sessions (webinars), a link inviting them to "join webinar" will also appear on the homepage of learners registered to it when the relevant session is about to go live.
Note that for ILT training units, an instructor has to explicitly change a learner's status to "passed" (or failed) for the unit to be considered completed (unlike the case with regular online learning units, which can have automatic completion rules).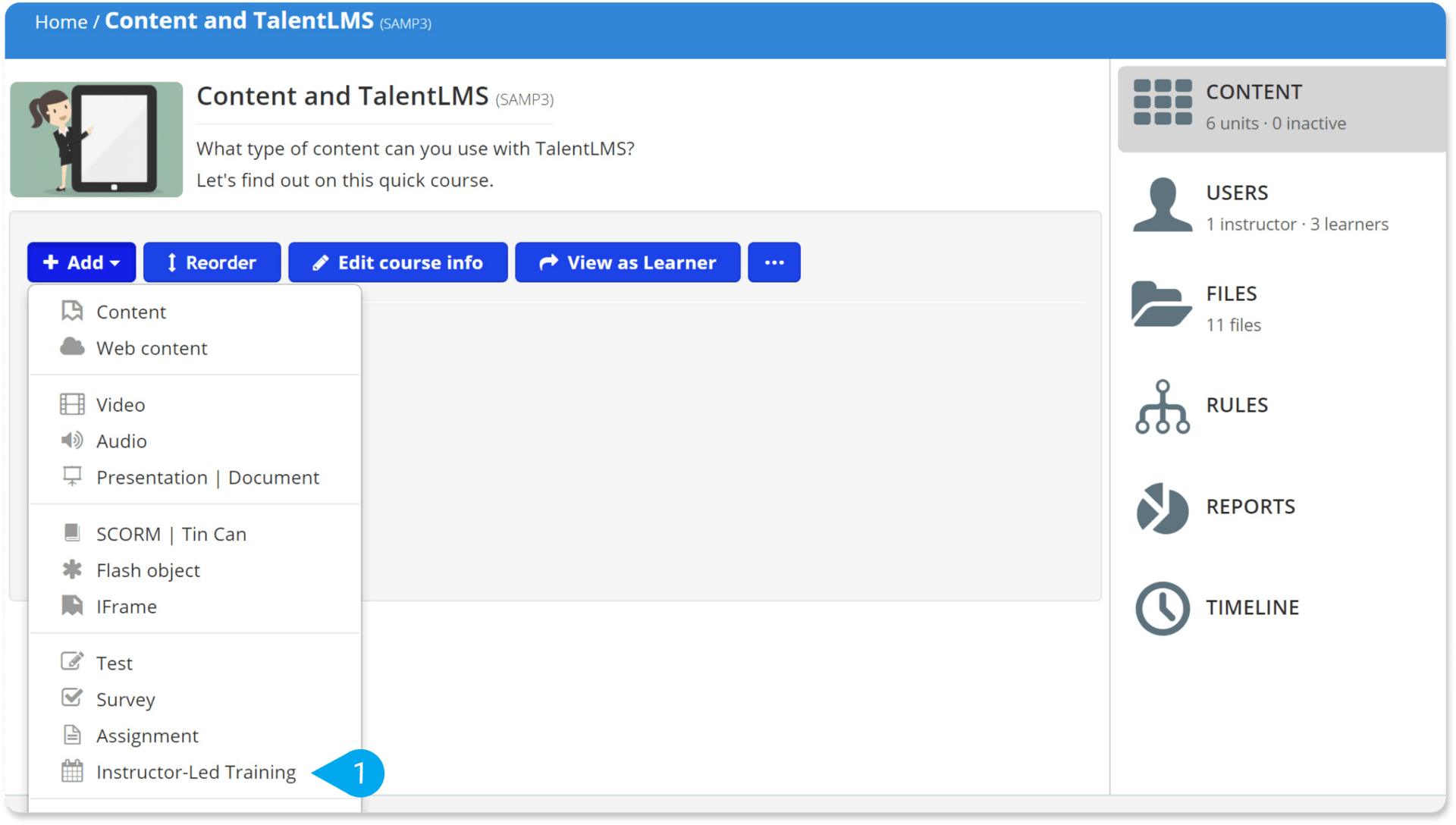 New ILT features In TalentLMS
What we've described thus far is the core of TalentLMS ILT functionality—stuff that old-time users will already be familiar with. The platform, of course, hardly stays still, and the latest update, in particular, has brought a host of ILT training-related features.
These include:
A more streamlined and visually improved ILT unit page allowing for an easier workflow.
The ability for learners to select ILT events to register to directly from the central calendar.
New ILT-centered notifications that can be triggered by events such as "ILT Session creation", "ILT Session registration", and "X hours before ILT session starts".
BigBlueButton, the open source webinar platform that's integrated into TalentLMS, has also been updated to the latest and greatest version which includes features like "breakout rooms" (for increased collaboration), closed captioning, and faster screen sharing.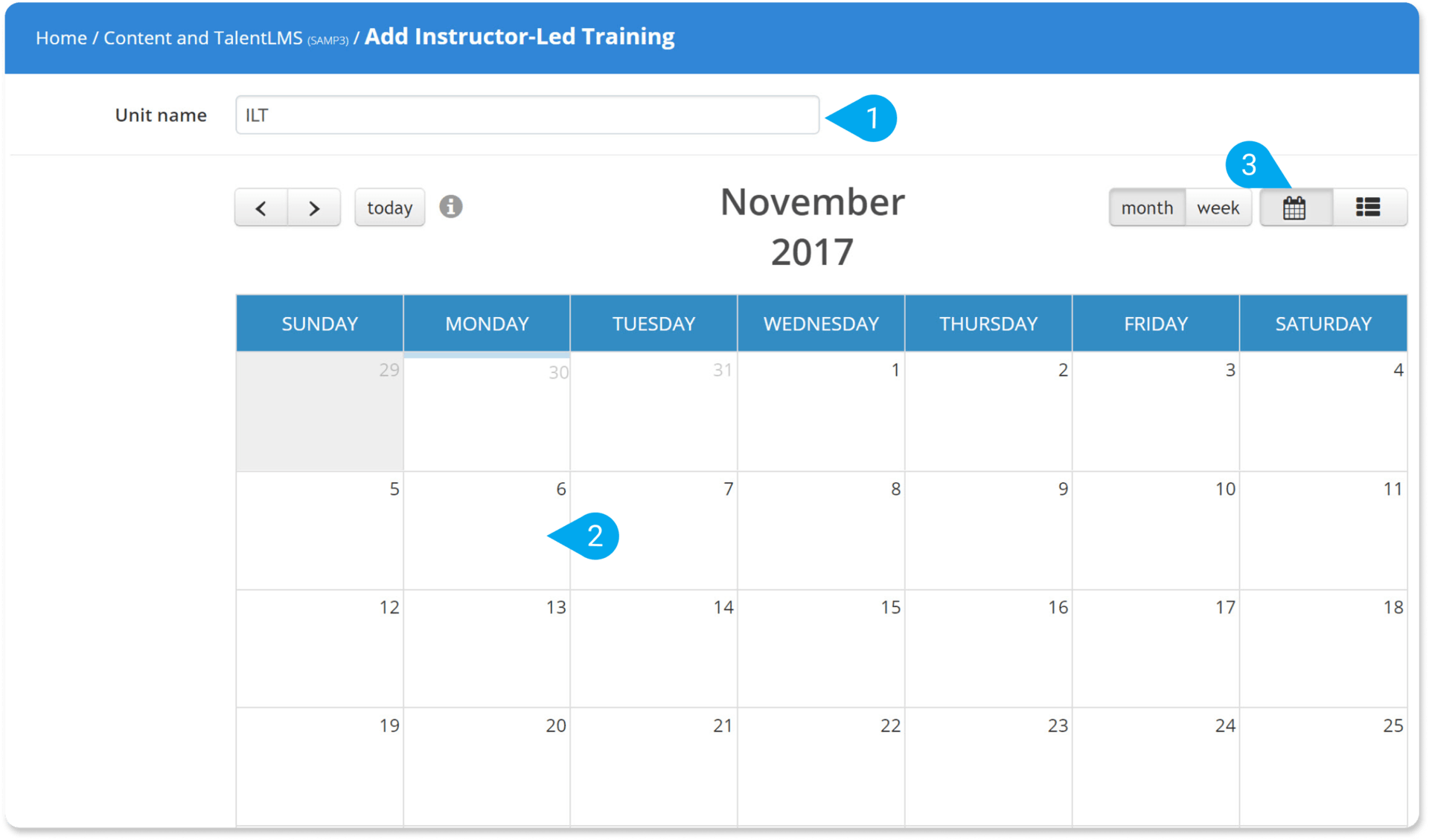 Conclusion
Whether you call it Instructor-Led Training, hybrid training, or blended learning, the ability to combine regular online learning with in-person training sessions is an important part of any LMS worth its salt.
TalentLMS excels in this area (as it does in others), by using its classic formula of keeping things simple to get started with, yet powerful in what they allow if fully explored.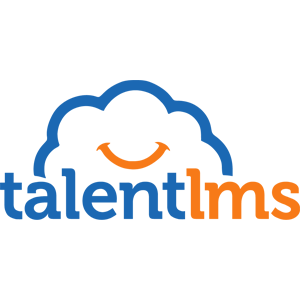 TalentLMS
Easy to learn, easy to use, and easy to like, TalentLMS is designed to get a "yes" from everyone, including C-level execs, budget heads, and busy employees. Now, instead of checking out, your whole organization leans into training.