What To Avoid When Implementing Your New Training Management Platform
The main thing you want to avoid when purchasing any new piece of software is a negative impact on your staff and your business, and this can happen quite easily if there are any obstacles in your way when you start implementing it into your company's way of life.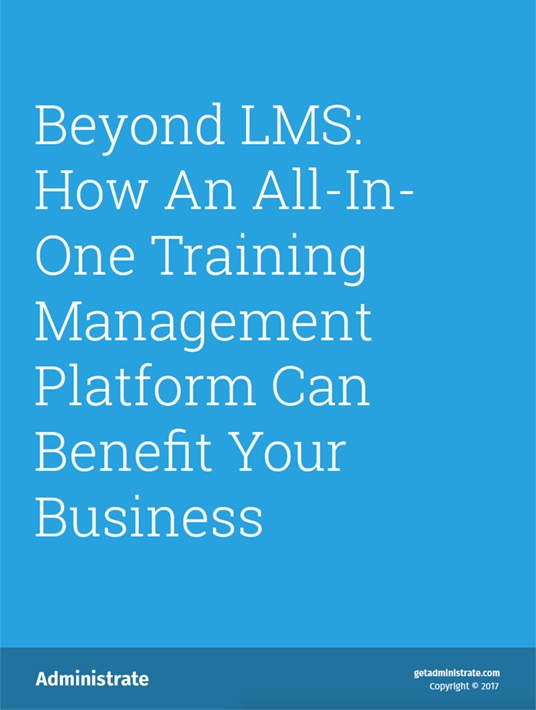 With a training management platform, you're trying to take steps towards managing your training administration, make your training run smoother, and help save time across your business, so the last thing you want to do is create further hurdles which are going to end up slowing your processes down instead of improving them!
We take a look at some of the obstacles you may face when implementing a new training management platform, and what you can do to avoid them!
1. Not Getting Staff Up To Speed
When you move over to a new system, it's really important that you get your staff up to speed as quickly as possible. The last thing you want to do is provide ineffective training to your staff, as this could lead to them using the new system incorrectly, not feeling comfortable with the new system, or even refusing to use the new system and falling back on the old, ineffective ways you used before.
So when you're choosing which training management platform to buy, it's really important to ask about what training and implementation they offer, as you want to start getting the most out of your new software as soon as possible to make sure you get the most for your money.
Your training management platform provider may offer a variety of different training options including in-person training, over the phone training, eLearning through an online training platform, a knowledge base for their product, etc., so make sure you know exactly which methods they offer, and pick the one which suits your business and way of working the best. You'll also want to check if they charge extra for any training which they may offer, because even though it's more of an investment, it will be well worth it to get your staff using the platform effectively and quickly.
2. Not Swapping Processes Over ASAP
Once all your staff are fully trained on your training management platform, it's important to make sure they actually start using the system as well. You need to make sure that all the processes in your departments are updated straight away to include the training management platform so you are getting the most use out of it.
This may mean sitting down and looking at all the processes across all your departments, and seeing what needs to be changed. For example, instead of your Sales team logging future sales in a shared spreadsheet, they'll want to start logging them in your training management platform. Your Training Operations team will also want to start logging all the details of teaching staff within your training management platform so it's really easy to assign staff to relevant courses, instead of having to go searching for information on what they are qualified to teach and what times they are free.
You need to make the move to using your training management platform where possible as soon as you can so your whole team can see all the benefits, and start using it as part of their everyday tasks to improve their team's performance.
3. Not Relying On The System
Another part of swapping over your processes is making sure you rely on the system to do the jobs that it can do better than you can. This may be a hard swap for some people as they will be used to doing things a certain way and working through their tasks in a certain order, but once again, once they see how much easier it will make their day, it will be easy to rely on the system to do things they used to do manually.
Here's a few examples of things that you probably currently do manually, but a training management platform can do for you:
Sending customer communications.
You can template exactly what you want to say and then set up communication triggers so your emails send when a certain event 'triggers' them. This means you don't have to spend lots of time copy and pasting email content, or constantly keeping an eye on those trigger events happening so you know when to send an email.
Processing website orders.
If your training management system links up to your website, you can sell your courses online and accept payments online at the same time. This also means you don't have to constantly keep an eye on your inbox to see when order are coming in so you can then follow-up with the customer and process the payment.
Assigning tasks to your team.
If you decide on a task list for each of your events, when you assign it to an event you can assign staff members to each task as well. Your training management system should then automatically email your staff members to tell them what they have been assigned to so everyone is always aware of what they need to do.
What's Next?
All of these problems are easy to avoid if you do a little planning before making the move to the training management platform of your choice! If you're going to spend money bringing in a new piece of software, make sure you take the extra time to plan your implantation period properly so everything runs as smoothly as possible!
Related articles: