How To Find A Platform That Provides The Best LMS User Experience
One of the most difficult and time-consuming aspects of LMS implementation is actually finding a system that meets your needs. There are so many to choose from, but you're in the market for a user-friendly platform that fits into your budget. It also needs to have all the features your team needs and provide employees with anytime, anywhere access on ANY device. Below are 7 tips to help you find an LMS that has it all and offers the best LMS User Experience.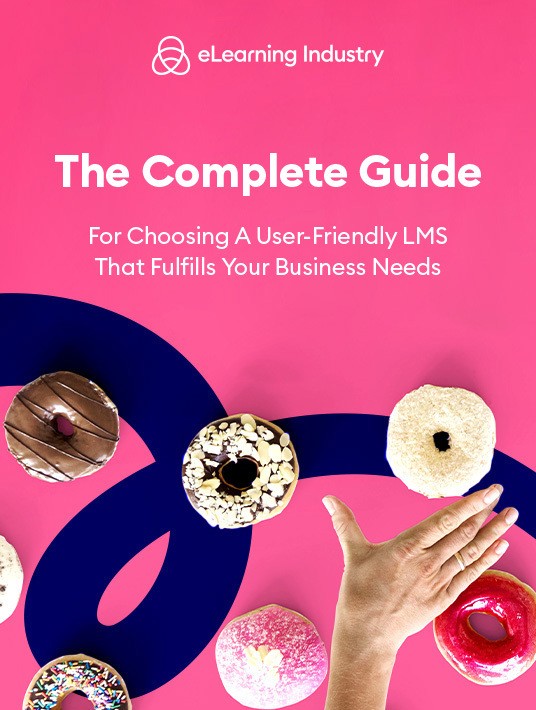 eBook Release
The Complete Guide For Choosing A User-Friendly LMS That Fulfills Your Business Needs
Discover the importance of the Net Promoter Score, how to use LMS user reviews & ratings to find the ideal LMS, the importance of LMS Perceived usefulness and its impact on work performance and L&D ROI.
1. Assess In-House Skills, Talents, And Experience Levels
A common mistake that many organizations make during their LMS search is going into the process "blind". In order to find an LMS that offers the optimal LMS User Experience, you have to know who your users are. What are their skill sets and experience levels? Are they already familiar with learning technologies or are they less than tech-savvy? You can conduct surveys and interviews to develop a complete profile of your user groups. Then use this data to create a must-have list of UX criteria.
2. Define Your LMS User Experience Criteria
There are two steps involved in the criteria creation process. First, you must define what a positive LMS User Experience means for your eLearning developers, admins, and corporate learners. A favorable LMS User Experience encompasses a broad range of factors. From the users' personal preferences, prior experiences and goals to their level of tech familiarity. The second step for developing effective LMS selection criteria is to evaluate the needs of your organization. For example, the system must offer you the ideal level of support to improve functionality and the overall LMS User Experience. It must be equipped with the right reporting capabilities so that you can track goals and desired outcomes. All of this falls under the umbrella of the LMS UX.
3. Get Your eLearning Team Involved In The Selection Process
Your in-house eLearning team is going to use the LMS to deploy and monitor your online training initiatives. As such, they are critical judges of whether your new system provides high levels of LMS User Experience. They should be involved in every step of the selection and testing process. Get their input so that you can identify which platforms align with their needs and abilities.
4. Research Online Ratings And Reviews From Past Users
A great way to get the inside scoop about the overall LMS User Experience is to hear it from past users who are already familiar with the platform. This comes in the form of online ratings and reviews that allow you to gain insight about your new LMS' UX value. You can also learn a lot about the system's features and functionality, as well as whether it's really worth the investment. eLearning Industry's online directory features reviews and a rating system so that you can compare LMS solutions, as well as view the top 20 systems that provide the best LMS User Experience.
5. Invite Online Learners To Try Out The Tool
Your back-end L&D staff are just one half of the equation. Online learners will also be impacted by the LMS user experience. They must be able to access online training tools and interact with the system to achieve their goals. A negative user experience not only prevents them from reaping the full benefits of your online training program, but also make its less likely that they'll actively participate in future online training courses. Thus, you should get their feedback early on and invite them to test out the tool before sealing the deal with the vendor. Running some usability testing sessions with online learners can give a great input that can save you much money.
6. Evaluate The LMS Vendor Behind The Tool
Speaking of LMS vendors, it's also wise to vet the vendor who stands behind the tool, as the LMS User Experience doesn't just pertain to the UI, accessibility, and usability. Support services, product upgrades/updates, and other crucial factors play a crucial role. For example, a vendor who prides themselves on offering the latest technologies and advanced support services is more likely to deliver the optimal LMS User Experience. It's in the DNA of the product, instead of merely an afterthought or buzzword to attract new clients.
7. Launch Test Projects To Gauge The UX Firsthand
Reading about the LMS User Experience online and test driving during a free trial can help you gauge the UX. But the best way to evaluate the platform is to mimic real-world scenarios. In this case, develop sample projects so that you can experience the systems' navigation design, accessibility, and overall usability for yourself. For example, invite your team to get involved in usability testing sessions that could focus on several aspects of the LMS User Experience, from the design of basic user journeys to the aesthetics of the dashboard. After that, try to run a couple of evaluation workshops that will help the team to build consensus, prioritize and act on the findings.
These 7 tips can help you choose an LMS that delivers an amazing LMS User Experience for EVERY member of your team, regardless of their experience or skills. Keep in mind that you can always provide online training tutorials and other support resources for those who need more IT assistance. Which allows you to invest in a tool that offers all the necessary features and functions, even if it does require more tech know-how.
Are you in search of an LMS that offers the best LMS User Experience at a price you can afford? Download our free eBook The Complete Guide For Choosing A User-Friendly LMS That Fulfills Your Business Needs to uncover the main differences between LMS user experience and usability. It also features tips to improve the UX for your online learners, as well as usability issues that a new system can help you overcome.