Insider Secrets To Rapidly Vet Audio Conferencing Providers
Most organizations focus on the standout selling points. But they leave one crucial item off the list: vendor support. Audio conferencing providers must prioritize CX and customer training. They need to stay on top of tech trends to ensure that their software is feature-rich and user-friendly. Even if you're racing the clock, vetting is an essential part of the process. How do you qualify audio conferencing solutions providers quickly so that you can implement the tool ASAP? These 7 insider secrets can help you evaluate everything from support to social proof.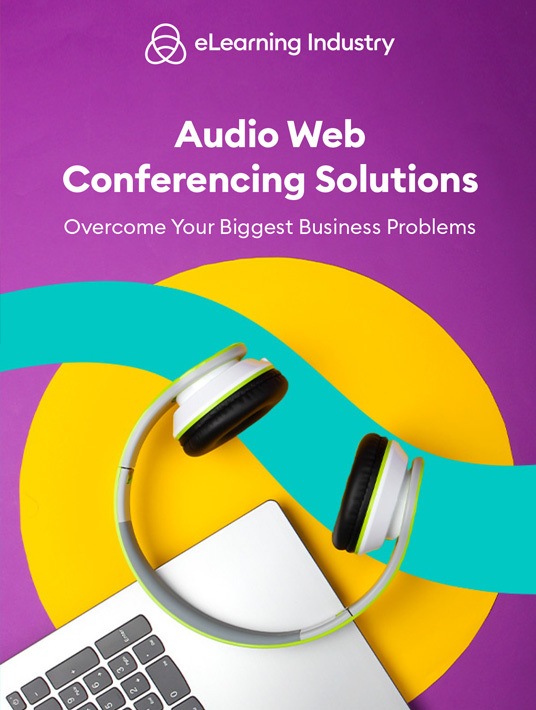 eBook Release
Audio Web Conferencing Solutions: Overcome Your Biggest Business Problems
Audio conferencing brings everyone together and reduces online training costs. Learn how these versatile tools can help you address business pain points.
7 Top Tips To Qualify Audio Conferencing Solutions
1. Use An Online Directory To Scope Out Their Features
An exclusive audio conferencing systems directory highlights all the top audio conference software for your niche. You can even check out their pricing options and company background. Filters are another time-saving feature to help you identify top contenders. For example, only display audio conferencing providers with subscription-based pricing models and mobile apps. Customer type, features, and licensing options are other filters that simplify the vendor qualification process. Just make sure you choose a reliable directory with verified reviews and ratings. Preferably, one with fraud prevention measures that only allow reputable vendors to list.
2. Evaluate Vendor Ratings
Audio conference software ratings can help you make the best buying decision. Especially if they're unbiased and users must log in to leave their scores. Pay close attention to the Customer Experience and usability to find an intuitive platform that lives up to expectations. You should also evaluate the overall satisfaction rating in the performance overview section.
3. Read Audio Conference Software Reviews
Ratings give you the general idea of how the software performs in the real world. But reviews let you dive deeper into the features and functionality. What did users like best and least about the tool? Did the vendor provide enough support and customer training resources? First and foremost, you need audio conferencing solutions that deliver what's promised. For example, frequent dropped calls and poor connections are a major red flag.
4. Visit Their Audio Conferencing Solutions Site
Visit the vendor's landing page or website to see what they offer. This also gives you the chance to check out their brand image and messaging. Do they seem reputable? Does their site mention your industry or use case? Are there client success stories? Another reason to visit their virtual home is to scope out their knowledge base. At the very least, they should have a video clip that shows their audio web conferencing solutions in action as well as a contact form or email where you can reach out with RFPs or questions.
5. Submit RFPs To Top Contenders
Speaking of RFPs, requests are the most effective way to qualify vendors and maximize value for money. RFPs should have all the basics. Including budget, time frame, and evaluation criteria. It's also best to highlight your current business challenges and how the software can help you resolve them. That way, the vendor can provide a customized proposal based on your needs and expectations instead of just sending a quote and a link to their product page where you can find more info.
6. Test Drive The Tool
Many audio conferencing providers offer free trials or demos. Usually, it's a week or two so that you can evaluate the features firsthand, while demos are typically video clips or live events to give you the virtual tour. These test drives are crucial because they allow you to assess the software's UI and functionality up close. It's not just a list of all the selling points and perks. You have the opportunity to see how it works and determine if it aligns with your business needs. The secret is to invite key members of your team. Ask them to give the platform a run for its money. For example, host audio conferencing meetings, VILT sessions, and peer coaching events. Then meet to discuss the benefits and drawbacks of the audio conference system.
7. Set Up A Meeting
Don't hesitate to schedule a meeting with audio conferencing providers if you have any doubts or questions. After all, their specialty is audio conferencing. In fact, this gives you the chance to explore the software with them and learn about upcoming features or add-ons. For example, how do you customize the layout or access advanced audio controls? Prepare a list of questions ahead of time so that you touch on all the key points. And give them the opportunity to highlight the most overlooked features and ownership perks.
Bonus Tip: Verify Their Social Media Presence
Every business these days should have a social media presence. Even if it's just a Facebook or Twitter account. But it's not just a matter of creating a page. They must also use it to interact with customers. Are they active and how do they engage with followers? Does it take them a week to answer questions? Do they respond to negative feedback in a professional way? You should also check out their online user forums and blogs if they have any. Do they seem to be knowledgeable about audio conferencing trends and tech?
Conclusion
Above all, audio conferencing vendors should be committed to customer service, whether it's offering an online knowledge base or hosting live demo events. That said, support options vary. While one vendor has toll-free phone calls for IT troubleshooting, others rely on email and user communities. As such, you need to outline all your support expectations in the audio conferencing systems RFP and ask if extra support includes additional fees. Finally, make sure that all these CX elements are included in the final contract.
Download our eBook today for tips and tricks to choose the right audio conference system for your organization. Audio Web Conferencing Solutions: Overcome Your Biggest Business Problems has all the info you need to draft RFPs and qualify vendors in record time.