Moving To Online Learning? How To Identify And Involve The Right People In Your eLearning Team 
You've decided on digital. Who are your in-house heroes to help you move your training online? Use our guide to the key roles you need in your eLearning team – you may find they are already there!
Investigate The 3 Core Roles You Need For All Learning 
Who do you need to deliver your training? We love this article from Jane Hart: Three Learning and Development roles to support learning at work. Her detailed diagram captures every role type and identifies three broad roles that support all learning:
Coordinating roles.
Events, content, and campaigns.
Facilitating roles.
Classroom and virtual collaborative or social learning.
Advising roles.
Experts, personal coaches, and mentors.
We translated these core roles to online learning. The good news is that your existing training team probably includes the heroes you need for your eLearning team and go digital.
Related: Blended training in three easy steps
Find Your Online Learning Heroes
With our expertise in blended training, we've honed the roles needed in eLearning. Our diagram shows the potential elements of your program:
eLearning (blue).
Social or blended (green).
Promotion or sales of your products (yellow).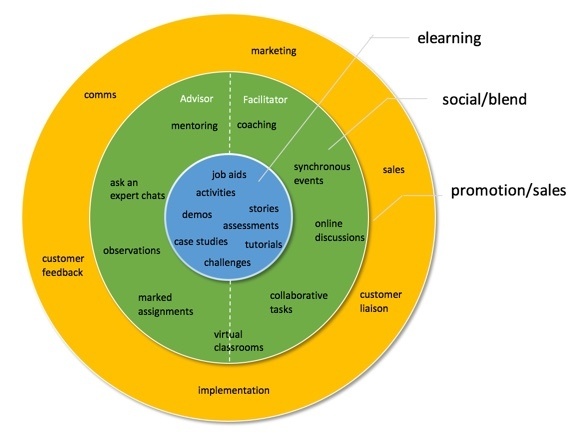 As you can see, we put a bit of a spin on Jane's diagram. We've included the social and blended elements you need, and not forgotten the all-important area of marketing to ensure your learning reaches your customers.
You can use this diagram to look at the roles that will help you achieve your training targets.
The Key Roles In Your eLearning Team (The Blue Part)
Coordinator (training owner). 

Sets out clear goals.
Works out what learning approach will work best.
Decides on the type of content for each element.
Edits and signs off on the final product.

Content author (can also be the coordinator or advisor). 

Creates the eLearning content.
A collaborative authoring tool, such as Elucidat, can help to create, preview, and design interactive content for the screen.

Advisors (subject experts): They provide content such as stories, case studies, ideas for challenges, and scenarios.
Optional extras – you might also need: 

Film and audio producers.
Specialist graphic designer.
Instructional Designer.
Use freelance support or do it yourself!
Related: 3 ideas to help you build a nimble eLearning team
The Social And Blended Roles (The Green Part) 
Include some social and blended activities in the green area of the diagram. Half require a facilitator, and half need an advisor. A coordinator straddles both sides.
Coordinator (training owner). 

Schedules, manages, and runs events.
Supports experts and facilitators with technology.
Sets out clear goals for each element.
Decides what approaches and content will work best.
Edits and signs off on the final product.

Advisor (subject expert). 

Uses their expertise to guide others.
Answers forum questions or drop-in online chats, provides feedback, observes learners, provides mentoring (face to face or online).
Intervenes when someone needs support.

Facilitator. 

Facilitates face-to-face group sessions, a virtual classroom, online discussions.
Drives learners toward the session goals and outcomes.
Related: Blended learning: What it is and why it's important
The Promotion And Sales Roles (The Yellow Part)
No matter how exciting your training is, you need to promote it to participants, particularly if it supports behavioral or cultural change.
The roles in the yellow part of our diagram show who can ensure that your elearning reaches its target audiences effectively, from customer liaison to marketing and communications.
Related: Marketing strategies for online training providers
Next step: Create Your Own Online Learning
Moving from face-to-face training to online learning doesn't have to be hard. You will need to fulfill two core roles: A coordinator to pull it all together; and an advisor to provide expert content. Depending on your set-up and goals for your learning, you might already have an in-house hero who can do both.
Other roles, such as facilitation, come into play if you decide to bring in scheduled sessions like online workshops or virtual classrooms.
Once you have identified your in-house team heroes, you can easily create your own eLearning. Use a collaborative authoring tool like Elucidat that encourages fast communication between all team members. Elucidat's simple point and edit functionality empowers even the non-technical team members to create best practice eLearning quickly and cost effectively.
More resources to help you move to online learning:
Moving to online learning? How to analyze existing existing training material
Moving to online learning? How to construct a blended learning solution
Moving to online learning? How to keep the personal, social element