It Takes A Village
Building an eLearning team is a bit like building a house. You can't build a house with just a roofer. And you can't build an effective eLearning program with just a developer. In order to maximize the investment in virtual learning, you need a team that's equipped to handle everything from the overarching strategy to the nuanced details.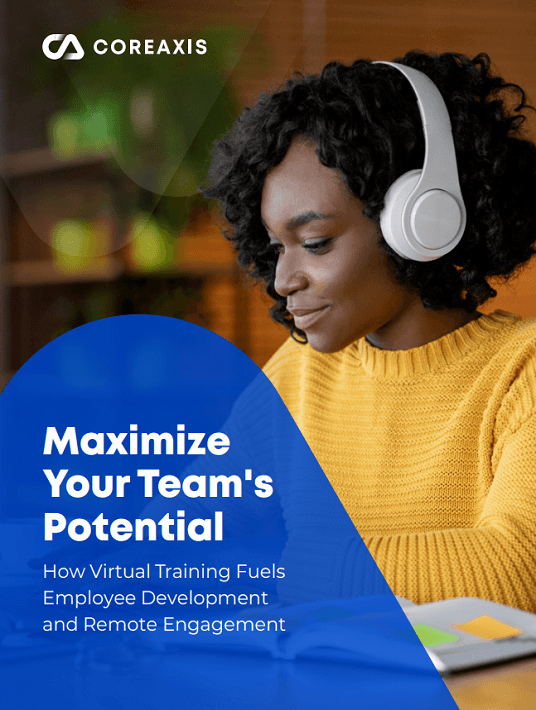 eBook Release
Maximize Employees' Potential With The Right Virtual Training Partner
This eBook will reveal to you the secrets to finding the right virtual training partner.
A great eLearning program is at the intersection of strategy, technology, and creativity, and a great training outsourcing partner will provide you with a team to synthesize all three. When you build a complete eLearning team, you should have access to cutting-edge development technology, in addition to experience with collaboration tools like Zoom so you can work together seamlessly.
Project Manager
Winston Churchill famously said, "Perfection is the enemy of progress." But, if you've ever been on a team without direction and accountability, you know the real enemies of progress are indifference and deferral.
That's why a Project Manager is critical to keeping your program development on track to meet your deadlines and standards. A Project Manager eliminates confusion by serving as the main point of contact, establishing comprehensive plans that include concrete schedules, and holding responsible parties accountable for on-time deliverables. To ensure communication doesn't fizzle out and progress continues forward with momentum, a Project Manager will also take the lead on scheduling regular check-ins and other meetings, as necessary. With this person on your team, you'll have a trusted resource and advocate each step of the way.
Instructional Designer
One in three employees cites uninspiring content as a barrier to learning. When you're investing in a virtual training program, you can't afford to have a third of your people getting nothing out of it. But with an experienced Instructional Designer on your team, you can rest assured your money isn't going to waste.
Training and rapid program development technologies are evolving faster than ever, and an Instructional Designer will help navigate your platform options and choose the right ones for your content. Working with your organization's Subject Matter Experts, this team member identifies your audience's training needs and visualizes the instructional graphics, User Interface, and finished product. From Instructor-Led and Virtual Instructor-Led Training to eLearning and gamification, Instructional Designers can open your eyes to how lessons come to life in ways you may have never thought possible.
 eLearning Developer
Once you've determined the best modalities for your content, an eLearning developer will make your vision a reality. Having a developer on your team working alongside the Project Manager and Instructional Designer means content development can happen faster since they fully understand your needs. It also makes the process more agile.
An eLearning developer can rapidly produce learning solutions using proven Instructional Design methodologies, the most cutting-edge technologies, and effective Project Management skills to meet your organizational product development goals.
Quality Assurance Specialist
Think back to the last time you noticed a spelling error or a broken link on a website. How much longer did you stay on the site? Did your opinion of the site host change?
Mistakes in your virtual learning program will have the same effect. Misspelled words, technical glitches, and outdated or inconsistent content can quickly erode the course's credibility and employees' engagement with it. A dedicated quality assurance specialist ensures your solutions are top quality and meet standards by planning, performing, and overseeing inspections and tests. They can identify and report any issues in real time, so you can stay on track and deliver a top-tier program risk-free.
You Have Finished Building Your eLearning Team. Now What?
Building a virtual training course isn't necessarily easy, but having a dedicated team in place that can handle each step of the process and is fully up-to-speed and invested in your goals accelerates the process, and ensures your program is dynamic, optimized and effective. For more helpful advice, the eBook Maximize Employees' Potential With The Right Virtual Training Partner will explain everything you need to keep in mind, with great examples and thorough analysis.