iSpring Suite 9: A Hands-On Analysis
Not sure if you noticed, but the love-hate relationship that people have had with Microsoft PowerPoint is now tilting strongly in the direction of love. That's right – after putting audiences to sleep for so many years, it is now easier and easier to be a fan of PowerPoint. With great thanks to Steve Jobs, Nancy Duarte, Garr Reynolds, and many others, PowerPoint has busted out of the shackles of Death by PowerPoint and is now perceived as a powerful presentation tool, as well as a very capable graphic development tool.
And if you haven't heard, iSpring Solutions recently released a major upgrade to their PowerPoint-based eLearning tool (iSpring Suite 9) and, that's right, it's now easier and easier to be a fan of PowerPoint-based eLearning tools.
As with all PowerPoint-based eLearning tools, the big value of iSpring Suite 9 is that it's embedded in PowerPoint, which makes the learning curve for eLearning development much shorter than stand-alone tools. If you know PowerPoint (and, let's face it, who doesn't know PowerPoint?), you're just a very short way from producing eLearning like a seasoned pro.
Now, with the release of iSpring Suite 9, PowerPoint-based eLearning development is suddenly much more than the easy way to create eLearning. It is often a better way to create eLearning.
Benefits Of A PowerPoint-Based Tool Over A Stand-Alone eLearning Tool
Wait, what was that sound? Was that you falling off your chair laughing? Well, let's just read a short list of how a PowerPoint-based tool can be better than a stand-alone eLearning tool:
Easy collaboration with Subject Matter Experts, graphic designers, and other contributors – who are all very likely to have PowerPoint and can offer hands-on enhancements to the eLearning content.
An option to repurpose the lesson's baseline PPT file very quickly into instructor-led training or synchronous virtual training.
Numerous animations (PowerPoint 2016 has almost 40 entrance animations, plus plenty of emphasis, exit, and motion animations)
Numerous slide transitions
3D graphics
Precise text kerning and leading, plus WordArt for making your text pop
Numerous options for customizations of the quick access toolbar
An abundance of graphic drawing features, including object combine, union, fragment, intersect, and subtract – not to mention features such as crop to shape, removing backgrounds from images, and countless shape and text effects.
Should I go on?
iSpring Suite 9 Analysis
OK, let's come down from the PowerPoint soapbox and bring this article back to an analysis of iSpring's new product. iSpring Suite has always been touted as a strong, reliable tool that produces great eLearning. However, it was lacking a couple "dazzle" features from competing tools (such as the innovative learner interactions in Articulate Engage), so some Instructional Designers took a pass on iSpring's solid reliability and went with the easy-to-use interactions in competitor tools.
Well, iSpring Suite 9 now has reliability and some dazzle – and it will be interesting to see how this impacts the competition for PowerPoint-based and stand-alone eLearning development tools. Here is a summary of some features that may spark your interest.
Learner Interactions
iSpring's modest selection of custom interactions is no longer modest. iSpring Visuals now offers 14 easy-to-use learner interactions that are all 100% HTML5-based.
Some would say that iSpring didn't need out-of-the-box interactions because it worked fine with PowerPoint animation triggers, so Instructional Designers could build their own interactions. While this is certainly true, it was still a significant deficiency with their tool.
No more. iSpring Visuals now includes:
Steps
Timeline
Cyclic Process
Process
Labeled Graphic
Guided Image
Hotspot
Circle Diagram
Pyramid
Glossary
Media Catalog
FAQ
Accordion
Tabs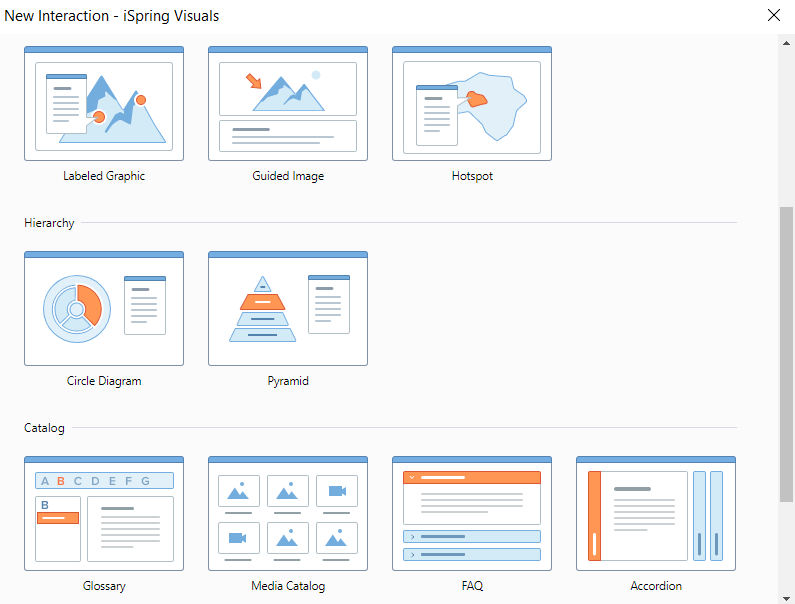 Screen Recorder/Cam Pro
iSpring made significant enhancements to their screen recording tool with a robust screen recorder and a feature-rich video editing tool. Unlike their previous screen recording tool, which was a very simple recorder similar to Articulate Replay, their new recorder has features that match fully functional screen recorders such as Adobe Captivate and TechSmith Camtasia.
The recording options include screen-only, webcam-only, or screen and webcam, which will be helpful if you're simply recording a software simulation or if you want to add a personal touch by including a head & shoulder shot as you demonstrate a software app.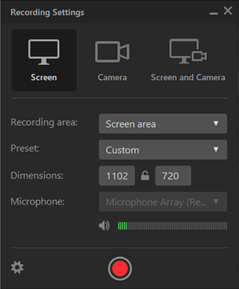 The Cam Pro editor has many very useful features, including an unlimited number of tracks for audio and video, allowing you to add just about any type of audio/video mix that you want for your screen recording. In addition, you add text, images, or even video on top of your screen recording.
Cam Pro is integrated into iSpring's ribbon menu in PowerPoint, and recordings will automatically appear in a new slide if you initiate your recording from the ribbon. Or you can invoke Cam Pro (along with QuizMaker, TalkMaster, and several other iSpring tools) as a stand-alone application from the Windows Start menu.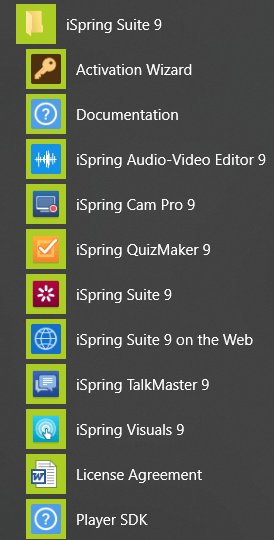 QuizMaker
iSpring 9's assessment tool added some new features to an already powerful Quiz tool. The Quiz tool now has 14 question types and each question has the ability to insert images, videos, audio, and equations – all with the ability to customize the learner's interface through iSpring's Slide View feature.
Question branching is also a helpful feature in iSpring 9, allowing you to "gamify" the assessment based on the learner's answers, or steer the assessment to different levels of difficulty based on the learner's answers.
It's also important to note that iSpring is still one of the few tools that allow you to combine multiple quizzes in a lesson to attain a cumulative pass/fail score – and the analysis features increase if you decide to use iSpring Learn, their impressive LMS.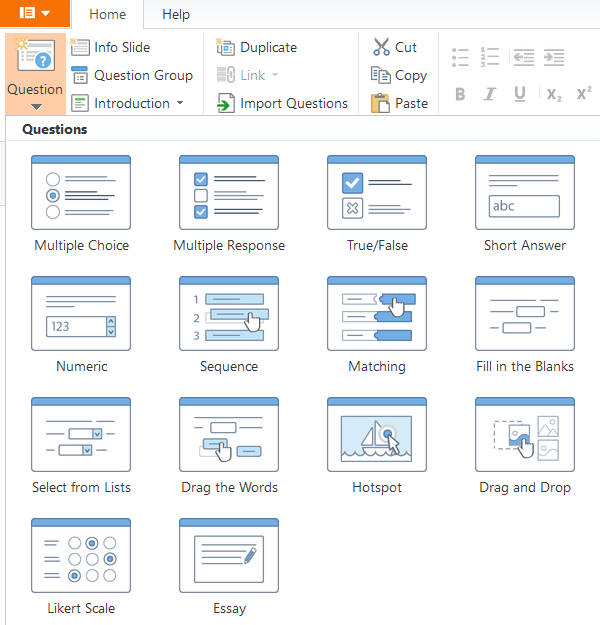 Quality/Reliability
If you give iSpring Suite 9 a quick test drive, you will certainly get a good feel for its core features and intuitive interface. But the more you do with iSpring, the more you can see that its overall quality and reliability are even more impressive than any of its individual features. There are at least a few reasons for this:
iSpring publishes a vector-based display of text and graphics instead of a rater-based display. It sounds a little geeky and you may think it doesn't matter, but the difference is noticeable. A vector-based output produces a sharper display than raster-based output, and also offers a smaller file size to allow pages to display faster. As such, companies who need high clarity in their lessons (such as life sciences company A.D.A.M.) have selected iSpring as their go-to eLearning tool.
iSpring converts just about all PPT object animations and transitions, making it easier to design exactly what you want and have it play in the published lesson just as it plays in PowerPoint – no matter what hardware device you are playing it on. And iSpring also works with PowerPoint triggers and with additional features, such as hyperlinking back to the slide where you came from.
The published lesson from iSpring 9 plays reliably on just about any hardware device or LMS you can think of. In my work, I've encountered a number of display issues from other tools when playing on one device or another, but iSpring's published output seems to be a cut above. I hear this from colleagues as well. For example, a friend of mine works at a very large global high-tech company where they are using an old version of Saba for their LMS. They started encountering a number of issues running published lessons from several eLearning tools, so they brought in iSpring and it played perfectly.
Depth Of Features
While the new features in iSpring Suite 9 are impressive, it is also a big plus in general for iSpring to have such depth with their features. We've already seen some of that depth with QuizMaker, iSpring Visuals, and the new screen recorder, and the depth is also very noticeable with their publishing options.
Start with the option to publish to three different LMSs and five different LMS protocols. The LMSs include:
LMS: For your company's LMS, if you have one.
iSpring Learn: iSpring's feature-rich LMS.
iSpring Cloud: A cloud-based sharing platform, designed for your marketing and sales teams.
And for LMS protocols, iSpring includes the normal flavors of SCORM and AICC – plus xAPI and cmi5.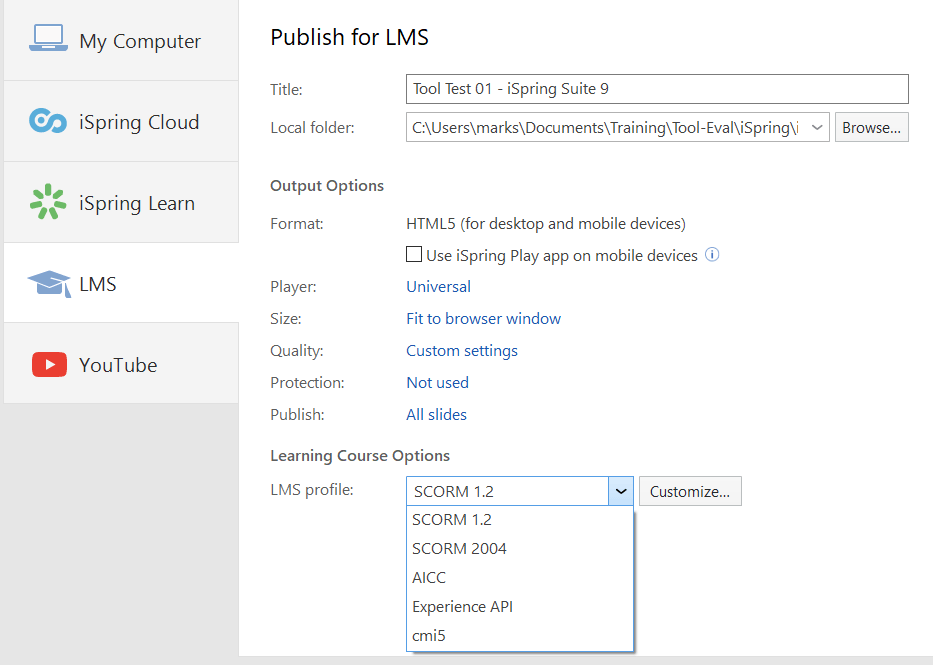 Beyond that, iSpring also publishes with security features that allow you to put a password on your lesson, or even restrict access only to learners who come in with a specific domain. Nice options to have, of course, if your company is dealing with sensitive information and wants to take an extra step of protection with intellectual property.
And iSpring is still one of the only eLearning tools that allow your learner's pass/fail grade to be based on multiple quiz scores and/or the number of slides viewed.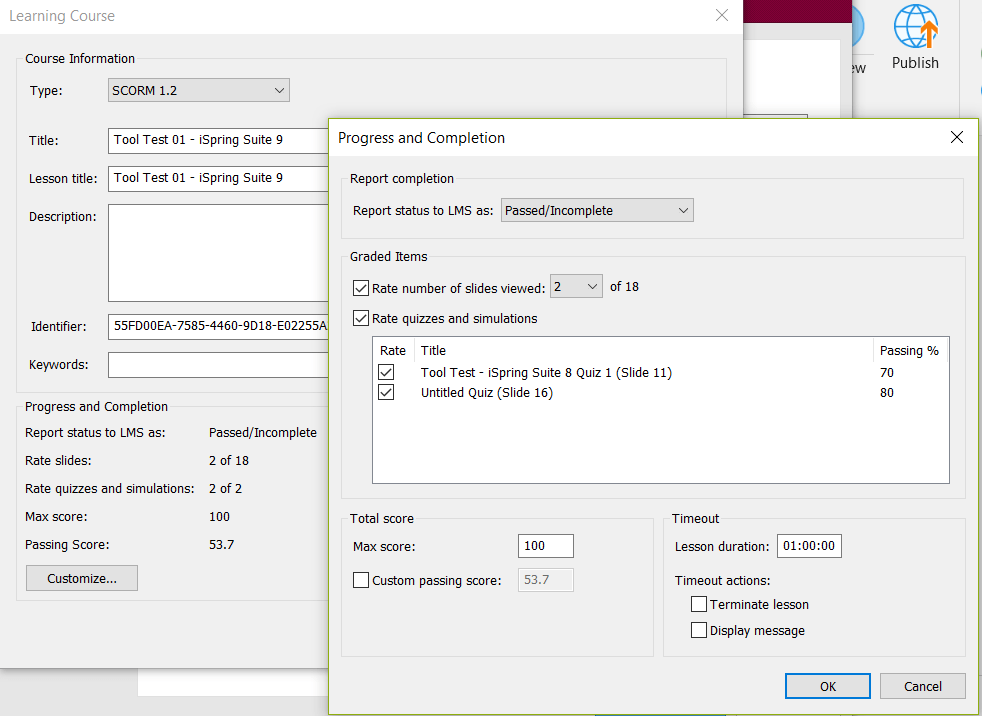 There are, of course, some eLearning developers who will argue that the limitations of PowerPoint will forever limit the capabilities of PowerPoint-based eLearning tools. However, iSpring has made significant progress with this new upgrade, and the limitations are certainly decreasing. Let the debate continue…