How To Launch Your New Course: A Step-By-Step Guide To Course Marketing
Launching your online course takes careful planning and a few different strategies—here's what you need to know about course marketing and lead generation.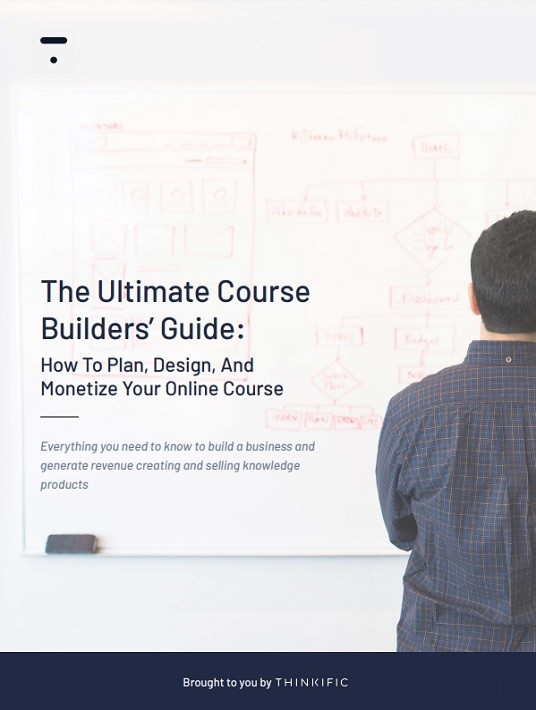 eBook Release
The Ultimate Course Builders' Guide: How To Plan, Design, And Monetize Your Online Course
Uncover tips to build a business and generate revenue creating and selling knowledge products.
What Is Lead Generation And Lead Nurturing?
Lead generation is the process of sparking interest in your product or service with the goal to convert those leads into a sale further down the line. It is the starting point for your sales process and generally begins with inbound marketing tactics like content marketing and email marketing.
Lead nurturing is the process of turning those leads into paying customers. This process involves building a relationship with potential buyers through targeted marketing methods aimed at introducing them to your brand and gaining their trust. Lead nurturing is all about the long haul—when it comes to course marketing, patience is key.
To sell your course, you need to work on both lead generation and lead nurturing to move potential customers through your sales funnel and turn them into students. Here are top tips to do just that.
Top Tips For Generating Leads In Course Marketing
1. Use Your Email List
Email marketing is your secret weapon in the quest to market and sell your online course. When someone signs up with their email address, they're demonstrating that they want to hear more about you and your course. This gives you direct access to sell to them.
If you already have a good database of email addresses, you can use these in your course marketing strategy to generate anticipation and excitement. If you haven't started building an email list yet, start now! Use lead magnets to encourage people to share their email addresses with you—find out more below.
The most effective email marketing campaigns involve six to eight emails spread over several weeks, with each email building on the last one. Your aim is to spark curiosity and generate interest in your course long before you try to sell anything.
2. Switch To Automated Email Marketing
When you're launching your online course, the last thing you want to be doing is sending out individual emails to every single potential customer or new student. Enter automated email marketing.
Automating your email marketing is a really effective way to streamline your sales process. If you can set up your email marketing sequence to send automatically with zero input from you, you can follow up with leads and drum up new sales without having to press the send button yourself.
Email marketing automation speeds up the process and makes your course marketing much more efficient. It also allows you to set up a complex and refined email marketing strategy that involves a whole flow of emails designed to pre-sell your course.
3. Find Joint Partners To Help
If you want to expand into new markets, you're going to want to start building business partnerships. If you can find joint partners and brands to collaborate with as part of your course marketing strategy, you open up your business to a new audience. Choose carefully and you can capitalize on much bigger and more developed audiences and email lists.
There's a wide range of ways you can tap into other businesses' audiences with content creation. Here are some simple ideas:
Guest blogging
Cross-promoting on social media
Competitions and giveaways
Joint events
Guest podcast appearances
Webinars
Each of these methods gives you the chance to demonstrate your expertise on a certain topic, introduce a new audience to your brand, and increase traffic to your website or course page.
4. Look For New Traffic Sources
To tap into bigger and better audiences for your online course, it's also a good idea to explore alternative traffic sources. If you're currently relying heavily on one social media channel, for instance, consider opening yourself up to others.
Thinkific course creator Kat Norton, founder of Miss Excel, originally grew her online course business after going viral on TikTok. Realizing that her business was dependent on just one platform, Kat diversified her business and began posting her easy, fun excel tutorials on Instagram too. This move opened up her content to a completely different audience and she soon started going viral there as well, generating a new traffic source for her courses.
There are always opportunities to find new traffic sources for your business so don't be afraid to try something different as part of your course marketing strategy.
5. Create Lead Magnets
A tried and tested method for generating new leads for online courses is to create lead magnets. Lead magnets are resources that require users to input their email address or other information in order to access.
There's a whole host of lead magnets you can utilize in your course marketing strategy, including:
Cheatsheets
Checklists
Templates
Whitepapers
Worksheets
Quizzes
Audiobooks
eBooks
Polls
Spreadsheets
Desktop wallpaper
Challenges
Case studies
Webinars
Free minicourses
If you can offer your audience resources that are genuinely valuable to them, you can quickly grow your email list and fast-track your preselling process. Think about the tools, templates, and content that will be most enticing to your target audience and use this to guide your course marketing plan.
6. Refine Your Landing Pages
If you're working on lead generation and nurturing, you need to have somewhere to send potential customers—your landing pages.
To give your course the best possible introduction, you need to create a dedicated landing page that highlights what your audience can expect if they sign up. Here's a landing page content checklist:
An attention-grabbing headline
An introduction to who's leading the course
Who your webinar is for
An overview of what to expect
Social proof
A clear call-to-action (CTA)
Ready To Start Your Course Marketing?
With the right course marketing plan, you can generate a buzz around your online course launch and expand your audience to include new demographics.
Download the eBook The Ultimate Course Builders' Guide: How To Plan, Design, And Monetize Your Online Course to learn insiders tips for creating, launching, and marketing your eLearning course. Also, join the webinar to bring your vision to life.
Read More:

Thinkific Plus
Thinkific's powerful platform makes it easy to share your knowledge, grow your audience, and scale the business you already love. Whether you're educating 10 students or 10 million, you've got the easiest technology and best support in the business.