Gamified Microlearning Best Practices
Does more equal better always? When companies use gamification they expect that more time and better focus on the training should equal more learning and longer retention and, therefore, better results.
And why not? For many L&D professionals, a gamified learning strategy is the antidote to dull, boring training. Apart from making learning fun and engaging, it improves knowledge retention and transfer much more than any traditional training method.
But the technique doesn't always work as intended. To help L&D professionals master gamification and get the best out of it, we have compiled 6 best practices based on microlearning characteristics. Use this article as a guide of sorts when implementing gamification in your organization.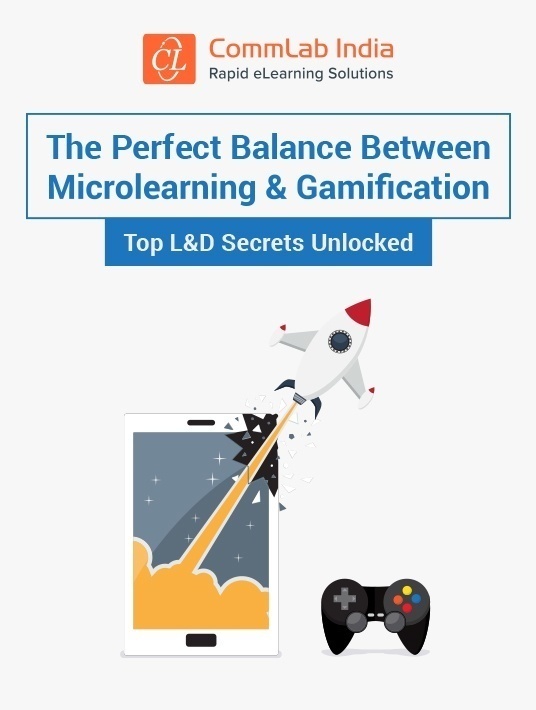 eBook Release
The Perfect Balance Between Microlearning And Gamification
Discover why microlearning is important for today's learners and why training managers should care.
Without further ado, let's see what the 6 best practices are.
6 Microlearning Best Practices To Use With Gamification 
1. Address One Learning Objective Or Pain Point Per Gamified Micro Module
Microlearning has proved itself in making learning meaningful and engaging thanks to its focused, "single objective" approach. Short learning nuggets that address a single objective cater to the short attention spans of modern millennial workers, helping them retain knowledge longer and apply it at work.
As with microlearning, each gamified module must address one learning objective—not everything in a given topic needs to be included; just what is essential to achieve the desired outcome. By implementing a "single objective" approach in their gamification strategy, training managers can help learners focus on what is important, giving them clear direction and objective goals.
Modules could be designed and categorized according to the overall learning objectives. Learners could use the gamified nuggets to watch and learn, practice, test their knowledge, or enhance learning.
Note: Learning objectives for gamified courses must be performance-based and indicate the conditions under which the learner is expected to perform. Use terms that communicate to the learner what they will be able to perform/do after the training. Generic or ambiguous phrases are a complete no-no!
2. Use Relevant Stories And Scenarios To Provide Context
At the end of the day, learners want to know how the training is going to help them(i.e., how the content relates to their work and if it will improve their job performance). So, instead of focusing on just the look and feel of the gamified course, try to situate the instruction in context to help learners connect the learning to their jobs. 
Why Stories And Scenarios?
"People think that stories are shaped by people. In fact, it's the other way around." —Terry Pratchett
Storytelling is, at its core, an emotional experience. We listen to stories and are compelled to relate to the characters and the challenges they face—in an emotional way. This has great potential for corporate training.
Stories can be used to contextualize learning meaningfully in gamified training. The tension, the conflict, the challenges, the characters/avatars in a story evoke different emotions in learners, making the learning experience immersive, emotional and, consequently, more memorable.
Now, stories can range from the most complete fictional universe to contextualizing the real world. And that is where scenarios come in.
A scenario is intended to present a possible future situation in story form. "Scenarios thinking" happens all the time—every day, we anticipate possible futures and prepare for them as best as we can. By including scenarios in the gamified strategy, Instructional Designers have the opportunity to show the learner's job challenges in different perspectives and contexts—both familiar and also totally unimaginable ones that the learner may never have considered. Scenarios compel learners to take actions and witness the consequences of their decisions in real time, thereby driving effective learning from these new "vantage" points.
Pro Tip: Do not use scenarios where the decisions are "obvious" or a story that doesn't resonate with their work as this will easily disengage learners. The millennial learner is likely to be drawn into and feel engrossed in the learning process when the scenarios are drawn from their work environment, allowing them to "see themselves" in the situation.
3. Use Videos Wherever Appropriate For Quick Learning
Videos are extremely popular among today's learners as they:
Use rich media elements (pictures and graphics, animations)
Fit neatly into the millennials' continuous digital diet of social media and messaging
Respect learners' lower attention spans and working memory limitations by addressing one learning objective per video
Using videos in your gamified strategy can engage millennial learners and motivate them to take up training more often than they would otherwise do. Here's how to incorporate videos in a gamified strategy:
If your training includes a series of topics, use one short video per topic instead of creating one lengthy video.
Divide the videos according to levels and insert a game-based assessment at the end of each to test learners. Set a minimum score they need to reach in order to advance to the next level.
Award a point for every correct answer. Unlock the next video if/when a learner manages to achieve the minimum score.
For those who performed exceedingly well, provide badges and certificates, display their names and score on the leaderboard.
For those who performed poorly, provide additional learning material they can go through, and advise on how they can improve.
This gives learners a sense of accomplishment as they pass from one topic to the next, increasing their engagement levels. 
4. Design Mobile-Friendly Gamified Courses For A Wider Reach
Organizations all around the world are also increasingly adopting the BYOD (Bring Your Own Device) policy, where learners are allowed/required to access training through their mobile devices, thereby enabling on-the-go learning. In such circumstances where consumption of training is mostly via mobile devices, designing gamified courses for mobile becomes imperative.
When designing mobile-friendly, gamified micro-courses, follow these tips regarding:
Navigation And Functionality
Avoid interactivities that are a staple in desktop courses, but which may not work on the mobile. For example, drag-and-drop interactivities that function seamlessly on the desktop/laptop are not the right fit for mobiles due to screen size limitations and touch screens of smartphones.
Avoid too small fonts that force learners to pinch-and-zoom to read.
All courses tend to quit when there is an incoming call or when the learner accidentally presses the home button. Take care of such "accidents" by providing an auto-saving feature for your game-based courses.
Include a progress bar at the top of the screen to help learners see what they have achieved within the gamified course.
Cut down text entries and replace them with buttons, a list, or a dropdown so that learners can select what they need easily without too much fuss about the text.
Optimize Multimedia
Tone down bright images and avoid large blocks of text. Avoid bulky graphics, icons, and graphs that require a lot of scrolling.
Not all media files are accessible on all types of mobile devices. To avoid problems in gamified courses, use MP3 audio and MP4 video files, standard media filetypes that play across all devices and operating systems. Keep video dimensions small—480X320 is recommended for the iPhone, and 640X480 for the iPad.
Use the right sounds at the appropriate time, as this is an essential part of the gamification experience. They serve as implicit guides, helping learners steer through levels or offering them hints/clues about the results of their actions.
Make the gamified courses downloadable for offline viewing. This is especially useful for employees working in remote locations with poor internet connectivity/bandwidth.
Feedback And Collaboration
Allow learners to share their achievements on public leaderboards and compete with their peers by including social media widgets in the gamified courses (Facebook, Twitter).
5. Offer Gamified Assessments To Reinforce Training
We, humans, are very forgetful creatures. As a matter of fact, corporate learners are likely to forget almost half of what they learned within weeks, making them victims of the forgetting curve. Gamified assessments help beat the forgetting curve.
Game-based assessments aim to bridge knowledge gaps by offering small, bite-sized assessments that can be taken anywhere, anytime on mobile devices. They appeal to millennial learners as they are not forced to take long assessments.
Incorporating short, bite-sized gamified assessments in training can keep learners engaged and cuts down the time spent in learning, allowing them to shift focus back to their jobs.
6. Support Classroom Training Or Macro Learning With Gamified Learning Aids
As I mentioned earlier, gamified learning is not restricted to post-training reinforcement or support. They can be used to address varied training needs including formal (classroom training, eLearning) and informal training, reinforcement of training, and performance support interventions.
Here are a few ways you can use gamified learning to support your "macro learning" programs:
Add gamified micro-courses to your online courses to make learning fun for your learners. Offer them either as part of the online learning or as reinforcement training.
Use game-based assessments during training (eLearning/ILT), or as part of pre-training and post-training assessment.
Include game-based videos in your classroom sessions or online learning to help learners understand a concept quickly.
Provide gamified nuggets as follow-up content to cement learning in the classroom.
Concluding Remarks
To be an L&D superhero, one must rise to the challenges of the new-age learner's needs—lack of attention spans, demand for on-the-go learning, and post-training support. One way to meet these challenges, as we have discussed, is by combining the powerful characteristics of microlearning with gamification, and tailoring learning in a way that can promote learner engagement and maximize knowledge transfer.
Download The Perfect Balance Between Microlearning And Gamification and discover some more gamified microlearning best practices. Also, join the webinar The Ultimate Guide To Implementing Microlearning to learn how microlearning can boost learner engagement.
References:
CommLab India Rapid eLearning Solutions
Working with multiple outsourcing vendors can be stressful, and a waste of time & money. With CommLab India Rapid eLearning Solutions, all your online training needs are taken care of, rapidly and economically.