Introducing Microlearning
Microlearning is a flexible training approach that delivers short bites of learning, each focusing on a single learning objective. Microlearning assets are mobile-friendly, making them ideal for non-intrusive and on-demand learning.
Pros And Cons Of Microlearning
Before understanding the role of microlearning in a blended learning environment, it is important to understand when it is not suitable for L&D.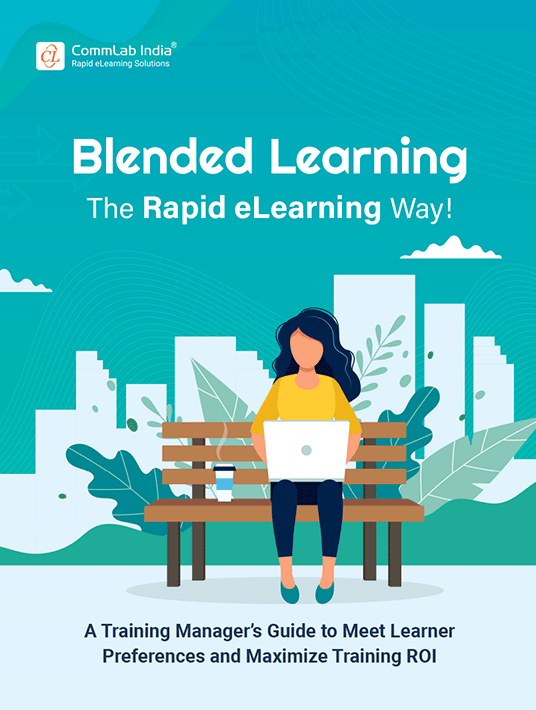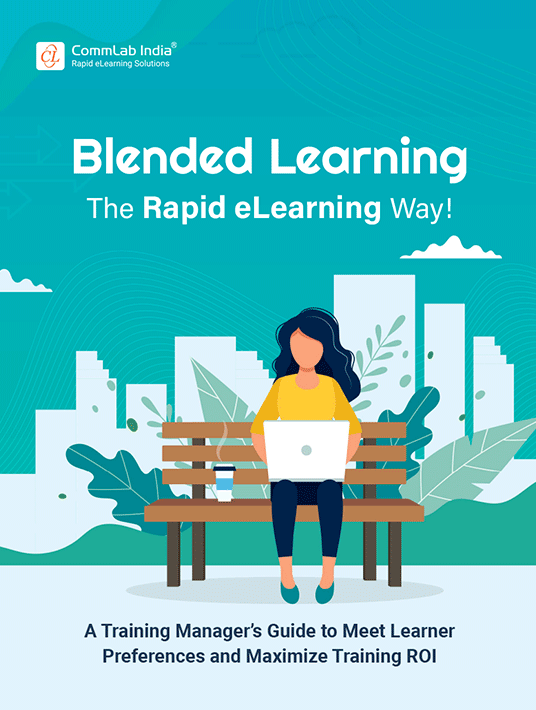 eBook Release
Blended Learning – The Rapid eLearning Way
Is rapid blended learning the best solution? Discover how blended learning can be leveraged to meet corporate training needs and address modern learning preferences.
Microlearning Is For
Aligned with the desired organizational results
Based on a single, clear performance-based learning objective
Targeted, concise, convenient, easily accessible
Personal, flexible, adaptive and learner-centric
Much more than just performance support
Microlearning Is NOT
A one-dose solution, especially for new, technical, or complex topics
Appropriate for every learning requirement (for instance, if the training requires extensive hands-on practice, microlearning can't replicate the learning environment)
Microlearning Formats
Microlearning can be delivered in various formats, and this makes it an integral part of any blended learning approach. Whether it is trailer videos to get learners hooked to the upcoming VILT session or pushing practice exercises to them online in the form of scenarios and simulations, microlearning fits all stages of the learning journey.
Why Include Microlearning In Blended Learning?
Microlearning is a good fit in the blended learning environment for pre-training, during training, and post-training. Here's a bird's eye view of why and how.
Microlearning For Pre-Training
Microlearning can be used to convey the 'what's in it for me' to learners about the upcoming training program. It can pique their interest and build awareness. Microlearning formats for pre-training can include:
Videos that showcase the importance or relevance of the upcoming training
Trailer videos to get learners sold on the training
Quizzes or gamified modules to test learners' existing knowledge
Scenario snippets that take them from the known to the unknown by sharing the relevance of the upcoming training
Infographics or PDFs that summarize the key takeaways – works well in case of curriculums
Microlearning During Training
Microlearning formats are accessible on mobile devices and light on learners' time – so they can be used during classroom training or in VILT sessions.
Video snippets for demonstrations
Infographics to showcase rules, dos and don'ts
Worksheets, interactive PDFs that small groups can fill in breakout rooms
Microlearning For Post-Training
Microlearning For Spaced Learning
Microlearning is a good way to beat the effects of the forgetting curve. It props up learning by pushing assets to learners at regular intervals of time. This not just simulates recall but also ensures that knowledge/skills are refreshed. A few ways of using microlearning in this phase of the blended learning environment could be:
Scenarios/simulations/quizzes to test recall and offer reflection opportunities. Learning can be through feedback. If needed, learners can be assigned formal training based on their scores.
Microlearning modules/infographics that encapsulate the key takeaways of eLearning courses or ILT/VILT sessions.
Microlearning For Performance Support
Microlearning modules double up as excellent performance support tools which employees will need after attending a training program when they have to apply their learning on the job. Microlearning formats for digital job-aids include:
Videos
Interactive PDFs
Infographics
Podcasts
A Tip For Success
While microlearning can be used in all stages of the learning journey and enrich your blended learning approach, involving stakeholders in designing microlearning solutions is crucial for success.
Ask them what:
1. The desired organizational goal is
2. The desired performance from employees is
3. Learners should be able to after completing the microlearning module (learning objectives)
Getting answers to these questions will help you decide which microlearning format to pick, based on the frequency of doing the task, the degree of its importance, how easy or difficult it is to master the task, and the risk associated with NOT performing to standard.
Microlearning Examples In Action
1. Microlearning Assets for Sales Training
Digital flashcards to reinforce process steps or key definitions
Dialogue simulations on customer negotiation skills
Whiteboard animations on sales pitches
Infographics for comparisons, dos and dont's
Games to help resolve customer objections
2. Microlearning Assets Onboarding
Video snippets of CEO/top management welcoming them
GIFs introducing them to their team/resources
Infographics on organizational structure
Games/scenarios on corporate values
Blogs on compensation and benefits
Conclusion
Download the eBook Blended Learning—The Rapid eLearning Way to get insights on how you can launch a successful rapid blended learning program. Also, join the webinar to learn how to design holistic blended learning solutions for your team.
References:
CommLab India Rapid eLearning Solutions
Working with multiple outsourcing vendors can be stressful, and a waste of time & money. With CommLab India Rapid eLearning Solutions, all your online training needs are taken care of, rapidly and economically.