Utilizing Moodle Features For Plagiarism, Webinars, And eCommerce
There is no shortage of tools, add-ons, and plugins available for Moodle to take your eLearning programs to the next level. Here we'll delve into the administration functionalities of Moodle.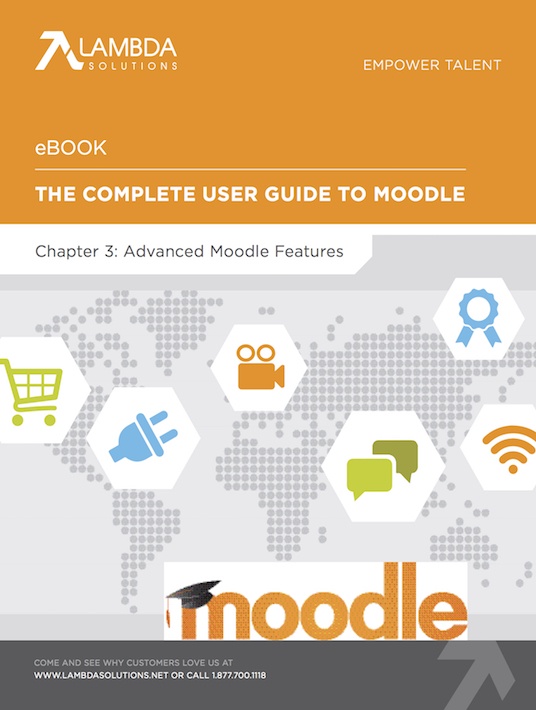 eBook Release
The Complete User Guide to Moodle Chapter 3
Get introduced with the various Moodle plugins, and discover Moodle's functionalities and how to make most out of its features.
1. Plagiarism Plugins For Moodle
With the instant access to information that the wonderful world wide web offers us, plagiarism has been a serious byproduct. There is a number of plagiarism prevention tools used by schools and education, and Moodle is now one of them. There are a few different plagiarism plugins that are available to Moodle users. Here are the top 5 plugins for plagiarism prevention in Moodle:
Turnitin Plagiarism Plugins
Turnitin is a plagiarism prevention and detection system used by secondary schools and higher education institutions. As of right now, there are 3 different Moodle plugins that work with Turnitin in Moodle. These plugins integrate with the existing Moodle Assignments module.
Turnitin Plagiarism Plugin
This plugin is fully supported by Turnitin and can be pulled by your other Moodle modules to check for plagiarism throughout them. For example, you can use this plugin to check for plagiarism in Moodle forums, Moodle quizzes, Moodle blogs, and anywhere else students might be posting work.
Moodle Direct Plugin
This is a standalone Moodle module that maps assignments submitted in Moodle, with assignments in Turnitin. Once they're mapped, all submissions are checked for any changes. In this case, you can log into either system to access the assignments.
Moodle Basic Plugin
This is an assignment type plugin that provides users Single Sign on to the Turnitin website, while Moodle stays in a frame at the top of the page.
Crot plagiarism checker
This is a language-independent plugin that checks for plagiarism within an institution between peers. This plagiarism plugin uncovers assignments copied from peers at the same institution. One of the important features of this plagiarism plugin is that none of your documents will be moved externally. All local checkups are done in your Moodle site.
Plag scan
This plagiarism plugin cross-checks for copied work both externally and internally. It will check if any work was plagiarized from internet web pages. It will also check if any work was plagiarized from peer to peer.
2. Webinar Integrations
Moodle Adobe Connect
This Moodle LMS integration provides seamless use of Adobe Connect Pro directly in Moodle. This is done by adding an activity instance and providing the meeting name, URL (optional), start time, end time, meeting template, and a public or private meeting setting.
With single-sign-on technology, users logged into Moodle will not have to enter Adobe Connect Credentials to access the Moodle webinar or meeting. When provided access through the meeting link, it is a simple click of a button and away you go.
Additionally, you have the ability to create three roles: Adobe Connect Host, Presenter, and Participant in Moodle to reflect the roles on Adobe Connects' server. When users are assigned these roles within Moodle, they are automatically given these roles when they log into the webinar. This Moodle integration also provides you with the ability access webinar and meeting recordings directly from Moodle so administrators and teachers never have to leave the site.
Big Blue Button
BigBlueButton is an open source web conferencing system designed for distance education or training. Using either the free version, or paid version, BigBlueButton is a dynamic conferencing systems that enables you to deliver high-quality learning experience to remote learners.
With real-time sharing of slides, a virtual whiteboard, audio, video, chat, and desktop sharing, mimicking face-to-face instruction has never been easier. Benefits beyond face-to-face training sessions includes the ability to record sessions for playback. The ability for playback benefits both learners and training managers. Learners have the ability to rewatch instructional sessions, and training managers can easily provide feedback to new instructors.
Built right into Moodle's user-friendly interface, BigBlueButton allows you to:
Use sign-up links directly in Moodle courses
Restrict students from entering the session until the teacher or trainer arrives
Launch BigBlueButton in a separate window
Create custom welcome messages that appear in chat box
Specify join, open and close dates for sessions in Moodle calendar
Record a session and easy access to recordings
Access and manage recordings directly in Moodle
3. Moodle eCommerce Plugins
Time and effort put into the development of eLearning programs is significant. This has moved many organizations to put pressure on eLearning departments to become either cost-neutral or profit centers; meaning courses developed need to be sold. To help facilitate this, there are many Moodle Plugins to help you do so. PayPal was the first eCommerce plugin that enabled transactions directly from Moodle, but there are now additional integrations that provide modern online payment options.
PayPal
The Moodle PayPal Enrolment plugin allows you to administer courses that have to be paid for before access is gained. The Moodle PayPal plugin must be added by an administrator or manager and an individual price can be added for the course if need be. If operating on Moodle 2.5 and onwards, all currencies supported in PayPal can be set. When a user clicks to access the course through a course link, they will be redirected to a PayPal page that prompts them for payment. Once payment has been made, both student and teacher will be notified and access is automatically given.
Course Merchant
Course Merchant is an eCommerce integration designed for Moodle so you can sell courses, market courses, and manage courses online. This eCommerce integration for Moodle provides all features that users would expect to see when shopping online. The sophisticated shopping cart is capable of processing tax, selecting multiple courses shown in line items and providing fields for flexible discount voucher/coupon codes.
Additional features include:
Instant student enrollment with single sign-on access to courses upon successful purchase
Multiple payment methods
Bundled products to enroll a learner onto multiple courses in a single purchase
Multiple-seat purchasing for corporate buyers with self-service seat allocation
Configurable registration fields to capture registrant data for various systems
Single seat purchasing with instant or delayed enrollment
Options for custom and offline payment like 'Pay by Invoice'
2Checkout
2Checkout is another eCommerce plugin for Moodle that provides much of the same functionality as course merchant and intended for those wanting to reach an international market. With a welcoming user-experience, 2Checkout is a mobile-friendly and responsive shopping cart designed for any device.
Features for the 2Checkout eCommerce include:
Multiple payment methods including all major credit cards, debit cards and PayPal
25 currencies and 15 different languages
Highest level of industry-standard fraud protection
Recurring purchases for billing exactly when you need - monthly, weekly annually
Mobile optimized checkout so customers can purchase securely from any device
To learn more about the extended features of Moodle, download the eBook The Complete User Guide To Moodle Chapter 3.