The Most Common New Hire Online Training And Employee Onboarding Software Myths
It's not always easy to be empathetic. But for something like new job jitters, making the connection is a little easier. We probably all remember the elation of passing an interview. You feel validated, and your self-confidence takes a massive leap. But in the duration between confirmation and the first day of work, butterflies kick in. What if they change their minds? What if you get there and have no idea what to do? What if they think you're underqualified and fire you? Here are some of the most common new hire online training myths and misconceptions about employee onboarding software.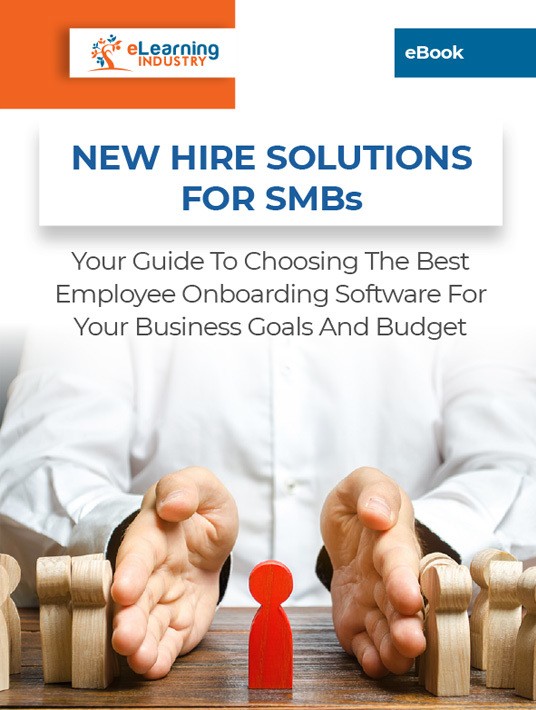 eBook Release
New Hire Solutions For SMBs
Discover the essential steps to implement a successful employee onboarding program for your diverse workforce.
1. It's Just Like Regular Training… Only Online
Ordinary workforce development training is aimed at a specific skill-set. It could be a company-wide compliance course or a legal government mandate for your entire industry. Employee training participants might need to learn to use a new invoicing system. Onboarding can still include some of those elements. They'll have to learn how to use biometrics to access the building, for example. Or how to reach the office from their houses. They may even need help finding accommodation closer to the office. Onboarding is about making new hires familiar with their organization, their colleagues, their office culture, and in some ways… themselves.
2. It's Only For A Week
Some companies restrict access to the employee onboarding software to the first week of work or even the first day. They gather new hires and march them through a series of vague slides and abstract knowledge. Then they walk them around the office, telling them people's names. One of the most common new hire online training myths is that it's a one-time thing. This is a cosmetic and pointless approach. Your new employees will barely remember anyone's name or face. And that PowerPoint deck you so cheerily presented will languish in their inbox. Effective orientation takes a blended approach and has a strong online component. Ideally, get your new hires on the employee training LMS app a few weeks before they report to work. They can begin their online onboarding process before they even report to the office.
3. It's Expensive
To the kind of boss that swears by mission and vision slide shows, the above approach can seem unnecessarily pricy. They may skip onboarding altogether, arguing it's for big brands with massive online training budgets. In reality, onboarding can be quite cost-effective. If you already have LMS for admin purposes and advanced training, you can use it to design your online onboarding program. Content can be repurposed from marketing collateral that's already floating around the office. And colleagues who've been at your company for a while can generate learning materials for the newbies. They can even become virtual mentors, texting assistance when needed.
4. It's An 'HR Thing'
It's easy to leave everything in the hands of HR and admin. That's their job, right? After all, they hired this person, so they should orient them. Yes, the bulk of employee onboarding software implementation will be covered by HR, but the rest of the team can get involved as well. New hires may feel intimidated if they're being broken in by the same person that hired them. It may feel like their online training assessment hasn't ended, and they may worry their job isn't as secure as they thought. That's why it's best for onboarding to involve colleagues and peers. People in the same department, with similar interests, and maybe even of the same age group. Especially for soft-skill aspects of the job. Also, bear in mind that there is some maintenance required. And that often involves members of the team who aren't in the HR department. For instance, your customer service lead may have to provide updates so that you can improve the customer care simulation.
5. It Doesn't Need Follow-Up Support
We assume once employee onboarding is over, new team members should figure things out on their own. They're qualified for the job they were hired to do, so they should buckle down and do it. But there are still things your new employees need help with. Their previous work-place may have used a different accounting system or operated under a polar culture. They might want help closing a sales call or starting a marketing conversation with friends and family. So, even after onboarding, online training resources should be available. In the form of a human mentor whose shoulder they can tap, or whose phone they can ring. There should also be a JIT online training library with bite-sized refreshers, both for new employees and office veterans. You never know when you'll need a reminder. Another great way to provide ongoing support is to host live events via your employee onboarding software.
Employee onboarding software has become a standard part of workplace practice. However, there are still some wrong attitudes regarding this introduction to the workplace. People assume it's the same as any other form of workplace training, and that it should last a week at most. A good onboarding program can be as long as a year. Employees think it is HR's responsibility, even though the employees themselves are far better placed to acclimate new hires at ground zero.
Others assume implementation is a fancy, expensive undertaking, like team-building or staff outings. Meaning it's only for up-scale companies with billion-dollar budgets. You can literally design orientation online courses for free. Finally, they think it's a one-off thing. It's really the start of an ongoing learning curve that lasts until you leave the company. Hopefully, under cordial terms all round.
Learn the most common onboarding errors that may cost you your top talent, and tips to avoid this. Download the eBook New Hire Solutions For SMBs: Your Guide To Choosing The Best Employee Onboarding Software For Your Business Goals And Budget to check on the onboarding best practices when using a new employee training LMS, and much more.