Online Training Software: How To Make Corporate eLearning Memorable
Effective corporate eLearning courses captivate your corporate learners and improve their participation and motivation. In turn, your business enjoys an increase in corporate eLearning ROI and employee satisfaction. Online training software gives you the power to provide your corporate learners with small bursts of information that explore specific ideas. Instead of focusing on a wide range of topics, you concentrate on their goals and gaps. Therefore, corporate eLearning becomes an invaluable performance support tool. However, the question remains, what makes a corporate eLearning program a memorable one, and how does online training software fit into the picture? Here are 7 insider tips and tricks you ought to know.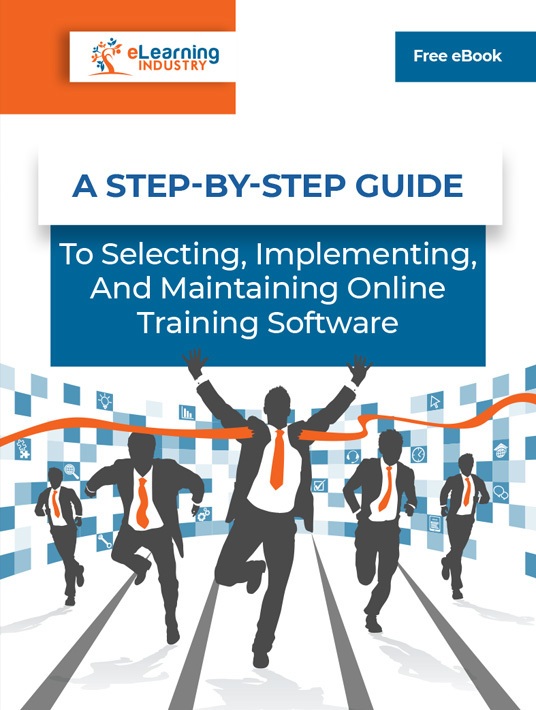 eBook Release
A Step-By-Step Guide To Selecting, Implementing, And Maintaining Online Training Software
Discover effective ways to promote corporate L&D with online training software.
1. Give The Corporate eLearning Course A Personality
One of the best ways to ensure that your corporate eLearning is successful is to give it a distinct personality that all your workers can relate to. Include eLearning course guides and branding elements so that employees can connect with the online training content. This also enhances the credibility of the corporate eLearning course, as it reflects your brand image and messaging. For this reason, it's crucial to find a platform that allows for full customization. As an example, you're able to integrate your logo and color scheme into the eLearning course layout.
2. Incorporate Unique Online Training Characters
Devise a rhyme and reason why behind each of the online training character's behaviors and actions. The reasons must be sensible and relatable to the real working environment. You might want to include some images or describe the online training character's appearance and disposition as clearly as possible. This way your employees will familiarize themselves with the online training characters and remember them more vividly. They will also relate to them and visualize their thought process. In doing so they will understand the online training content much better. Furthermore, try to create online training characters with unique flaws or personality traits. Your employees are more likely to recall the online training characters who do not behave according to the script and learn from their mistakes. However, you need to be careful. There is an extremely thin line between developing an interesting persona and letting the online training character overshadow the entire online training process.
3. Make It Responsive
The entire point of having a corporate eLearning program is to ensure that all your employees can access the different online training material at different times, from any location. A great way to make this possible is to make the online training content accessible from any device. Your employees should feel empowered to broaden their knowledge and gather the information that will sharpen their skills autonomously. A great online training platform ensures that all employees get the same User Experience.
4. Incorporate Visuals
Images, videos, and infographics will make your corporate eLearning course more memorable and effective. They are informative, entertaining and interactive. Visuals also make it easier for people to get their information across. They take less time to watch than it does to read the online training content. For instance, rather than making a list of items, let your users see them in action. A demo video explores every step of the process so that employees can observe and mimic the same behaviors on the job.
5. Reinforce Rather Than Repeat
Traditional online training techniques are meant to repeat one point over and over to improve understanding and comprehension. Usually, one point is highlighted once or twice just to ensure that no one missed the takeaway. To make your corporate eLearning truly worthwhile, ensure that you make it short and sweet with the power of positive reinforcement. This is mainly because the online training activities and videos can be reread and rewatched whenever a person needs clarification. Repetition will make corporate eLearning boring, but reinforcing the knowledge leads to memory retention.
6. Personalize The Online Training Process
Relating to an online training character may be tough for certain employees. By making your corporate eLearning more personal, you allow them to step into the persona. A great way to set the scene is by exploring the key motivations and personality traits in the story. Allow your employees to have control. Ask questions that provoke your employees to reflect on the question. You may also create a simulation where your employees can interact with the online training character to complete the task. They will experience the emotions and dilemmas of the online training character, which improves recall and memory retention.
7. Create Individualized Online Training Paths
A lot of online training software gives you the power to specify individual online training paths for every employee. This may be in the form of a clickable eLearning course map or personalized eLearning course catalog. Some even automate the online training process by adjusting the corporate learner's online training plan based on their performance. For example, their performance during a simulation reveals that they need to work on their communication skills. As such, the system points them in the right direction and adds relevant online training activities to their eLearning course map. Online training experiences that focus on their personal learning goals and objectives are memorable because they divert away from the one-size-fits-all mindset. Every member of your team can concentrate on their strengths and weaknesses to continually improve.
With these 7 tricks and tips, you will have created a corporate eLearning course that is memorable, compelling and entertaining. The best way to achieve this is to have a thorough knowledge of your employees. This way you will have more success tailoring the online training characters to add value to the online training experience. Conduct online surveys and on-the-job evaluations to target their areas for improvement and disclose their personal interests. Then use your findings to develop online training content that they won't soon forget.
Download our eBook A Step-By-Step Guide To Selecting, Implementing, And Maintaining Online Training Software to discover how you can maximize your online training ROI by investing in online training software. We'll also share tips to help you select the right online training software vendor for your needs, as well as how to create a realistic budget and the cost factors to consider.