Tips To Outsource Custom eLearning On A Budget
Most often, organizations shy away from custom eLearning development because of 2 main reasons­­—time and budget. If you want to be outsourcing eLearning on a stringent budget, there's good news! There are 6 simple steps you can take—along with your vendor—to ensure the project stays within your budget and timelines.
Select the right eLearning authoring tool.
Use templates and repurposed content.
Use in-built interactivities.
Minimize the use of audio.
Be flexible with the timelines.
Adhere to quality measures.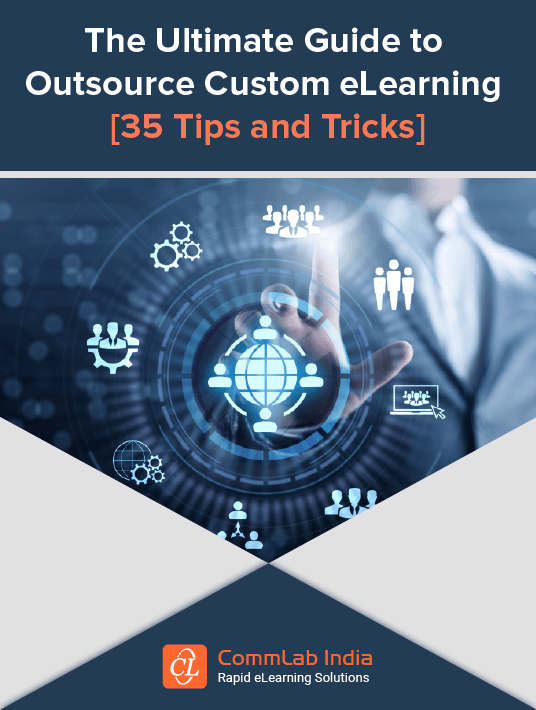 eBook Release
The Ultimate Guide To Outsource Custom eLearning
Read up on practical ideas on designing learner-centric courses within set parameters, without compromising quality.
Outsourcing Custom eLearning Development On A Budget–Tips And Tricks
 1. Selection Of The Right eLearning Development Software
While several authoring tools are available for eLearning development, each has its strengths and limitations. Hence, it is important to pick the tool that is the best suited for long-term requirements. Here's how the selection of an authoring tool (iSpring, Articulate Storyline, Adobe Captivate, Lectora and dominKnow One, etc.) makes a difference when you're outsourcing eLearning on a budget.
If you are using an authoring tool in-house, insist that the vendor uses the same tool for custom eLearning development. This also makes it easy for further enhancements on your end.
If you haven't invested in any eLearning authoring tool, evaluate the features of various tools during a consultation with your vendor, and choose the one that best matches your eLearning project requirements.
2. Use Of Templates And Repurposed Content
Here's how using templates and repurposing content cuts down project costs:
Ask your eLearning vendor to standardize and reuse a few templates throughout the course.
Share your existing eLearning templates with the vendor.
Look to your classroom training material or legacy courses (such as Flash courses) for relevant content. A good eLearning vendor will transform them into online courses, based on Instructional Design principles.
3. Design Of Interactions Whilst Outsourcing eLearning
Designing heavily customized interactions could mean additional expenses. And that's not something you would want when you're working on a stringent budget!
If you are:
Completing Instructional Design in-house, ensure that the ID strategy does not include complex interactions.
Outsourcing eLearning design as well as the development of custom eLearning, stick to readymade interactivities offered by the chosen authoring tool.
4. Inclusion Of Audio Elements
While audio is an essential part of eLearning, recording, as well as syncing audio files to onscreen elements, involves time and expense. If you're on a tight budget, talk to your vendor and consider the following options:
Stick to minimal usage of audio (use audio to summarize rather than reading onscreen text verbatim).
Consider using a machine voice.
Cut down on the number of professional voiceovers used. (Consider using one professional narrator who can emulate multiple voices for various characters in the eLearning course.)
Leverage onscreen text, follow an appealing font style and text layout.
Include visual elements that are self-explanatory.
Use non-audio based interactivities—ensure instructions are clear and displayed prominently onscreen.
5. Flexibility On Timelines When Outsourcing eLearning
When you've already taken the decision to commit to outsourcing eLearning for the project, it makes sense to plan ahead so that you give your eLearning partner enough time to design and develop the course.
Expect to pay a higher price when you want the course completed within short timelines.
Give your eLearning vendor realistic timelines for completion to avoid the possibility of rush charges.
With a flexible timeline you have the option to deploy fewer resources on the project.
6. Adherence To Quality Assurance
Skipping quality checks just because you're on a budget could prove to be a disaster in custom eLearning development. It's good practice to spend more time in the design phase of the project and complete thorough reviews. Rectifying errors after the course is developed and rolled out is invariably more expensive than correcting errors during the development phase of the project. Qualified eLearning vendors have the right resources in place to do a thorough quality check without adding additional expenses to the project development cost.
Summing Up
Before you go ahead and outsource custom eLearning development, take some time to reflect on the steps that can curb and maintain expenses within your budget. While it can appear to be a daunting task, invest some time in planning and you should be all set.
Finally:
List the steps that can be completed in-house and the ones that could benefit from the expertise of a vendor.
Check if you have the right resources and if they can spare the time to get involved in custom eLearning design and development.
Cost-effective outsourcing of eLearning is an art altogether. Download the eBook The Ultimate Guide To Outsource Custom eLearning to see how it can be done in an effective manner, staying well inside the desired budget.
Assign tasks in-house only if you have resources with the right experience and expertise. Otherwise, it could result in a waste of time and delay your project timelines. If you are looking for more tips to ensure the successful outsourcing of custom eLearning, join this webinar presented by RK Prasad, CEO, and Co-Founder of CommLab India, in collaboration with eLearning Industry.
CommLab India Rapid eLearning Solutions
Working with multiple outsourcing vendors can be stressful, and a waste of time & money. With CommLab India Rapid eLearning Solutions, all your online training needs are taken care of, rapidly and economically.