How To Launch Your Video Learning Projects On A Tight Timeline
A lot of work and thought go into crafting the perfect eLearning videos. This makes sense, as eLearning videos help guide the online learning process. They can also make learning difficult concepts more fun and dynamic for all audiences. But for all its benefits, many people still shy away from adding eLearning animation and training videos to their blended learning programs. You can change your apprehension into action with a few practical tips to produce video learning projects in record time.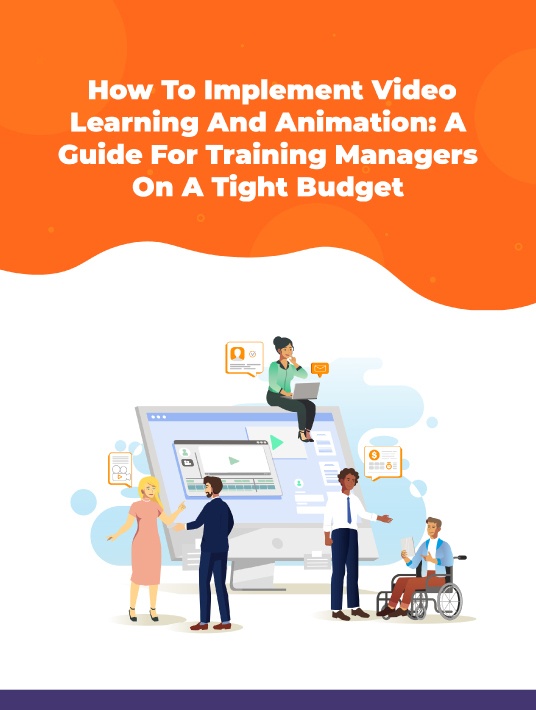 eBook Release
How To Implement Video Learning And Animation
Discover all the necessary know-how in this guide tailor-made for training managers.
Planning For Content
Any eLearning journey you embark upon needs to have a destination and a map to get there. Your learning objectives are the destination and the content you cover is the road map. A learning objective defines what you want your learners to get out of your course. As the course creator, you can define these objectives by listing the skills, knowledge, or abilities your viewer should retain after watching your video. Learning objectives should be specific, reflect behavior, and be measurable.
Your learning objectives will guide you as you write your script. The script will contain what you want your learners to hear, who will deliver the message, and any notes on actions or eLearning animations you'd like to see. After securing the final script, you need a visual aid to support your concept and ideas for the video. That's where a storyboard comes into play. A storyboard combines what is said in the script with what is seen on screen. It represents what the final training video will be in simple terms.
Storyboard Prep
Before you can start creating the storyboard, you need to have a brainstorming session to transform your words into visuals. This is the point you might need to bring in others to help. Once the brainstorming session is done, you'll need to create a timeline to string together the storyline. During your planning stages, you should take your time to review and revise as much as possible. Being happy with your content in planning will make for a quality training video.
Setting A Video Learning Projects Budget
Now that you have a direction it's time to determine your budget. Setting a budget means taking each component of your project into account:
You always want to start with your general scope. Understanding the scope of your project will help you prioritize learner needs to build a course that's both effective and budget-friendly. This includes figuring out how many videos you want to create, how long they will be, your timeline, and your style.
The number of videos and their length directly influence resource hours, whether you're creating the videos in-house or with an external partner. The more complex the objectives, the more involved the course will be, and the more videos it will take to explain it. Lots of videos mean lots of work and sometimes that can mean lots of additional cost, if you don't have a way to scale video production efficiently. When you need to launch your course is also a factor. If you're working on a time crunch, you can generally expect to pay more in rush fees.
A reasonable timeline would be at least six months out from your course launch date (but this will depend on your video volume, of course). Six months should give you plenty of time to design, prototype, and launch your eLearning course.
Animation Style Selection
Lastly, there's your animation style. Whiteboard animations display your content as if a person is writing on a whiteboard. It's an affordable option that's good for short, quick courses. 2D animation is the most popular option. It mimics the look and feel of a cartoon and it's great for storytelling. 3D animation is perfect for realism, making it the animation of choice for complex, technical topics.
You have to understand the level of complexity needed to get your point across without overwhelming users—or setting the wrong budget for your eLearning video. Your cost per minute will also depend on the amount of animation used in your eLearning video.
Managing The Project
Video learning projects, just like any other project, have a distinct beginning, middle, and end. Many projects start out strong but somewhere after the kick-off meeting it gets difficult to stay on track and stay organized until the finished product is done. To make sure your good ideas become training videos, look to a project management software for help.
Trello is the perfect tool to coordinate writers, subject matter experts, instructional designers, producers, voice-over artists, and entire creative teams, whether located in the same building/floor or scattered across the globe.
For eLearning video production, you can use Trello to track what needs to be accomplished and who needs to be doing it during Pre-Production, Production, and Post Production stages. This is also a unique visual way to showcase throughput – the completion of objectives, products, or in this case – videos. To get the most out of your software, you'll need to define your stages and your team.
1. Make A Comprehensive List Of The Steps In Your Production Line, Including:
Writing your learning objectives
Scripting & script review
Storyboarding & storyboard review
Filming any live-action pieces for your video
Animation & animation review
Finalization
The goal is to have a clear stage and list that can trigger an action.
2. Take Stock Of The People Involved In Production And Sort Them Into Teams
Each team should have an action at each stage or list. For example, when the learning objectives are done, the task card would move to the scripting team. Once the script is done, it would move to the script review stage and so on.
At each stage, think about the tasks that your team will need to accomplish for the stage to be considered "finished". Then you'll add the specific team members to the task cards they are responsible for accomplishing those tasks. Trello will notify them of changes made to the card and about task deadlines via email. This way, if the project stalls at a stage, it's easy to determine where it's stuck and which team can get it unstuck.
Choosing An Experienced Partner For Your Video Learning Projects
Sometimes an eLearning project is more ambitious than you thought and you aren't sure you can accomplish what you want with in-house talent. Then consider hiring a professional. Hiring a professional company means you don't have to spend money licensing development software or equipment, there's no time spent learning new skills and you can rely on their eLearning expertise to ensure your videos meet the appropriate educational and accessibility standards.
Tips To Select A Knowledgeable Company
Prepare Before You Search
Don't dive into Google just yet. Before you search for a video eLearning expert, you have to know what you're looking for. Setting your criteria before a search will help you partner with the best professional for your project. The most common criteria include what style you want for your video, how many videos you're looking to create, your budget, and your timeline.
Create A List Of Candidates
Now that you have your criteria in hand, it's time to create a list of experts. You can find them through word-of-mouth referrals, tradeshow websites, or by Google search.
Schedule In-Depth Interviews
Now that you have a list of potential video eLearning experts for your course, narrow down the list and contact the professionals that matched your criteria best. Always request a phone call or video chat—you want to speak with them and get a feel for their business first. Someone can be an expert in their field and still not be the right match for your eLearning project.
Request A Quote
Next, you'll request a quote from the video eLearning expert. This quote should not only include the price but the deliverables and a timeline for the project. You want to get at least two quotes for your project so you can compare them.
Request A Sample
Requesting a sample is a must for strategic or high-profile projects. You want to be sure that the company you're considering can produce a training video in the style you like with the quality you expect. Working with the company on a sample will also give you a taste of what it's like to partner with them before agreeing to a long-term project. If they are quick, capable and committed, you've found the right company.
Conclusion
Creating an engaging video involves taking every step of the process just as seriously as the previous one. All of these small parts work together to create content that propels forward the main learning objective. In the end, creating eLearning videos from pre- to post-production can lead to an incredible experience when it comes to creating a connection between the learner, instructor, and material.
Download the eBook How To Implement Video Learning And Animation: A Guide For Training Managers On A Tight Budget to unlock the secrets of video-based learning for your organization. Also, join the webinar to leverage the power of micro video-based learning content for your corporate audience.

Ninja Tropic eLearning
We are the go-to interactive video and microlearning team for leading enterprises. We solve business problems through budget-friendly, brand-aligned, and effective interactive video training that delivers measurable results.