How To Launch A Video Learning And Animation Strategy With Limited Resources
Video-based learning gives your organization the opportunity to simplify complex ideas and immerse employees in the subject matter. However, many companies assume that it's out of their price range. In reality, any business can launch a successful video learning strategy, regardless of their design experience or spending limits. This video learning and animation guide walks you through every aspect of the process, from creating accessible videos to executing ambitious video learning productions rapidly. Before we reveal the table of contents, let's look at some of the overlooked benefits that animated video-based learning projects can bring to your organization.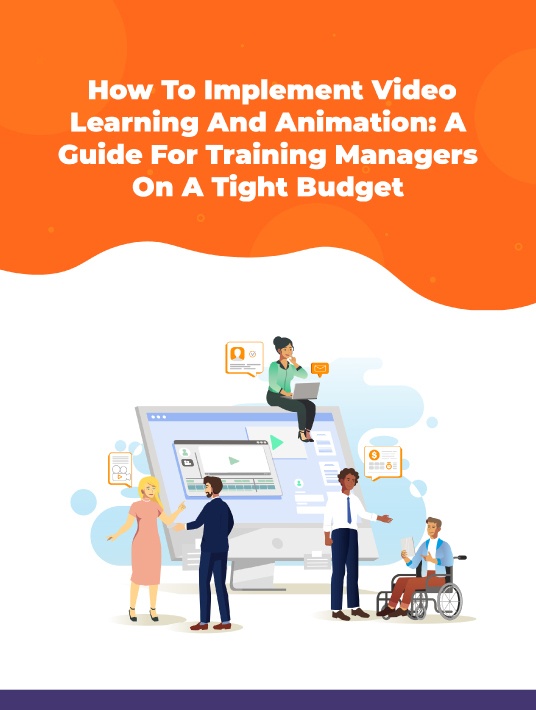 eBook Release
How To Implement Video Learning And Animation
Discover all the necessary know-how in this guide tailor-made for training managers.
Unexpected Perks Of Animated Video-Based Learning
Engagement is one of the well-known advantages of launching a video-based training strategy. However, this leads to a variety of unexpected perks that contributes to your bottom line and helps you retain top talent. Here are just a few notable benefits you can include in your business case to secure internal buy-in:
Build Tech Familiarity
Video-based learning with animation is a great entry point for online learners. Not everyone is tech-savvy and these L&D productions ease them into your online training library gradually. They're already familiar with online videos, and animation makes it even more engaging. For example, they watch a 5-minute microlearning video to learn how to complete a task. It gives them the knowledge they need on the spot and introduces them to your support repository. Additionally, they still feel like they're an active part of the training community as they find their bearings and move on to more involved activities. That said, eLearning videos are still a highly interactive and immersive training tool for every member of the team.
Improve Real-World Application
One of the standout benefits of video-based learning is practical application. Animated videos show skills and knowledge in action. For instance, employees can see how to complete every step in the process and which mistakes to avoid. It's a visual representation that gives them the chance to reflect on their own behaviors and habits as well. Instead of just reading about protocols, they witness them firsthand. In short, they watch animated videos then apply what they've learned right away to build experiential knowledge.
Boost Learner Motivation
Learners are more likely to engage and connect with content if it walks the fine line between education and entertainment, which is the definition of video learning and animation. Thus, they're more motivated to participate in the online training experience and reap the rewards, versus sitting on the sidelines. Every member of the team maximizes L&D resources and bridges gaps autonomously because the materials resonate with them on a personal level. Simply put, video-based learning could be a catalyst that prompts them to pursue upskilling and cross-training opportunities that, ultimately, benefit your organization.
Cater To Diverse Learning Styles
Everyone has different preferences and learning styles. While some staffers might prefer hands-on activities, others gravitate toward JIT resources that are text-based. The great thing about animated online training videos is that they deliver a personalized learning experience, especially if you make them easily accessible. As an example, include captions and subtitles for learners with special needs, or those who are training in crowded environments. Another option is to include supplemental resource links and use videos as an L&D launchpad. For instance, they start with a quick task walkthrough, then follow it up with scenarios and simulations to utilize their newfound knowledge.
Deliver Multigenerational Content
Video learning speaks to people of all ages, and you can custom tailor content to suit individual needs and goals. For instance, include references that your Gen X staffers will relate to, but also include something for your baby boomer employees. The trick is to analyze your learning audience so you know how to get them emotionally invested in the L&D experience and target specific pain points. You can also hire a video production company to help you identify gaps and fill them with engaging animated content.
About This eBook
This ultimate guide goes beyond production tips and best practices to show you how to find the right animated video company. You'll also learn how to create next-level animated videos on a tight timeline, as well as develop storyboards to keep your project on track. Here's a sneak preview of what's inside:
3 Reasons Why Video Learning Is An Essential Learner Engagement Strategy For Any Industry
5 Video Learning Animation Styles And Best Practices You Should Follow
A Deep Dive Into The Animation Process Of Training Video Production
6 Video Scripting Examples Of Enticing Live-Action And eLearning Video Animations
The Road To Stellar Training Video Animations Is Paved With These Spot-On Storyboard Templates
Creating Accessible Videos At Ease: From 508 And ADA To Video Transcription, Captioning And Beyond
4 Practical Tips To Plan And Execute Your Ambitious Video Learning Projects Fast
How To Create Animated Videos On A Budget With An Expert Production Company By Your Side
The Ultimate Implement Video Learning And Animation Guide For L&D Managers
Video learning and animation make your content more inclusive and accessible. Everyone gets something from the viewing experience and has the opportunity to go at their own pace. This guide has everything you need to get your project off the ground and develop attention-grabbing videos that form an emotional connection. Download the eBook How To Implement Video Learning And Animation: A Guide For Training Managers On A Tight Budget  to discover production best practices and examples. Also, join the webinar to explore 8 Instructional Design examples for video production ideas that will wow your online audience.