5 Amazing Video Learning Animation Styles To Boost L&D Engagement
Keeping up with workplace trends and creating time-efficient learning and development programs are consistently rated in the top three concerns of L&D managers. With the pace of business information increasing every day, keeping an educated and well-trained staff is no easy task. Supervisors, C-suite leaders, and even instructional designers have to think about new and better ways to strategically implement training programs that will keep their companies competitive. Over the years, blended learning has provided a number of solutions to these concerns, but now corporate training has a new ally--animation. This guide highlights the top 5 video learning animation styles to increase online training engagement.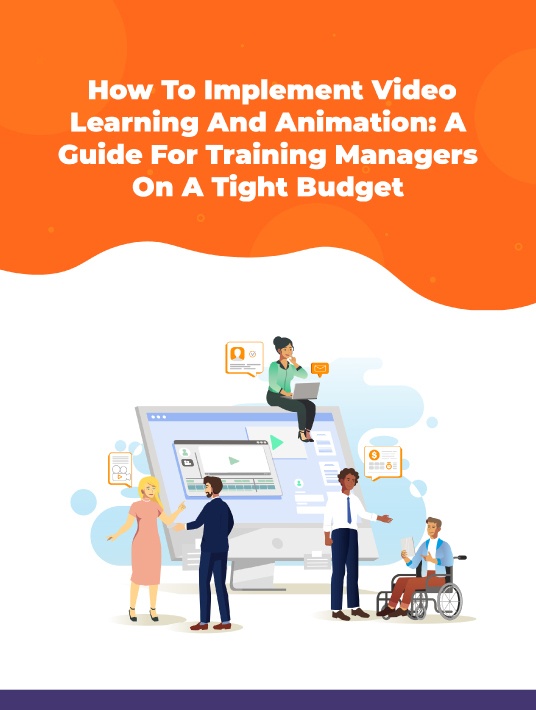 eBook Release
How To Implement Video Learning And Animation
Discover all the necessary know-how in this guide tailor-made for training managers.
Learning and Animation
Animation is an amazing tool for eLearning, and it's not just for kids. With animation, educators can take their content to the next level, make it engaging, easy to understand, and emotionally accessible to all kinds of viewers. Animation excels at explaining complex topics. eLearning animation is great for emotional learning since it can keep information impartial among audiences. When it comes to learning about difficult subjects, animation is a great way to explain complex ideas in a simple fashion. Color and movement help to create a distinct experience that learners are more likely to remember.
Animation keeps learners focused on the content. Creators can emphasize just one action at a time, which guides viewers through a topic or event without overwhelming them. Learners have the opportunity to commit each piece to memory before moving on to the next, which increases the chances of information retention when it's time to apply or recall the concepts learned.
Animation keeps the material engaging. High engagement is important for any kind of learning program, but video isn't always thought of as a way to encourage interaction. Many programs use it as a one-way lecture rather than an experience. With animation's help, creators can develop a journey that starts with video then moves to microlearning webpages, animated widgets, or even real-time chats with an animated character.
Video Learning Animation Styles
When trying to decide on what type of instructional video to create it's important to start with the style. Animation offers a number of video types, each with its own best practices, benefits, and drawbacks. The 5 most common are discussed below.
Whiteboard
Whiteboard animation videos, also known as "doodle videos," are one of the most common these days. Its informal style makes it great for short explainer videos and with the right software, they're fast and easy to create. Whiteboard animations tell a story with pictures drawn on a dry erase board using simulated animation. You would use the whiteboard eLearning video animation style when you want to take a minimalist, brand-neutral approach. The absence of color, minute-detail, and, in many cases, characters, means you can focus on the key aspects of a scenario or broad steps of a process. This style is all about keeping the essentials to drive home a key point.
2D Animation
2D animation is one of the most popular types of animation and is considered the most traditional type because it can be hand-drawn or completely computer-generated. It visualizes characters in a two-dimensional space, much like a cartoon. 2D animation is perfect for engaging learners of all ages, evoking emotion that motivates learners to dig into your course content. This animation type can be incorporated into a training video as motion graphics, character lecture, or story motion.
2D motion graphics are essentially graphic design elements with some movement. This style is common in explainer videos, where visuals and characters interact, but the movements are simple because the graphics enhance the content rather than being essential to understanding it. A typical example would be bullet points fading in next to a speaker. A character lecture is exactly what it sounds like, an animated version of a subject matter expert, member of leadership, or other speaker talking about the material. 2D character lecture adds a few more components of animation than 2D motion graphics. It's ideal when you want characters to have accurate lip-sync.
The final type of 2D animation is story motion. This can showcase a character or a scenario in a two-dimensional space. Storytelling is at the core of 2D story motion animation. It's better used for showing situations to your learners or to show situations where multi-character dialogue matters.
3D Animation
3D animation involves high-quality, state of the art eLearning animation. This immersive, realistic style of animation takes your course into another dimension—literally. It is is best reserved for large, complex projects like simulations or working models. This animation style can be applied to characters, scenarios, or figures.
3D character animation focuses on the characters themselves over the environment. It's perfect for showing real-world situations that can be dangerous, like safety procedures. 3D can also be applied to character lectures. It has all the benefits of a 2D character animation but feels more immersive. 3D scenario animation focuses on the situation instead of on a character. This type of animation can be particularly useful in showing how to operate machinery or completing a multi-step process.
Lastly, 3D also excels at recreating figures and models. Showing the inner workings of an engine, the proper way to harness oneself into safety equipment, or the location of a hard to see gland become easy with 3D rendering.
Screencast
Screencasts are another effective type of eLearning video that, when used correctly, can deepen learners' knowledge. Screencasts are simply a recording of your computer screen. You can either record your screen alone or with audio, depending on the software you use. Screencasts are great because they show, rather than tell. They're ideal for software walk-throughs or computer tutorials. If you want learners to maneuver anything on a screen, screencasts are the way to do it.
Stock Footage
Stock footage might be an unlikely addition to this list because it is often live-action film, but this pre-recorded footage can also contain typographic animations or other graphics that will support you in completing a solid training video. It can actually be more cost-effective than doing live-action film yourself. Stock footage is also a great complement to other animation styles and can keep your learners engaged by providing some visual variety. As a best practice, they can be used to break up explainer videos but shouldn't be any longer than 20 seconds. Too much stock footage will overwhelm your content and the overall video will become less effective.
Getting Started
Animation as a medium isn't just for children's cartoons—it's for engaging, emotional learning, building brands, and more! You can make a confident first step by choosing an experienced partner that will act as your guide. More importantly, they can take the guesswork out of developing training videos for your staff.
Ready to dive deeper into the animation process? Download the eBook How To Implement Video Learning And Animation: A Guide For Training Managers On A Tight Budget for more insider tips to leverage video learning for your L&D program. Also, join the webinar to dive deeper into micro video-based learning to boost employee engagement.
References

Ninja Tropic eLearning
We are the go-to interactive video and microlearning team for leading enterprises. We solve business problems through budget-friendly, brand-aligned, and effective interactive video training that delivers measurable results.