Questions To Pick The Best Time Tracking App For Your Remote Workforce
Good old-fashioned time clocks were built for efficiency, but not necessarily for employee productivity. Staffers punched in and out every day to prove that they were there, physically. However, their mental headspace was out of the picture. Then the best time tracking app came along to strike a balance. These tools give staffers the chance to measure their workplace performance and meet deadlines. But there are also features to ensure employees' personal well-being, like break reminders which also boost on-the-job productivity since they're better equipped to handle stressors. So, which is the best tool to track employee hours? Below are 8 crucial questions to help you make the right buying decision.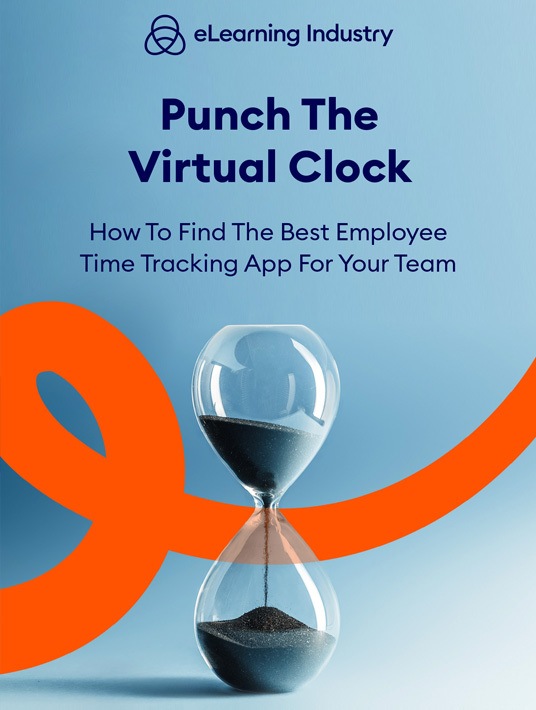 eBook Release
Punch The Virtual Clock: How To Find The Best Employee Time Tracking App For Your Team
Discover all about time tracking software.
8 Questions To Choose The Best Hour Keeper For Remote Teams
1. Which Features Deliver The Best Value For Money?
Every time tracking app has its own selling points. However, a tool that's ideal for one organization may not be suitable for another. It all depends on your business objectives and gaps. Ultimately, you need to find a system that delivers the best value for money. It needs to be feature-rich, but every feature must serve a specific purpose. For example, group calendars, project overviews, and visual reports are at the top of your list as all these functions improve team productivity and give you better oversight. Then again, you may not need invoicing if you don't plan to bill clients directly from the tool. Maybe you already have another system that takes care of that or your time tracking app is solely for in-house payroll.
2. How Much Can You Realistically Spend On The App?
This question helps you set an accurate budget based on your current expenses versus projected sales. Another thing to consider is how much the app can help you save in terms of payroll and manual data entry. For example, you can spend XX amount on the time tracking software because it will streamline client billing and boost team efficiency. Be sure to evaluate all the perks associated with hour keeping software. Even things that are more difficult to calculate, like retaining top talent.
3. Which Support Services Does Your Team Need?
Some teams need minimal support. They can get by with basic guides or a quick demo video. Then there are those that require more advanced support options, like phone and live chat as well as user communities and knowledge bases to solve issues on their own. So, get input from your team to find out how much support they require and include it in your vendor RFP.
4. What Are Your Pain Points?
This is the "why?" behind your investment. There's probably a specific reason why you're looking for new time tracking software. Maybe your payroll expenses are out of control or it's taking too long to input all the data. In short, what challenges does your organization currently face? The answer usually calls for needs analysis and market research. For instance, how much do other businesses typically spend on payroll processing? You can also hire an outsourcing partner to help you identify areas for improvement and implement the new app.
5. Does The App Have Favorable Reviews?
Ideally, you're looking for more than an app to track employee hours. You're looking for software that's tried and tested. Preferably, backed by vendors with a solid rep. So, does the tool have favorable reviews? Does the company have a social media page where they interact with customers? Are their ratings more positive than negative? Use an online directory to evaluate satisfaction scores and CX. Then visit their website to learn more about their success stories and industry achievements.
6. Who Do You Need To Track?
Aside from pain points, you must also determine the use case. For example, the new software will be used for client invoicing, team project management, and payroll. Some organizations focus solely on tracking employee hours, such as retail businesses that don't offer client services. On the other hand, you may need a tool to track external partners and in-house staffers.
7. Which UI Is Best For Your Organization?
Is the calendar view best for the team? What about timelines that give them a more linear view of billable hours and project tasks? Another UI consideration is customization. Can your staffers adjust the layout and personalize dashboards? Overall, the User Interface should be intuitive for every member of your organization, not just the tech gurus.
8. Does The Vendor Offer Free Trials?
Many time tracking app providers offer free trials or demos. This gives you the chance to try the tool before you buy, instead of having to purchase multiple platforms until you find the perfect fit. Some even host live demonstrations so that you can ask questions and learn about the essential features. If it's not mentioned on their site, reach out to vendors, or include it in your RFP. For example, you're only considering apps with free trials because you want to minimize risks. They often mention this crucial detail in their directory listings, as well.
Conclusion
These questions are just a springboard for vendor selection. In fact, you should meet with your team to get their ideas and address their concerns. Then expand this list to choose the best hour keeper for your remote employees. It's also important to use a reliable directory for all your vendor vetting information. Preferably, one that doesn't feature sponsored reviews and requires software providers to create an account. Check out our exclusive listings to make the best buying decision and rapidly qualify time tracking companies.
Download our eBook for insider secrets to budget, qualify vendors, and draft RFPs. Punch The Virtual Clock: How To Find The Best Employee Time Tracking App For Your Team also features questions to help you find the right tool for your remote workforce. Get your copy today!