Top Ways To Select The Best Time Tracking Software Provider
The best time tracking software apps aren't the equivalent of IT unicorns. They really do exist, and you don't have to go on an epic adventure to find them. In fact, there are plenty of free online resources to help you pick the perfect time keeping app for your geographically dispersed staffers, from niche directories that have all the vendor vetting info to social media groups where you can find insider tips and personalized recommendations. Without further ado, let's look at the best ways to select hour keeper software on a tight timeline.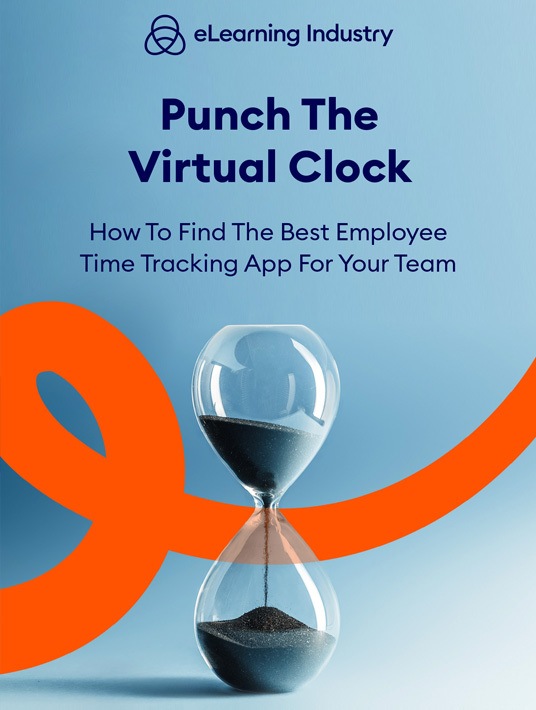 eBook Release
Punch The Virtual Clock: How To Find The Best Employee Time Tracking App For Your Team
Discover all about time tracking software.
8 Resources To Choose Time Keeping Software For Your Team
1. Exclusive Directories
Niche directories are the best place to do your research and identify top solutions in your budget. The secret is to stick with sites that are exclusive and specialize in time tracking software. For example, this section of the website only features hour keeper solutions and you can filter results to expedite the search. For example you can focus on solutions with subscription pricing models or ones that have all your top features.
2. Review Sites
Review platforms give you an inside look at how the tool performs and the pros/cons of ownership. For instance, users can share what they liked best and least about the app from their point of view. Maybe it was too challenging to use or it simply wasn't worth the investment. Then again, customers might leave rave reviews about the amazing customer service and support. The trick is to look for review sites with a track record. For example, it may be well known in the industry and users have to create an account before they submit their reviews.
3. Social Media Groups
Feel free to check out the vendor's social media page to see how they engage with customers. However, you should also visit relevant social media groups to find tool recommendations. For example, groups that center business software or productivity apps for corporations. HR groups are another great place to check. If they don't already have suggestions posted on their page, ask for some guidance. Be sure to include some project details, like your general price point and use case.
4. Top Lists
The best time keeping software might even have industry achievements or awards. For example, they've been voted the top hour keeper app for SMBs. Another notable accomplishment is earning a spot on a top software list. In most cases, these accolades come with badges that vendors display on their sites. Or they have a section on their site dedicated to success stories and critical acclaim.
5. Employee Recommendations
If your staffers have used time tracking tools in the past, ask for their recommendations. However, even if they're new to the world of hour keeping software, you should still get their input. For example, conduct surveys to see which features they need or to evaluate their personal tech preferences. Which mobile devices or browsers will they use to access the app? Are they looking for work timers to help them analyze their daily work performance and improve habits? In fact, why not host a webinar to open the lines of communication? Employees get to ask about the new tool and how it fits into their workday. Likewise, you can ask them about past experiences and dispel some of the most common misconceptions.
6. Rating Platforms
Rating sites aren't as detailed as reviews, but they are a faster way to vet time tracking software vendors and compile a shortlist. For example, you can immediately determine if the vendor delivers standout Customer Experience or if the tool is easy to use. There's also a likelihood-to-recommend score and overall rating. Just make sure there are evaluation criteria behind it. For instance, the vendor uses these key metrics to calculate the overall score.
7. Buying Guides
Guides and eBooks don't usually cite specific tools. Instead, they offer buying tips to help you make the right decision. They might even cover features you should look for based on your use case. Once again, it's crucial to consider the source. Ensure that the guide is published by an industry authority so that you get accurate info. Another great resource is articles and tip sheets that cover various aspects of the buying process, like drafting software RFPs and avoiding common implementation mistakes that can push back your launch.
8. Online Forums
Forums and blogs are a valuable research tool because they typically feature firsthand accounts. For instance, the blogger has used the app and can talk about all the benefits and drawbacks or forum users have a lengthy conversation about which tools they currently use and why. They may even have a pinned list of recommendations. You probably won't find blogs and forums that are dedicated to time tracking tools. However, you can visit software discussion platforms and sites that are more generalized. Then post all your buying requirements and ask members for insights.
Conclusion
Now that you know where to look, it's important to do your homework. Namely, ensure that your go-to resources are credible and free of sponsored reviews. You don't have to travel far to find a reliable directory that features all the best time tracking software apps. In fact, our listings have everything you need to qualify vendors and create a shortlist, from ratings and reviews to pricing options and support services. We've got you covered. So, if you're looking for solutions to help you track employee hours without going over budget, visit the exclusive directory.
What are the basics and benefits of using time tracking tools? What should you include in your budget? Download our eBook to choose and implement tracking apps in your organization. Punch The Virtual Clock: How To Find The Best Employee Time Tracking App For Your Team also highlights all the common pitfalls to avoid.