Punch The Virtual Clock
An employee time tracking app is one of the most effective tools to hold employees accountable without making them alienated. You aren't monitoring their every move and micromanaging. Instead, hour keeper solutions give them control of their workday, from setting their own schedule to breaking tasks into manageable steps. Our eBook walks you through every step of the selection and setup process. Later, I share a sneak preview of Punch The Virtual Clock: How To Find The Best Employee Time Tracking App For Your Team. First, let's review some of the costs to consider before starting your time tracking software search.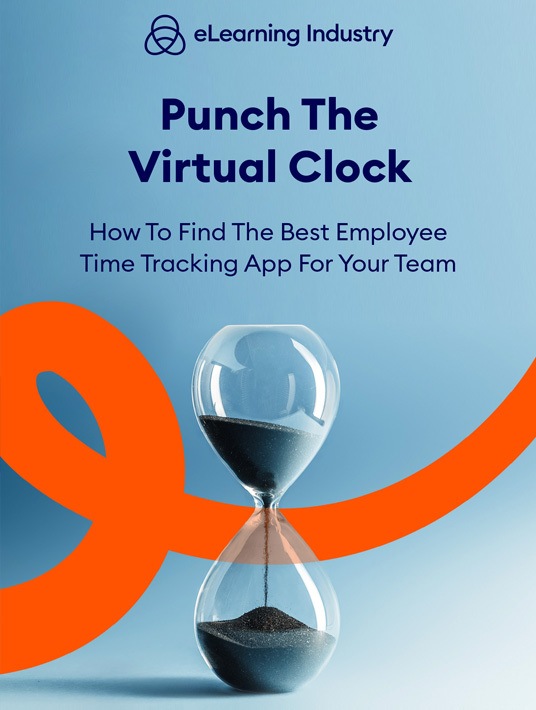 eBook Release
Punch The Virtual Clock: How To Find The Best Employee Time Tracking App For Your Team
Discover all about time tracking software.
5 Employee Time Tracking Tool Fees To Consider
Upfront Licensing
Some time tracking tools require everything up front, while others charge subscription fees. For example, you pay a flat rate every month and there are different plans to choose from. The first step is to calculate your budget, then research the popular pricing models. Weigh the pros and cons for one-time licensing versus monthly subscription. There are also free options, but they often have limited features and you need to pay to unlock the full version.
Software Setup
Once you choose the right employee time tracking tool, it's time to set everything up. This involves downloading the app and customizing the settings. There's also the small matter of employee adoption. How much time does it take to master the new time tracker app? Keep in mind that this requires payroll hours and time away from their regular work duties. This is why it's so important to find a platform with customer training resources and support options, like tutorials that walk staffers through the entire process, including how to use the timers and access features.
Add-Ons
Certain hour keeper apps have optional add-ons that don't require additional fees. However, some charge extra for these integrations or upgrades. Ask vendors about what's included in the package and how add-ons can benefit your business. In fact, mention this in your RFP so that they have a chance to address it in their proposals. For instance, they can list all their integrations and real-world uses.
Employee Payroll
I've already covered payroll costs associated with front-end users. But what about all the back-end tasks? As an example, all the time it takes to research employee time tracking tools, vet vendors, and create RFPs. These are activities that dig into your software budget. Granted, they help you avoid buyer's regret and find the right tool without trial and error. Another expense to consider is free trials. They may be free, but it still takes payroll hours to evaluate the software firsthand.
Marketing
You absolutely need employee buy-in. And the only way to get it is in-house marketing. Unfortunately, this also impacts your profit margin. That said, promoting software ensures that your team will actually use it instead of just letting it sit idly on their desktops. Prep them weeks in advance with live events. Announce it in the LMS and let them join the free trial. All these activities earn a place in your budget.
Choose The Best Hour Keeper Solution For Your Telecommuters
Our eBook is now available for download, and it has all the insider tips you need to find choose the right time tracking tool, including budget secrets and questions to determine which solution works best for your SMB. Here's a brief glimpse of what you'll find in Punch The Virtual Clock: How To Find The Best Employee Time Tracking App For Your Team:
The Basics And Benefits Of Employee Time Tracking Software
Key Employee Time Tracking App Features To Look For
How Does An Employee Time Keeping Software Benefit Your Bottom Line?
Questions To Help You Choose The Best Time Tracking App For Your Team
How To Create An Accurate Employee Time Tracking Tool Budget
Top Pitfalls Of Employee Time Keeping Applications And Tips To Avoid Them
Tips To Use Employee Time Tracking Apps To Boost Workplace Productivity
The Ultimate Employee Time Tracking Tool Comparison Checklist
Step-By-Step Guide To Implement Employee Time Tracker Software In Your SMB
Ways To Find The Best Time Tracking Software Apps Vendor For Your Remote Workforce
Conclusion
Many organizations steer clear of employee time tracking tools because they think it undermines their relationship with employees when, in fact, these apps give them more autonomy over their work schedule and help them boost on-the-job efficiency. You can download our eBook today to implement hour keeper solutions for your remote workforce. Punch The Virtual Clock: How To Find The Best Employee Time Tracking App For Your Team makes it easy to avoid mistakes, set a realistic budget, and qualify vendors without all the stress. You can also visit our online directory to find the best time tracking tool at the best price. It even features ratings and reviews that address CX, usability, and usefulness.