The What And Why Of Employee Time Tracking Software
What is employee time tracking software and how can it benefit your business? First and foremost, these apps help you track staffer work hours so that it's easier to create invoices and fund payroll. But there's more to it than that. In fact, many organizations use the best time tracking app to measure team performance and on-the-job productivity since this way they get better oversight of projects and individual tasks. Staffers, on the other hand, can identify sticking points and improve work practices to make the most of every minute. Below are 8 perks that these tools can bring to your telecommuting team.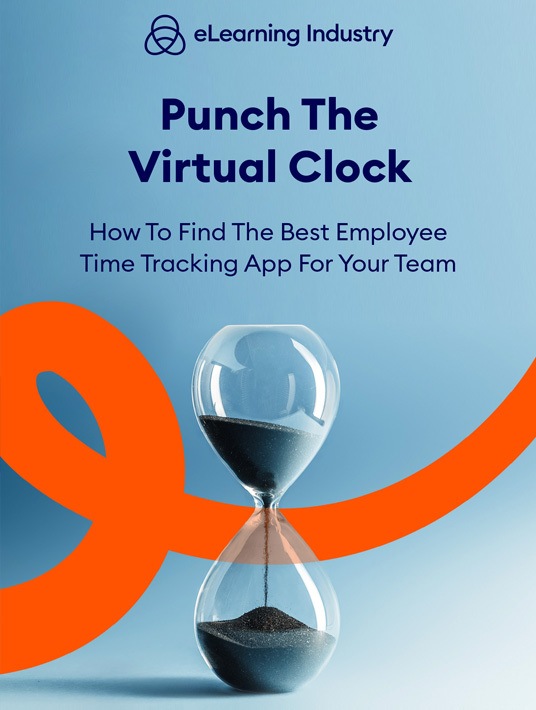 eBook Release
Punch The Virtual Clock: How To Find The Best Employee Time Tracking App For Your Team
Discover all about time tracking software.
8 Benefits Of Time Tracker Software
1. Boost Employee Efficiency
Staffers have the ability to analyze every aspect of the workday, from that hour they spent gathering research to that 20-minute break that turned into a quick conference call. They can see which tasks took more time than expected and reevaluate their work-life balance. For example, that break should have given them time to mentally recharge so that they could tackle the next task. Instead, they're worn out and unable to work at peak efficiency. To sum up, time tracker tools give staffers a deep-dive into their work processes and highlight areas for improvement.
2. Evaluate Team Workflow
The common misconception about time tracking software is that it just clocks the beginning and end of the workday. However, one of the perks is that you can monitor all the meetings, project tasks, and client feedback sessions that happen in between. As such, it gives you the opportunity to analyze the team workflow and look for gaps. For instance, the employees should've wrapped up that task in an hour, but it took them three. Why was there such a delay? What's slowing them down, and can you provide them with additional resources to expedite the process?
3. Bill Clients With Ease
An employee time tracking system allows you to record billable hours so that it's easier to invoice clients. For example, team A worked on the client's project for 22 hours this week. While team B spent another 5 hours doing research and revisions. You have data that shows all the tasks involved and which team members completed each step. Many time tracking apps even have invoicing built-in si that you don't have to migrate that data to another tool or manually input payable hours.
4. View Task Analytics
Most time tracking solutions have metrics that turn task timelines into visual data. How much time did it take to complete the task and how was that time spent? For example, the first half-hour was focused on redesigning the home page of your website, while the next hour was dedicated to a client meeting via video conferencing. Armed with these analytics, you're able to maximize in-house resources. Maybe another team member can handle meetings to give that staffer more time for the website overhaul. Especially if you're racing the clock and your grand online re-opening is quickly approaching.
5. Improve Staffer Accountability
One of the most popular time tracking software benefits is monitoring employee work hours. You know when they clock in (virtually) and when they leave for the day. More importantly, you can assess what they get done while they're on the payroll. For instance, they take a one-hour lunch instead of the half-hour that was agreed upon. The software gives them oversight over their work hours and holds them accountable for their actions.
6. Streamline The Payroll Process
The traditional payroll process involves a lot of manual data entry. You must collect all employee time cards for every department. Then calculate how much they earned that week based on their pay rate. That's not even including withholding. Time tracking apps tackle the payroll process for you. Simply add employee info, like their hourly wage, and the system takes care of the rest. That said, you can still manually input data to adjust their weekly earnings.
7. Get Financial Oversight
Above all, time tracking apps give you a high-level overview of how much you're spending on human resources versus how much you're bringing in through client invoices. You also get a better idea of individual contributions and how they benefit your bottom line. For example, this employee costs X amount each month, but they earn triple that in sales. Or they complete these tasks, which boost customer satisfaction scores.
8. Retain Top Performers
Staffers have a clear view of how much they've worked and what they've accomplished during that time. Thus, they're more motivated to bring their A game and improve workplace performance. They also appreciate the fact that time tracking software gives them credit where credit is due, financially speaking. For example, they don't have to worry about not being paid for overtime or human error negatively impacting their paycheck. They always have visual reports and calendars to look back on and verify work hours. As a result, you retain top performers and reduce new hire training fees.
Conclusion
Employee time tracking software holds employees accountable, but they're still in charge of their workday. They can evaluate how long it takes to complete tasks and monitor projects to maximize efficiency. Likewise, your organization gathers all the data they need to bill clients and ensure that payroll is on-point. So, how do you find the best time tracking app for your budget? Visit our online directory which features the top service providers for every industry, not to mention, a detailed features list that covers all their key selling points.
Download our eBook for insider secrets to budget, qualify vendors, and draft RFPs. Punch The Virtual Clock: How To Find The Best Employee Time Tracking App For Your Team also features questions to help you find the right tool for your remote workforce. Get your copy today!