3 Rapid eLearning Case Studies
Rapid eLearning means designing and developing eLearning courses quickly and economically. It usually uses authoring tools such as Storyline, Captivate,Lectora, iSpring, as well as PPTs as raw content. You can also use PDFs, videos, audio, and it most definitely contains solid Instructional Design. But how does all of this translate in the real world?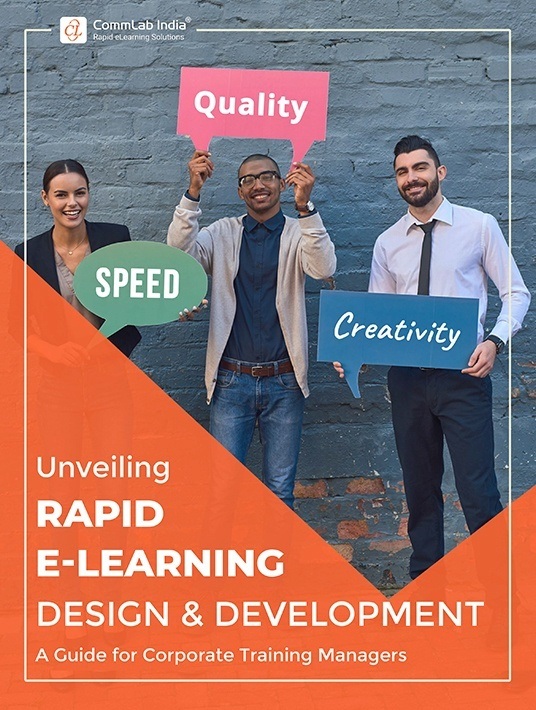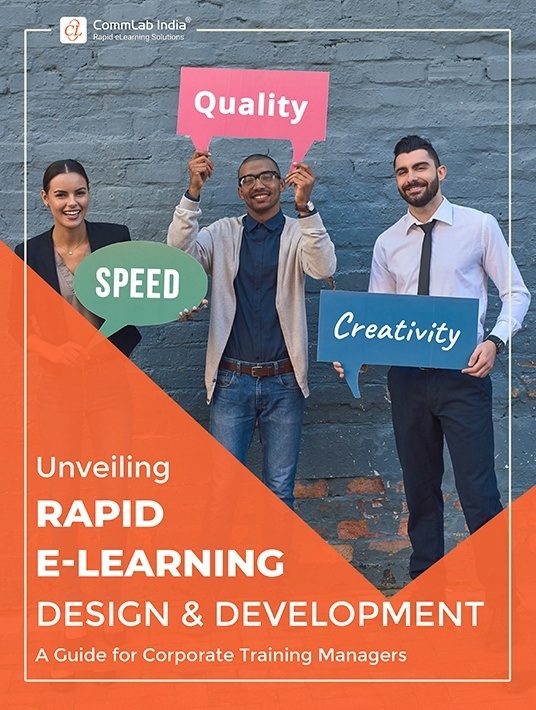 eBook Release
Unveiling Rapid eLearning Design And Development – A Guide For Corporate Training Managers
Discover what rapid eLearning is, how to align it with your business goals, and which tools you need for the task!
1. Rapid eLearning For Onboarding With A Blended Twist
Our client is a US-based contract research organization (CRO) providing nonclinical, preclinical, clinical, and commercialization services to pharmaceutical and biotechnology industries.
Training Requirement
Our client had expanded its business with the acquisition of several new business units. Because of this, they had to onboard thousands of new employees into multiple roles and
departments and train them.
Training Challenges
Target employees were located in different geographic locations, ruling out the use of classroom training.
They needed a guiding hand as they enter a new organization.
CommLab India's Solution
We first worked with subject matter experts from each department to identify the training needs for each role and categorized them into common and specific topics.
We then designed a blended approach for each role:
Learners had to first go through a set of eLearning courses covering the theory.
Then they had classroom sessions to interact with an instructor and gain hands-on experience.
After training, they had performance support tools for just-in-time learning.
Download the eBook to learn more about CommLab designed the blend.
Results
Delivered 7 eLearning courses, 51 classroom presentations, 5 support documents
Project team: 1 dedicated project manager, 5 instructional designers, 12 developers
Project duration: 1175 human hours
2. Conversion Of 1000+ Legacy Courses
Using Rapid eLearning
Our client is a global safety and certification company based in the US. They provide standards and certification of safety on electrical and electronic products, building equipment, plastic materials, and wires and cables.
Training Requirement
Our client had a repository of 1000+ legacy courses developed in Adobe Presenter and older versions of Storyline and Lectora. These courses were designed to train their sales and service technicians on their processes, policies, and products.
Training Challenges
Source files were missing for most of the courses.
The design and in most cases, the content was outdated.
Courses had to be made responsive for desktops, smartphones, and iPads (both portrait and landscape orientations)
There was also a brief to design performance support assets to facilitate just-in-time learning.
CommLab India's Solution
Since this was a large project with multiple challenges, we adopted our 4 'R' strategies for rapid eLearning conversion.
Record – For legacy courses with missing source files, we ran the courses in an external player and recorded them to the MP4 format. Interactivities like hotspots and click-to-reveal were later added to the videos to make them more interactive.
Republish – For courses developed in older authoring tools (with source files but outdated content), we extracted the relevant media assets, updated the content, and republished  the courses using the latest version of Lectora Desktop.
Rebuild – Lectora helped us rebuild mobile-incompatible courses into responsive ones. The Responsive Course Design (RCD) feature of Lectora allows courses to be published in a fully responsive format irrespective of screen size and orientation (and without any extra tweaks).
Redesign – We salvaged whatever content and media assets we could from courses with outdated learning design, and used Lectora's built-in templates to redesign courses to appeal to modern learners and their new-age learning expectations.
Explore the 4 Rs of rapid eLearning design and development.
Results
Converted 1500+ courses
Project team: 2 project managers, 3 project leads, 30 developers
Project duration: 45000+ man hours
3. . Saving SME Time With Rapid eLearning Practices
Our client is a global enterprise software company that provides independent and open software to enterprises, helping increase efficiencies to make real time business decisions.
Training Requirements
Our client's main requirement was to train their sales workforce on creating new business opportunities. They decided to shift from the classroom and digitize their sales training to equip their workforce with dynamic selling skills to meet evolving market demands.
They wanted us to create nine different curriculums for sale representatives working for nine different customer verticals, with a few common courses.
Training Challenges
Converting classroom training material to online training using rapid eLearning development is a simple enough task. But our main challenge here was the involvement of multiple SMEs, as each customer vertical had a different SME. An additional challenge was the limited time available for us to consult the SME.
CommLab India's Solution
We collected all classroom training material from the client for the main content to be used in the courses.
Considering their busy schedules, we asked SMEs to prepare 'quick and dirty' PPTs on their training topics with voice recordings explaining each slide.
Once we got the SMEs' presentations with voice recordings, our L&D team created a prototype for each curriculum and sent them for review through an online review app.
After the prototype was approved, our team was able to create 9 curriculums (of 15 courses each) without involving the SMEs during the process. We also used clips from the voiceover presentations of SMEs in a few courses.
Using this iterative development process and quick and dirty presentations from SMEs, we were able to finish this extensive project in time, involving each SME less than 5 times in the entire process.
Results
Delivered 9 curriculums with 15 courses each
Project team: 3 project managers, 3 instructional designers, 6 developers
Project duration: 4 weeks
Conclusion
Want to learn more about how to use rapid authoring software to develop engaging content for your team? Download the eBook Unveiling Rapid eLearning Design And Development – A Guide For Corporate Training Managers to find the right tools and ID strategies to launch a rapid eLearning development program today. It even features rapid eLearning success stories. You can also join the webinar to put an end to disruptive training...the rapid eLearning way!
CommLab India Rapid eLearning Solutions
Working with multiple outsourcing vendors can be stressful, and a waste of time & money. With CommLab India Rapid eLearning Solutions, all your online training needs are taken care of, rapidly and economically.