Engaging Busy Employees With VR Training
Modern employees are more connected than ever. They can log in to the online training platform on any device and collaborate with global co-workers. But busy schedules usually stand in the way of personal development. Hectic digital lifestyles make it challenging to carve out time for skill-building and task mastery. However, there is a way to engage employees and facilitate rapid knowledge transfer. VR training allows them to learn from mistakes, identify performance gaps, and quickly assess real-world application. Here's how to develop perfect immersive learning environments for distracted, stressed out staffers who are "too busy" to train.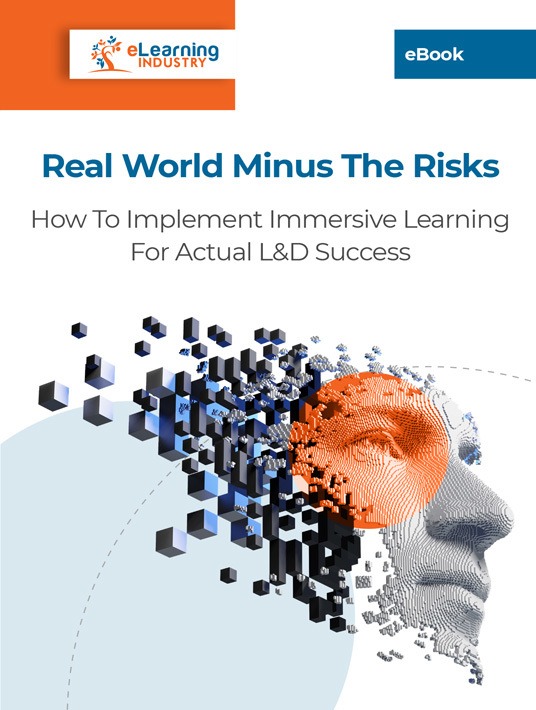 eBook Release
Real World Minus The Risks: How To Implement Immersive Learning For Actual L&D Success
Prepare your workforce for real-world challenges with immersive learning.
1. Get Right To The Point
Busy employees don't have 5 minutes to review all the previous information before they dive into the simulation or serious game. Especially if they're more experienced and have already mastered the prerequisites. Get right to the core issues so that they're able to bridge gaps and go on with their day. That said, you can always incorporate supplement links for those who do want to explore the topic further. For example, videos or online training tutorials to help them build related skills on their own time. They're optional online training resources for employees who need additional support or simply want to upskill and cross-train.
2. Include Brief Recaps To Reinforce Knowledge
While you should omit long flashbacks of past online training topics, it's always wise to incorporate a brief recap to refresh the employees' memory. Wrap things up with a quick outline of the online training objectives and key takeaways. What should they bring away from the online training experience and where they can go for more information? Try to include checklists, eLearning infographics, and bullet-point summaries to improve knowledge transfer. The goal is to draw on an existing mental schema so that they build on their knowledge base and gradually expand their proficiency.
3. Make Personas Memorable
Personas featured in VR training simulations, branching scenarios, and serious games should be memorable but not distracting. The angry customer they must contend with can have their personality quirks. However, realism should be maintained within the immersive learning environment. There's no room for exaggerated characters or over-the-top dialogue for the sake of entertainment. True-to-life personas allow them to fully immerse themselves in the situation because there's a sense of immediacy. They know they might encounter similar personalities on the job, so they'd better pay attention.
4. Focus On A Single Skill Or Topic
The secret to Mixed Reality training for busy employees is to make a lasting impression and condense the information. For example, they need to build their interpersonal skills. Focus on a single skill or topic in each activity so that they can scaffold their experiences. Gradually master the core competencies and learn something new during each VR interaction. If it's a more complex online training topic, break it into bite-sized online training sessions that cover different aspects of the task or challenge. For instance, one VR training scenario involves the task prep, such as which gear to wear and how to set up the space. Then the next activity centers on the process and protocols.
5. Consider On-The-Go Accessibility Preferences
Busy employees must be able to access immersive learning content whenever, wherever instead of letting tech restrictions stand in the way of personal development. Thus, you should consider their mobile learning preferences to find the best delivery methods and eLearning tools. For example, is your current LMS responsive? Should you provide AR training games as opposed to VR simulations so that employees don't have to slip on a headset? Diving into a VR training simulation probably isn't the best option for remote workers who often commute or conduct client meetings. Especially if they're using it for JIT support to bridge gaps and refresh their memory.
6. Include Opportunities For Self-Reflection
Give those time-strapped staffers and external partners an opportunity to reflect. There's always space in their schedules for self-evaluation and analysis since it allows them to streamline work processes, improve performance behaviors, and identify areas of concern that limit their potential. End Mixed Reality training activities with a brief pop quiz or targeted questions that prompt them to reflect. What might they do differently next time and why? How did the simulation help them identify negative habits they must address on the job? Did it help them identify hidden talents? What did they take away from the online training experience and how does it apply to their work duties? You can even pair VR training with social media groups to facilitate peer-based eLearning feedback.
7. Test The Online Training Content On Different Mobile Devices
This rule applies to VR and AR training content. For AR, test activities on various mobile devices to ensure the overlay of images, objects, and interactivities is where it should be. In the case of VR training, evaluate the simulations, games, and branching scenarios on different headsets to ensure they're compatible. If you are designing online training content for specific VR technologies, you may have to invest in in-house headsets for the team. Bear all these factors in mind when choosing the best Mixed Reality training solution for your organization—and budget.
Another great option is to hire an eLearning content provider to develop immersive learning resources for your team. They already have the essential tools and expertise to engage employees, facilitate real-world application, and eliminate external distractions. eLearning vendors also ensure that your online training content works on every device so that you don't have to worry about accessibility hurdles. Look for eLearning outsourcing companies in your niche that offer a broad range of online training solutions to enrich your online training curriculum.
A Mixed Reality training strategy doesn't have to drain your organization's resources or make you go over budget. Download the eBook Real World Minus The Risks: How To Implement Immersive Learning For Actual L&D Success, and discover how you can benefit from incorporating immersive learning into your online training program. Provide an engaging training experience and boost your employees' confidence with a Mixed Reality training solution.