Guest Posting: SEO Top Tips And Common Content Writing Mistakes
Guest posting has become a crucial element for any successful business. However, you can't expect any significant results if you don't know the most efficient way to do it. In this article, we guide you through 6 SEO top tips that will help you rise through the SERP ranks, as well as the most common content writing mistakes you should avoid.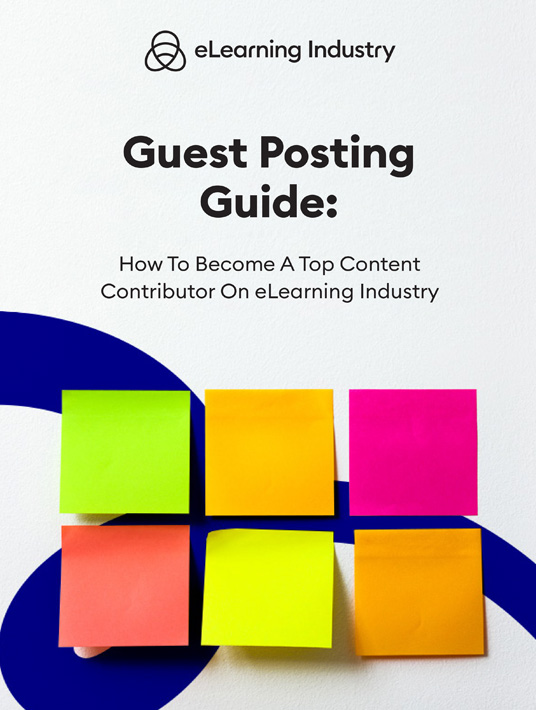 eBook Release
Guest Posting Guide: How To Become A Top Content Contributor On eLearning Industry
Discover what you gain by guest blogging and what are the basics of writing a guest post for eLearning Industry.
6 SEO Top Tips To Elevate Your Next Guest Post
As guest blogging grows in popularity, professionals are constantly trying to keep up with the newest techniques that will help them rise to the top of the SERPs. Many believe that SEO writing is limited to adding essential keywords to your content. However, there are more elements in writing an SEO-oriented guest post. Here are 6 tips to help you optimize your next guest article for maximum exposure and high rankings.
1. Start With Researching Your Keywords
Keywords are essential for page optimization, as long as you use the right ones! You want your content to be fresh and relevant to current trends but not the same as everyone else's. When your keywords are overused, it's harder for your guest post to appear high on search engine results. So, before you start writing, research what people are searching for or use tools that help you find keywords relevant to your niche. Then, add your unique insight to the topic and create an attention-grabbing guest post.
2. Use Headings
Headings are the initial hook of your post, drawing people to click on your article when it appears in their search results. But apart from expressing the main idea of your post, headings are also great tools for Search Engine Optimization. Keywords in headings prompt search engines to rank your article higher and even use parts of it for feature snippets. In addition, properly sectioning your text with H2 and H3 headings increases your content's readability.
3. Spread Keywords Throughout Your Post
As we mentioned above, incorporating keywords into your headings is beneficial for your guest post. But utilizing your keywords throughout your guest post is an SEO top tip you should always remember. Keyword density is important, which means you should add them to your headings, subheadings, introductory paragraph, anchor text, and conclusion. However, be mindful of their placement. Excessive use of keywords drives readers away and hurts your SEO in the long run. Incorporate them strategically so that they naturally mix into your content.
4. Utilize Internal And External Links
Link building is a common practice in blogging, as it boosts rankings and makes your content more authoritative. However, things operate a little differently in guest blogging. Most websites don't allow external links, especially if they're promotional. Therefore, if you're allowed an external link to your own platform, make sure it's informative. You can also make use of internal links by linking to previous guest posts you have published, thus increasing their visibility and establishing your expertise.
5. Optimize Your Meta Description
If you haven't been paying attention to the meta description of your guest post, it's time you changed that. The meta description is what people see when your article pops up in their search results. Therefore, for your content to be SEO-friendly, you must start optimizing it. Specifically, it should include your main keywords and briefly sum up your article. This way, search engines rank it higher when someone searches for a relevant keyword.
6. Create Reader-Friendly Content
The above SEO top tips are essential for your article to stand out in the sea of information. But even though an algorithm is determining your ranking, you need to remember that quality still counts. Therefore, offer your readers valuable content, organized in small paragraphs with headings. Use short sentences, bullet points, or even infographics, where applicable. When readers find comprehensible posts that present insightful ideas, they interact with them more. This engagement translates to more visibility and a higher ranking in the SERPs to generate organic sourced revenue.
Common Content Writing Mistakes To Avoid
Nowadays, content writing has become a valuable tool for the growth of successful companies. But there's more to it than stringing together a few good ideas using good grammar. Even experienced writers sometimes make mistakes—intentionally or unintentionally—that negatively affect the visibility of their posts. Let's look at some of those mistakes and how they drive your audience away. Do you recognize any of them in your writing?
1. Not Researching Thoroughly
No matter how experienced and well-versed you are in your topic of choice, you still need to do your due diligence. Your opinions might be insightful and original, but readers are more impressed by data and evidence that support your arguments. Research also refers to finding the most relevant keywords for your topic. This is undoubtedly a top tip to boost your SEO rankings and attract more traffic to your guest post.
2. Not Understanding Your Audience
Knowing who you're writing for is crucial in content writing. Your audience determines the topics you touch on, your writing style, the purpose of your content, etc. Writing without a reader persona in mind results in haphazard content that fails to connect with readers and get the message across. So, before you start writing, take the time to identify your target audience and recognize their main interests and concerns.
3. Not Using Compelling Writing
There is a lot of content online, possibly even on the same subject as yours. It's your writing style that will attract readers and hold their attention until the end. Compelling writing can take many forms, such as crafting an appealing title, presenting the main purpose of the article in the first paragraph, or minimizing your use of passive voice. In any case, keep in mind that you need to keep your readers engaged long enough to recognize that your content is worthy.
4. Using Too Much Jargon
Even experienced content writers sometimes fall for this mistake. They get carried away by their depth of knowledge and assume that readers are on the same level. Using too much jargon can complicate a text and alienate readers. On the opposite side of the spectrum, some writers attempt to create a friendly and casual vibe by using slang. However, this makes them sound unprofessional and takes away from the purpose of their content.
5. Not Optimizing For SEO
Search Engine Optimization is the art of getting your content to appear as high as possible in Search Engine Result Pages. Often, it can be rather complicated, which is why many content writers leave it aside altogether. But you don't need an exhaustive list of SEO tips to improve your rankings. Choosing the right keywords and placing them strategically in your text is a great way to start. Then, you can format your content using headings, subheadings, bullet points, etc., and watch the visibility of your article take off.
6. Not Proofreading
Do you carefully proofread your work? If the answer is yes, go back and check once more for good measure. Sending out a guest post with bad grammar, wrong syntax, or typos can cancel all your hard work, even if your ideas are stellar. Websites and readers don't want to deal with sloppy writers. So, when you're done writing, put some distance between yourself and the text and return to proofread with fresh eyes. This will help you catch mistakes and produce content worthy of your experience.
7. Making Your Content Too Lengthy
A lengthy article isn't necessarily bad. In fact, people usually don't mind reading long articles, as long as they're interesting and well-researched. However, if you're trying to stretch your material with filler words and unnecessary blabbering, it will show and turn your readers away. If you have nothing relevant to add, it's better to keep it concise. Besides, time is limited, and attention spans are short, which means that you should ideally stay within 1000-1500 words.
8. Not Outlining Before You Start Writing
The final mistake that many writers make is that they go into writing without an outline in mind. Often, they think it's a waste of time, but it's actually a time-saver. An outline allows you to put your ideas in order and create a consistent article throughout. You don't want to lose your initial train of thought halfway through and end up with an overly long post with jumbled ideas.
Conclusion
Content writing can be highly rewarding for your business when done right. If you haven't seen results yet, this article can be your first step in the right direction. With our SEO top tips, you can get search engines to notice your articles and rank them higher in SERPs. Finally, if you recognize and work on the common mistakes content writers make, you can elevate the quality of your work and attract more readers.
Download our eBook Guest Posting Guide: How To Become A Top Content Contributor On eLearning Industry to learn what you can gain by guest blogging and what are the basics of writing a guest post for eLearning Industry.