Simformer Business Simulation: An Innovative eLearning Platform For Practice-Oriented Business Education 
The concept of Simformer educational platform can be described by this simple short formula:
KNOWLEDGE  + PRACTICE = SKILLS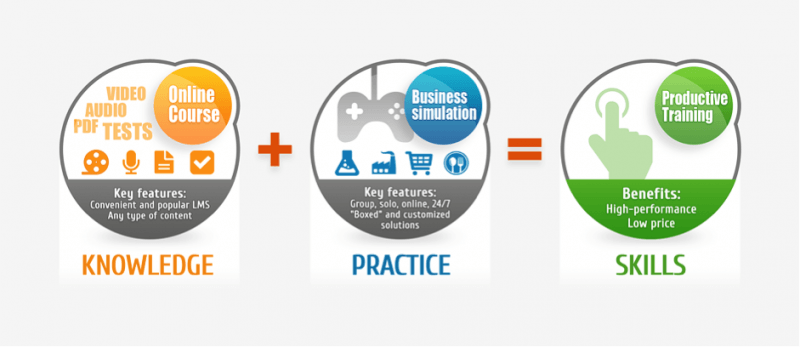 Simformer platform consists of a massive business simulation environment integrated with a Learning Management System. The environment allows effortless development and customization of the business simulation to meet the requirements of a particular course or a training session. The business simulation customized in Simformer platform integrates with a classic online course, uploaded into the Learning Management System and is easily incorporated into the overall learning process. This allows the learners to not only acquire the course's theoretical material, but also at the same time apply the theoretical knowledge in a realistic business simulation; they will also be able to experience how the concepts and models, introduced in a business course, work, and develop their practical skills in managing the business processes, management aspects, and the overall company. This helps not only achieve the effective acquiring of the course material, but also unite all the concepts and models into one whole knowledge system.
One of the most important and fundamental problems of a contemporary business education is its weak relation to realistic practice.  The pilots spend months training on simulators before operating a real airplane, by practicing the skills of managing an air vehicle, working on typical study cases and emergency situations on a simulator, thus reducing all the real risks to a minimum.  A new manager, fresh out of a university or a business school, has a lot of useful yet very general theoretical knowledge, without the ability to apply it in practice. And, basically, the only opportunity for a new manager to acquire real practical business management skills is either in his or her employer's company or his or her own startup. And in both of these cases, the process of transforming the theoretical knowledge into practical knowledge is expensive and tiresome. As a result, the employer bears the terrible costs of training new employees and the risks associated with their unqualified actions and typical mistakes. Or, in case of a startup, a young entrepreneur experiences losses, by making typical mistakes, which most new entrepreneurs make, when they don't have the required business management skills. It is common knowledge that more than 90% of new businesses go bankrupt and close within 1-2 years. And 80% of young companies' causes of failure are standard and typical.
Simformer Business Simulation is ready to solve these trillion-dollar fundamental problems. It aims to make business education effective, practice-oriented and affordable, which should significantly reduce the risks and losses of companies and reduce the risk of startup bankruptcy several times.
Naturally, the practice of using business games and simulations in education is not new, and there are many different desktop and computer simulations to meet the needs of specific tasks, business cases and scenarios. The market has recognized the obvious benefit of education based on simulations and training games, and it grows rapidly surpassing the annual growth rate of eLearning industry (4.5%) 4-6 times.
According to Ambient Insight 2015, the annual growth rate of simulation-based eLearning makes 16, 8%, game-based learning - 21, 9%. It is obviously classic online courses are already being replaced by simulation and gamification solutions. But almost all business simulation solutions existing on the market have significant limitations in their accessibility, application, dynamics, user access control, customization capacities, and the relation to a relevant theoretical course.
Simformer has developed the platform and solutions without all these disadvantages and limitations.
The Concept And Key Features Of Simformer.com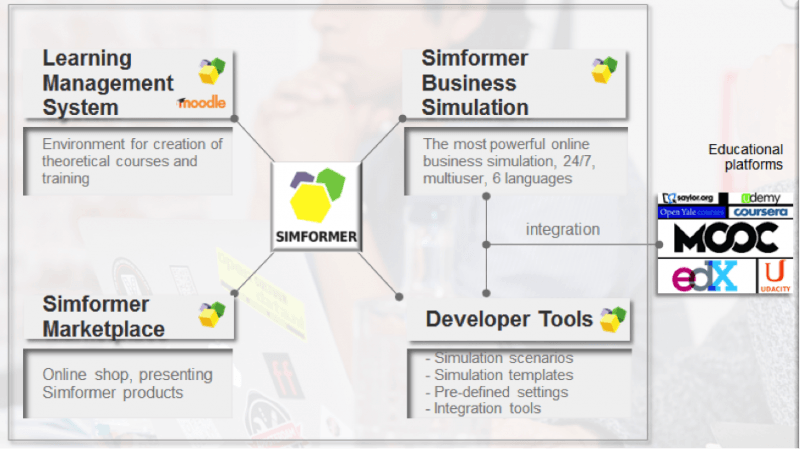 Simformer Business Simulation (SBS) Unique Features: Simformer educational solutions are based on Simformer Business Simulation (SBS), a unique gamified simulation environment. It allows bringing the most challenging ideas to life: From interactive school lessons and university lectures to corporate training events and contests in the field of Training and Development.

Supports large variety of educational content.
Audio, video, textual and graphical. Anything that can be used to transfer the knowledge and skills.
Connects theory and practice.
All key elements of the platform are designed to connect theoretical content and practical tasks that need to be completed in business simulation.
Oriented toward different learning profiles.
Different people learn and process information differently. In order to increase the knowledge uptake, flexible approach is needed.  Simformer platform provides a possibility to teach both traditionally and flexibly – practice first, theory afterwards.
Flexible and integrable.
You are not limited to only creating courses on the platform. Integration into already existing courses is also possible, because we can easily connect Simformer Business Simulation and developer tools to virtually any Learning Management System. As an example, Simformer has been recently integrated to Apnacourses, an educational platform from India.
Interactive and engaging.
Supports various interactions amongst teachers –students and students– students. Increased interactivity within the virtual environment also increases engagement.

Simformer platform accessibility: Simformer give the opportunity to any instructional designer, online course developer, business trainer, and instructor to create their own business simulation, gamified online course, or training. The authors can use them for their own purposes or sell them through Simformer Marketplace.
Simformer Business Simulation Video Intro:
Format: SBS can be used in onsite, online, and blended learning courses.
Group and individual participation: Simformer Business Simulation is used to develop educational products both for individual and group learning as various virtual business companies can be managed both by individuals and groups.
Short-term and long-term learning programs: SBS provides environment can be used for short-term training sessions, lasting for couple of hours, as well as for long-term academic learning programs.
All typical business processes and functions: Simformer Business Simulation is an environment for practice-oriented learning of various business fields: Strategy, marketing, HR, logistics, sales, financial management, etc.
Interaction of participants: SBS is based on interaction among multiple participants. As a result, it enables the development of various training sessions in the areas of multifunctional collaboration, communication, leadership, delegation, teamwork, etc.
Competitiveness and gamification: Simformer Business Simulation is a full-fledged online game based on the competitiveness principle, which makes students more motivated and enhance their involvement in the learning process.
Online accessibility 24/7/365: SBS is intended for developing online educational products (courses, business games, contests, academic competitions, etc.), which can be accessed from any geographical location and time zone.
Endless possibilities and dynamic environment: Simformer Business Simulation is not limited by linear scenarios or only one specific winning combination. As participants shape the environment itself, it is very dynamic and unpredictable, therefore very close to real world environment.