Improving Employee Performance With Social-Emotional Learning Activities
Performance management is multifaceted. It involves identifying hidden gaps, maintaining motivation, and detecting emerging talent. Emotions, however, underlie every aspect of your online training program. Employees must be emotionally invested in their own development to succeed and continually hone their skills. Working with peers to achieve the objectives is one of the best ways to make them feel and motivate reluctant online learners to engage with co-workers with similar interests and diverse expertise. These 6 social-emotional learning activities are ideal for employee performance management.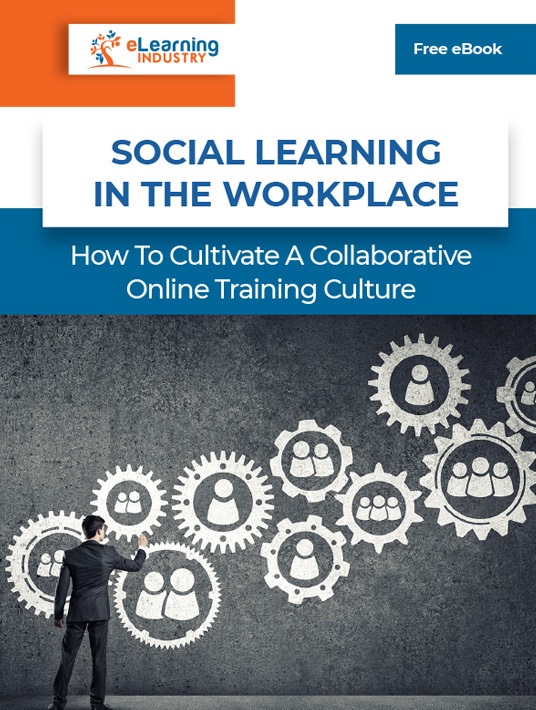 eBook Release
Social Learning In The Workplace
Find out what social learning is and how you can implement it in the workplace.
1. Personal Anecdotes
Sometimes employees just need to see things from a different perspective. Preferably, an insider's perspective that allows them to identify personal areas for improvement or pick up favorable habits that lead to better workplace performance. That's where personal anecdotes come into the picture. Stories are one of the most effective social-emotional learning activities because they set the example and give employees actionable steps to follow. For instance, the anecdote might explore how a manager mishandled a customer complaint, as well as how they improved their behaviors and skills to achieve a favorable outcome the next time they interacted with customers.
2. Character-Driven Demos
Create demos that walk employees through the process from beginning to end. The catch is that they should be character-driven. For example, the task demo video features a nervous sales employee who gradually builds their self-confidence as they progress, or a customer service staffer who must contend with an angry customer and their unique personality traits. Employees will have to deal with a diverse group of people on the job. So, prepare them for every point on the spectrum with social learning demos. Another approach is to share the backstory of the character, including their motivations and emotional state. This allows employee training participants to delve deeper into the situation and understand the reason for their actions.
3. Customer Persona Simulations
Don't stop with demos that feature quirky, yet realistic, personalities. Develop customer persona simulations that expose employee training participants to the broad range of consumers who frequent your establishment, call into your helpline or schedule meetings with your remote sales team. These simulations give staffers the chance to interact with challenging consumers in a risk-free setting, as well as experience all the emotions of that challenge and see how they react. For instance, they buckle under the pressure because they lack the necessary skills. Bear in mind that social learning for employee performance management isn't all about observation and co-worker collaboration. It also centers on self-analysis and reflection. Employees can evaluate their personal assumptions and get rid of limiting beliefs.
4. Group Discussions
Host a live group discussion wherein employee training participants ask questions and ponder compliance topics or performance issues. They can think of new and creative ways to approach a problem with the help of their peers, as well as talk about past experiences that might benefit others. Such as an obstacle they encountered on the sales floor and how they used their conflict resolution or interpersonal skills to address it. This is one of the most direct social-emotional learning activities because it involves one-on-one communication. Even if it's in a group forum, everyone still has the opportunity to personally engage with co-workers. They're also able to move into the live chat to discuss more private matters. For instance, a new hire might be having trouble getting along with another employee. An experienced staffer can offer them tips on the live chat to build a stronger team and help them resolve personality conflicts.
5. Relationship-Building Serious Games
Social learning has many strengths. One of them is the ability to build more effective relationships within your organization. However, you can also use it to improve interactions between employees and customers or clients. Develop serious games that feature numerous situations and background stories. For example, one game includes a grumpy co-worker who only makes things worse with an unhappy customer. The employee training participant must intervene before it's too late and resolve the problem without offending the co-worker. This requires tact, interpersonal skills, and a whole lot of patience. Employees must use all available resources to achieve the best results and maintain calm in the virtual workplace. If not, they identify areas for improvement through the experience and learn from their mistakes.
6. Peer Coaching That Raises Self-Awareness
Launch a peer coaching program for employee performance management to share knowledge and raise self-awareness. Most employee training participants want to improve, they simply don't know how to do so. Peer coaching helps them better understand themselves and their gaps based on another point of view. For instance, their coach observes as they complete a task then highlights personal areas for improvement. Which skills do they need to hone to accomplish their goals? Is there a better way to tackle a specific step and be more efficient in the workplace? The coach can even demo the task to show the employee how it's done and common mistakes to steer clear of. This is a classic example of the observe, organize, and replicate principles of social learning.
These social-emotional learning activities are even suitable for introverts who prefer to go it alone, as it makes the most of everyone's talents and takes a learner-centered approach. No one is forced into participation and each member of the team can choose performance management tools that align with personal interests. From anecdotes that make them feel for the character and reflect on their own behaviors, to demos that show them the way and highlight areas for improvement.
Wondering what social learning is and how you can implement it in the workplace to motivate employees, facilitate knowledge sharing and talent development? Download our eBook Social Learning In The Workplace: How To Cultivate A Collaborative Online Training Culture and get to expose all the common myths around social learning!