7 Staff Augmentation Best Practices When Bringing On Temporary Talent
Here are a few staff augmentation best practices we've cherry-picked from our own experience.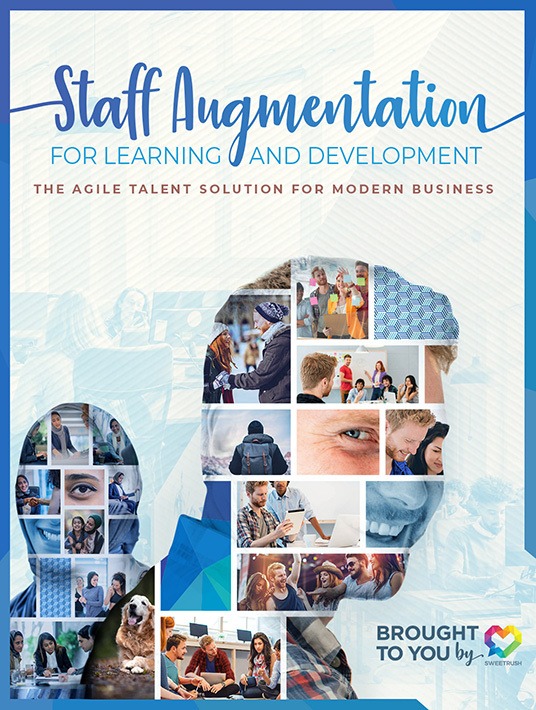 eBook Release
Staff Augmentation For Learning And Development: The Agile Talent Solution For Modern Business
Discover how to make this strategy work for your organization.
1. Find The Right Staff Augmentation Vendor
It's important to think of your vendor as a partner and an extension of your team. They should intimately know the work you do and the nuances of the talent you seek. Your vendor will represent you and your brand, so ask yourself if you feel good about who they are and if they have a culture with which you feel aligned. This is where it all starts, and a great vendor will be an important ally for you now and into the future.
2. Get Clear About Your Talent Needs
Of all the staff augmentation best practices, this may be the most vital. Plan to spend time upfront to carefully define the specific knowledge, skills, and experience the talent needs to possess. This will force you to get very clear about what you need the talent to do and accomplish. If you are using a staff augmentation vendor and they are doing their job, they will use this information to work with you to create an accurate and targeted job description. In all cases, don't skip or minimize this step. If you do, the consequence will be a lot of expended energy focused in the wrong direction.
3. Decide Up Front If You Might Want To Hire The Talent
Bringing on a temporary talent is a great way to "try before you buy." But not every individual who works in temporary capacity desires to be hired full time. If you think you might want to hire the talent if he or she turns out to be a great fit for your team, let your vendor know upfront. Your vendor will use this knowledge as a filter to select people, if possible, who are open to transitioning to full-time if it works out for them as well. Often, clients assume they will automatically have that option, but it's not always the case, some individuals just prefer to work in temporary roles as it fits their lifestyle and working preferences.
4. Be Responsive And Prepared To Actively Participate
Good talent, the ones you want, have many options. Responding quickly—reviewing selected résumés and then interviewing talent you are interested in—is essential. Delay and you might lose the talent, who will have alternatives and may decide to take another position. This staff augmentation best practice is perhaps the one that causes us the most pain when not followed! We finally have that perfect talent, and then our client takes too long and the talent moves on.
5. Orient Your Talent
At SweetRush, we know some of our internal positions will take many months to fully gear up, as new hires gain tribal knowledge and context. But when you're hiring temporary talent, you need her to be up and operating quickly. You need to be prepared to orient her to the basics of IT and security and all the other important compliance topics, but in addition, you need to onboard her on the role she needs to play, her responsibilities and deliverables, and the other team members with whom she needs to interact. Truncated as it may be, you still need to orient her appropriately for her to get the job done. So, be prepared for this onboarding stage or you'll be frustrated, as will the talent.
6. Keep Your Staff Augmentation Vendor Involved
Ensuring success is everyone's job. And to help people be successful, nurturing, coaching, or mentoring—and even course-correcting—may be needed. So, keep your vendor involved in an ongoing manner. Establish regular check-ins with the talent and your vendor. Your vendor should be proactively making sure this happens. Communicate often and early. This whole enterprise is not about software or a commodity, but about people, so the best path to success is when everyone is communicating and working together to ensure success. Success translates into a win for you, for the talent, and for your vendor, so that shared interest should motivate all parties to stay involved.
7. Prepare For Knowledge Transfer
Unless you decide to hire the talent, your time with her will be temporary. Build in the time and process to ensure the talent's knowledge is transferred and you have what you need to sustain or appropriately close out her efforts. Don't make this a last-minute event. During the engagement, you should ensure that backups of all information and work product are happening, but that is only foundational. Make sure the talent has the time and mandate to offload all information of value that is needed to ensure a smooth transition when she walks out the door.
Using temporary talent is an important part of talent management and a great tool to get work done without adding full-time employees to your roster. And, it gives you a lot of flexibility to bring on the specialized talent you need for a specific project. But it's essential to follow a few staff augmentation best practices to maximize the experience for all parties. Download the eBook Staff Augmentation For Learning And Development: The Agile Talent Solution For Modern Business to find out more about making this strategy work for your organization from SweetRush's experts.

SweetRush
Our job is to help you achieve your objectives and be successful. Engage us at any point, from analysis to custom development (including e-learning, mobile, gamification, and ILT) to evaluation.