Essential Traits Of Successful Workforce Development Programs
Successful workforce development programs cover a wide range of subject matter. It could be anything from orienting yourself with corporate software to learning a new language before being posted abroad. The beauty of using a workforce training LMS is that you can align your content with employee gaps and maximize resource allocation. Beyond that, what are the essential traits you should consider when implementing your new Learning Management System? What features and qualities should your course comprise if you want to improve your chances of providing top-notch online training?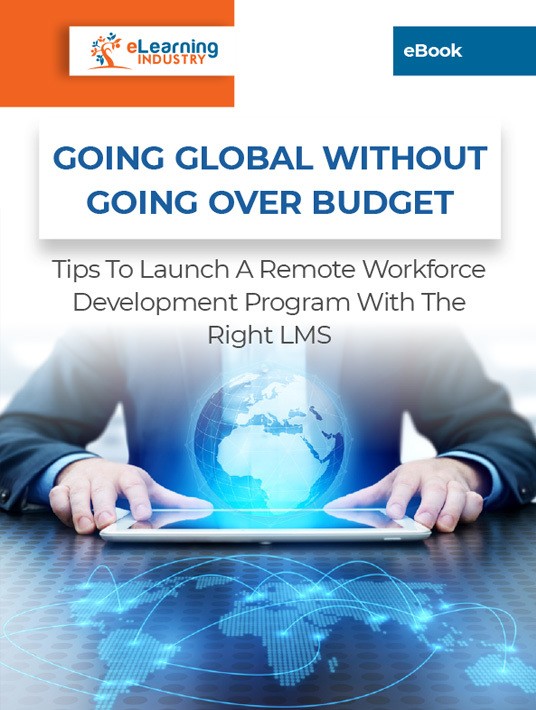 eBook Release
Going Global Without Going Over Budget
Discover how to implement a remote workforce development program with the right LMS.
1. It's Centered On Employees
Some workplaces are averse to online training. They think it drives their staff members to look for better jobs elsewhere. So, the organization prefers to keep its team static. Unfortunately, truly gifted workers will feel stifled and leave anyway. That's why effective online training focuses on what's best for the employee training participant. By extension, the employee training participant's happiness, growth, and success will benefit the company. Plus, knowing you believed in them and invested in them will influence their attitude towards the organization. This makes them less likely to leave. As such, successful workforce development programs all concentrate on individual skill gaps and needs. Instead of taking a one-size-fits-all approach to online training.
2. It Focuses On Practical Application
When the online training isn't employee-centered, it's unlikely to be sincere. The organization may settle on low-hanging fruit, offering generic and cheaply implemented online training courses. Or they may rely too much on theoretical knowledge. Academic courses aren't always the best suited for workforce development unless they work in the academic industry. For example, scientists or college professors would be fine with Master's Degrees or PhDs. They'd actually be glad if their employer paid for it. But in regular fields, online training needs to be task-based. For example, your courier team will benefit more from defensive driving lessons than learning the history of delivery vehicles. You should also incorporate real-world activities that give them the chance to make mistakes and improve their performance. For example, a scenario that teaches the right and wrong way to handle a customer issue.
3. It Includes Soft Skills
The term EQ makes us think of leadership, empathy, active listening or negotiation skills. But there are other lessons you could offer. Things like conflict resolution or stress management. These can help your employee training participants attain a better work-life balance. It will also help them absorb and counter the psychological punches they face at work. It will benefit every aspect of their careers, including pushing through tough online training sessions or collaborating with difficult colleagues. As another example, a sales team can learn how to open and close. But they also need skills in gracefully handling rejection. This helps, because out of twenty leads, they might convert two. They need the fortitude to push past and keep working. It'll probably help their personal lives too.
4. It Involves Consistent Evaluation
Assess your employee training participants before they start the course. This has multiple functions. It will help you spot missing skills, so you know what courses to offer. It shows their preferences and background so you can tailor a course to their preferred mode of learning. And it tells you how effective the online training itself was, by giving you a before-and-after snapshot. During the online training course, you also need brief quizzes pre- and post- modules. They help to prime your learner's mind before the unit and review knowledge transfer once they're done. These in-course tests can also help you identify areas that require further development. You could offer reference materials or edit the module to make it easier to absorb.
5. It's Based On Tailored Online Training Paths
I've already mentioned eLearning pre-assessment helps you identify corporate skill gaps. But sometimes, your workforce needs more. For example, many organizations prefer to promote from among the ranks. Successful workforce development programs spot potential and then build it out. A manager or team leader can use workforce training systems to identify and groom their successor. Even if the leader isn't leaving, 'raising the next generation of managers' makes the whole organization stronger. Besides, your employee training participants don't have to take over your job. They might just be recruited to go launch a new branch.
6. It's Consistently Updated
Your intern orientation course may have been successful when the company started. But the new hires of today are completely different. Their thinking and exposure vary, as does their upbringing. Just as an example, they're far more digital, diverse in age group and decidedly more global. Similarly—taking the earlier delivery employee example—online training needs have changed. Today's delivery staff probably need training on electric vehicle maintenance and Google maps. So, for your workforce development LMS implementation plan to become—and remain—successful, you have to audit your material periodically and upgrade it as needed. You should also conduct surveys and assessments to verify that your content is still on-point and relevant. Or if you need to make minor modifications to incorporate evolving goals or even emerging technologies.
Successful workforce development programs are distinguished by their clearly evident value. They assess employee training participants before crafting programs, and they mix soft and hard skills. Taking a more holistic approach that helps employees 'play well with others' and improve on-the-job productivity. They rely heavily on practical online training and are centered on employees, offering them tailored online training paths. Evaluation is consistent, as are maintenance and upgrades. Effective online training programs know how to balance organizational objectives with individual needs. And it pays off in the form of improved employee retention and online training ROI.
Do you want to discover more about the benefits a new LMS can bring to your business? Download the eBook Going Global Without Going Over Budget: Tips To Launch A Remote Workforce Development Program With The Right LMS, explore ways to bridge the gaps and enhance your business strategy.