Training To Succeed
Creating effective training requires an upfront investment in understanding your learners. Once you know what they need, it will be a lot easier to find the right types of training to use. However, you will face the challenge of tailoring your content and strategies toward people from multiple generations. Let's take a look at how to do that well.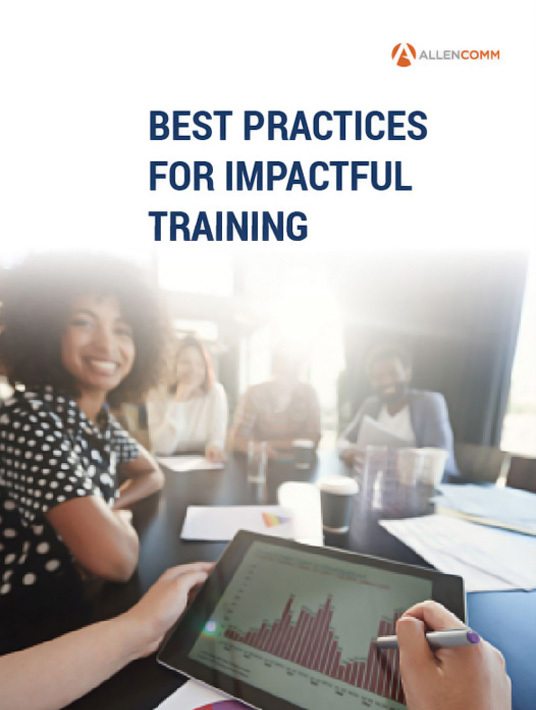 eBook Release
Best Practices For Impactful Training
Learn how to make a long-term difference in your employee training with impactful strategies, technologies, approaches, and development programs
First and foremost, the way you approach and lead your employees will help your training to success. Every generation has its stereotypes but leaders must be able to move beyond stereotypes in order to lead effectively. Millennials are more than their smartphones, and Baby Boomers aren't constantly at odds with technology. Instead, find and recognize the skillsets of each person on your team. Effective leadership requires you to also build trust and respect with your team. Take advantage of the range of perspectives, skillsets, and job knowledge available within your team. To show that you value their knowledge, develop some processes to increase knowledge retention. Employees who have been at a job or in the workforce longer have a lot to offer, and you don't want to lose it. Let's consider another learning strategy: coaching. Coaching is valuable to provide in-person mentorship to your learners individually. When you coach someone who is older, don't be daunted by their age. If someone feels you lack either confidence or humility, they may be less willing to trust you as their coach, and therefore, may make no progress or decide to end the coaching engagement. If you make assumptions about a younger employee based on the stereotypes of their generation, you won't be able to find the coaching methods that work for them. Focus on the individual, not their age.
As you plan to innovate your training technology and onboard new employees, consider how comfortable your employees are with the current technologies in your industry. Figure out what kinds of training innovation may work well for them. If the workforce in your workplace is behind or ahead of the curve for technology in your industry, then that will probably give you a pretty good idea of the level of technical proficiency you're attracting to your workplace and what innovations your people will be comfortable with regardless of age.
3 Tips For Training A Multigenerational Workforce
Let's examine several technologies and methodologies that can make learning impactful:
Mobile Learning
Mobile learning is any learning done on a mobile device. It can be in the form of an app, a video stream, an article, or PowerPoint. Mobile learning can even extend to wearable technology. What's great about mobile learning is that it can be accessed by your trainees at any time via their mobile devices. This is the perfect strategy for on-the-job resources. Regardless of where learners fit on the generational spectrum, everyone can get behind learning technology that is flexible and easy to access, and mobile technology excels on both fronts.
Gamification
Gamification can help overcome resistance to training. But using it to appeal to multiple generations of employees is easier said than done. Here's a tip to remember: gamification isn't just about fun. This strategy engages the parts of your learners' brains that enjoy problem-solving to make it interactive and rewarding. People of all ages can enjoy and participate in creative problem-solving.
Microlearning
Microlearning doesn't just trim down your training content; it makes the training laser-focused. Microlearning also offers an intuitive, easy-to-use learning experience that can adjust to fit busy schedules. Not only that, but microlearning-oriented training works great with mobile devices. This strategy allows you to truly tailor content and activities to your learners without missing out on the bigger picture.
Conclusion
In the end, flexibility is key as you approach generational differences. Not only can you make sure that everyone gets the training that they need, but you can also make them feel comfortable in the process. This may seem like a lot of work, but a cohesive multigenerational team will make your investment in them all worthwhile. Just make sure that your expectations are clear, and meet with each team member to keep on track. With a variety of opinions, ideas, viewpoints, and skills, your team members can tackle challenges and obstacles that a less functional team would find daunting. If you would like to delve into the subject matter, then download the eBook Best Practices For Impactful Training which consists of a compilation of the best Learning and Development practices honed from over 35 years of building award-winning training courses.
AllenComm
The experts at AllenComm solve business problems with beautiful custom learning solutions. We bring creativity into instructional design. We change behaviors and influence choices. We build better training.