TalentLMS' Teleconference Options Under The Microscope
While training at the learner's own pace is a big feature (and a great convenience) of eLearning, sometimes real-time training is just as important.
The ability to train people in real-time is the basis of online Instructor-Led Training, and it has become increasingly popular in hybrid learning scenarios, webinars, whole class video sessions, and such. And, of course, an LMS platform's teleconference features are crucial for successful real-time training.
When it comes to TalentLMS' teleconference options you are literally spoiled for choice. You can opt for the fully-featured integrated teleconference option using BigBlueButton, or take advantage of the native support for third-party services such as GoToMeeting and the recently-added Zoom.us.
They are all ready to be used in TalentLMS after just a few simple settings and offer not just teleconferencing but advanced options such as real-time collaboration, presentations, shared whiteboards, and even video recording of your sessions for later replay.
In this article, we'll have a look at setting up Zoom.us teleconferencing with your TalentLMS-based eLearning portal.
Zooming Into Zoom.us
Zoom.us is a popular video conferencing platform, available both as a web service and through mobile clients for all major smartphone OSes, focused at business users, whether SMEs or larger enterprises and organizations. Which makes it a good fit for our target demographic and why we included it in TalentLMS' teleconference options.
Integrating Zoom.us With Your TalentLMS-Based Portal
Getting Zoom.us to play well with your platform is like most TalentLMS integrations, easy.
As we're talking about Cloud-based services, there are no downloads, no installations, and no rebooting or hair-pulling -- just a few simple configuration steps that we'll now take you through.
First, log in your TalentLMS-based portal as an Administrator, visit the "Conferences" section of the "Accounts & Settings" page. This, as the name implies, is the central location of configuring teleconference integrations in TalentLMS.
From the Type drop-down (which determines which teleconference option you want to use) select Zoom.us.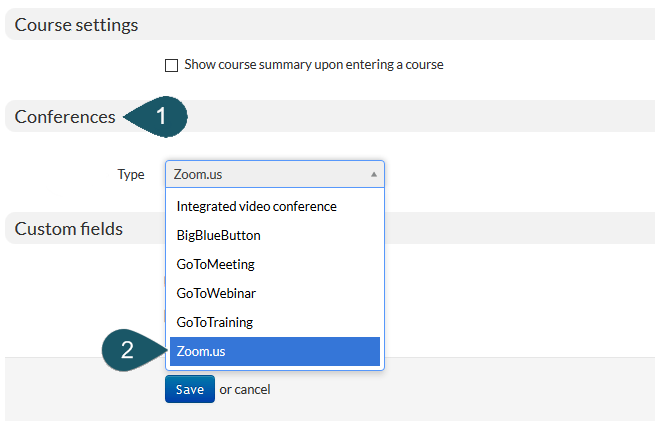 And that's it for the Administrator. We are not entirely done, however, as now it's the Instructor's turn to hook their account with TalentLMS to be able to start creating new conferences.
For this step, you'll need your own Zoom.us account. If you don't already have one, just visit and create one.
Got one? Nice. Now, logged into your Zoom account, visit the credentials page.
TalentLMS uses Zoom's API for integration, so unless API integration is already enabled in your Zoom account, click the "Enable API integration" button.
In the same page, you'll find the API Key and API Secret, which you'll need to copy and paste to your TalentLMS portal in the following (and final) steps.
Enter your TalentLMS-based portal as an Instructor, visit the Conferences listing page, and click the "Connect with Zoom" button.

In the window that pops up, fill in the API Key and API Secret that you've found on your Zoom Credentials page in the previous step, and click "Submit".
A drop-down selection box will appear, asking you to chose the TalentLMS user that will be associated with your Zoom account. Make your pick, and click the "OK" button.

You are now ready to create your first Zoom conference for your Instructor-Led Training (ILT) units (if you are uncertain about how to work with those, TalentLMS has a handy guide.
Last, but not least: to manage your Zoom users, visit the "User Management" section of your Zoom account.
Alternative TalentLMS Teleconference Options
Zoom is very capable and popular with business users, but just in case, we will add here a brief introduction to other TalentLMS teleconference options.
GotoMeeting
Part of well-known enterprise software vendor Citrix's suite of remote collaboration tools, GoToMeeting focuses on (you've guessed it) online meetings and offers a simple interface for teleconference sessions (video and audio-based), real-time presentations, desktop/application sharing, shared whiteboards, and other forms of group collaboration. Just like Zoom, you can set GoToMeeting as the default conference solution for your TalentLMS portal.
GoToWebinar
Another member of Citrix's suite of business communication and collaboration tools, GoToWebinar is focused on webinars, in other words, prescheduled real-time conference sessions. While GotoWebinar is primarily focused on sales and marketing work, it can also be used for eLearning purposes and supports polls, surveys, interactive presentations and built-in analytics.
GoToTraining
Why stop at two? GoToTraining is the third member of Citrix's GoTo line of enterprise tools that TalentLMS supports. This one is meant for live training sessions and features real-time collaboration, shared videos, collaborative document editing, and session recording. You can even spin-off your training sessions into smaller groups (what Citrix calls "breakout collaboration"). All in all, another solid teleconference option for TalentLMS.
BigBlueButton
BigBlueButton is a popular Open Source teleconference and remote real-time presentation tool. With TalentLMS' native support for the platform, your Instructors can create and schedule teleconference sessions and/or webinars from within your eLearning portal. You can also record your webinars to serve them at a later time. Oh, and did we mention it's a free service (although you'll do have to install it yourself for this to be so).
Bountiful: TalentLMS' Teleconference Options
In this article we had a look at hooking TalentLMS up with Zoom.us, to take advantage of the popular business-focused teleconference service.
Of course, TalentLMS' teleconference options are many and varied, in the form of integrations for all kinds of third party services, so stay tuned to learn more as we cover TalentLMS' related integrations and features in our weekly articles.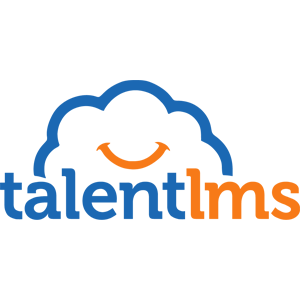 TalentLMS
Easy to learn, easy to use, and easy to like, TalentLMS is designed to get a "yes" from everyone, including C-level execs, budget heads, and busy employees. Now, instead of checking out, your whole organization leans into training.