Employability Matters
This is the rumor that has been doing the rounds for over a decade or more. The whispers increased as AI and automation took center stage in the last few years. I, however, was gratified to read a 2018 Pearson article that said, "at the risk of being too simplistic, you could summarise the past few hundred years of human endeavour as 'training humans to be more machine-like'. The 2030 set of trending skills, however, requires a very different approach: 'training humans to be more human'." [1] The fact that this article was based on a Pearson commissioned research by the Oxford Martin School and global innovation think tank Nesta gave it more credence.
It Does Make Sense, Right?
It stands to reason that when automation, AI, and robotics take hold, the need for manual and basic cognitive skills will decline, while the demand for technological, social, emotional, and what we call HOTS (Higher Order Thinking Skills) will grow.
Yes, the skills required in the future will be drastically different from what we have seen or expected. This shift in skill requirement has been brewing for some time now, aided and abetted by powerful forces of disruption like globalization, technological changes like digitization, and environmental sustainability. The COVID-19 crisis accelerated this transformation to the extent that the third edition of the World Economic Forum's Future of Jobs Report states that "half of us will need to reskill in the next five years, as the 'double-disruption' of the economic impacts of the pandemic and increasing automation transforming jobs takes hold." [2]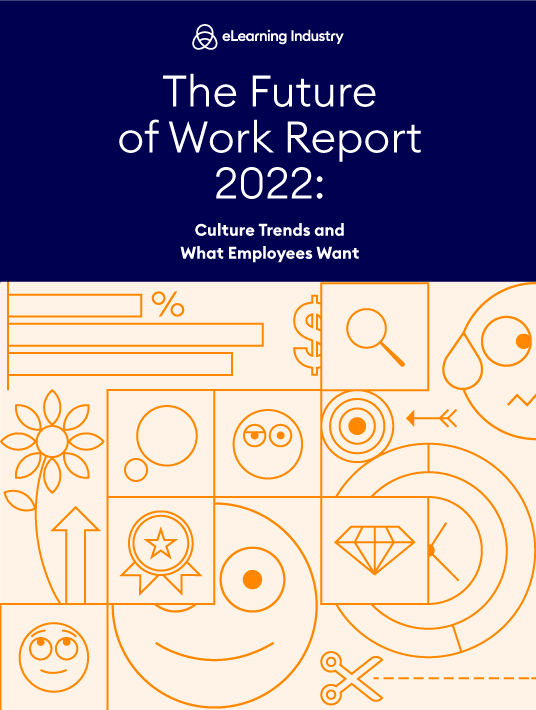 eBook Release
The Future Of Work Report: Culture Trends And What Employees Want
Is your business out of touch with what employees want? Dive into this report and discover how you can create a great workplace!
Zoom Into The Future
Surprisingly, the future of skills does not seem to be all about technical skills and futuristic know-how. The skills of the future are closer to home, or rather uniquely human.
Similar to the Pearson report in 2018, [1] a recent research by the McKinsey Global Institute also draws our attention to a group of skills they call "foundational skills." When looked at closely, these skills are close to the skills that we normally refer to as soft skills.  These are traits or competencies like active listening, complex problem solving, work-plan management, social perceptiveness, and many more that make an individual effective across various jobs and even life situations. The McKinsey report lists 56 such "foundational skills" across four main categories—cognitive, interpersonal, self-leadership, and digital.
This is also in line with the World Economic Forum's Future of Jobs report of 2020 that states, "the top skills and skill groups which employers see as rising in prominence in the lead-up to 2025 include groups such as critical thinking and analysis as well as problem-solving and skills in self-management, such as active learning, resilience, stress tolerance and flexibility." [3]
Essentially, these skills, which are often seen as people skills or emotional intelligence, have now transformed into the power skills that can transform individual contributors into powerhouses that collaborate and innovate for the future.
Too Soft To Be Learnable?
Power skills like active listening, storytelling, and even problem-solving are often considered to be inherent traits that are aligned to one's personality. Not surprising when these skills often remind one of the skywriting created by aircrafts doing gymnastics while propelling a special smoke. They are clearly visible and compelling but not physically tangible.
There is another myth often attached to these skills. It is that these skills or traits need to be inculcated very early in the person's development—as early as kindergarten. While I believe that our education system needs to be reimagined to give more focus to these key survival skills, I think it is possible to develop these traits in adults too. In fact, these skills should be added to the list of skills that are addressed by organizations as part of their learning drive.
Learning programs that focus on inculcating these skills in the workforce (or to be more generic—adults) should be an ideal combination of conceptual as well as hands-on training.
The most effective learning programs are seen to be:
These are programs that are completely integrated into the workflow of the learner, allowing the learner to apply the concepts learned immediately.
Human-Centric Or Personal
They connect to the emotional core of the learner while encouraging the learner to enhance the learning with personal experiences. This helps in long-term retention and easier application of the concept.
The program should be an ideal blend of different media of instruction, from self-paced digital delivery of concepts to hands-on facilitator-led cohorts. At Bodh, we go to the extent of blending different media like audio, video, and even comic-strip styles of delivery to make learning engaging.
The Hindu concept of having a phase of life (Brahmacharya) dedicated to learning is quite appealing. However, we of the 21st century are not fated to limit our learning to just a phase in our lives. We must learn and evolve at every age and stage to be more effective and productive.
We have been conducting various learning experiments at Bodh. One such experiment was in fact a program developed to inculcate power skills like confidence, time management, communication, and negotiation in a cohort. The challenge was that the program had to be low-touch, with minimal interaction with the learners. The resounding success of the program, with an NPS of 9.5%, reinforced our belief that learning delivered through storytelling while encouraging learners to apply their learning through carefully thought-out activities and community engagement was an ideal solution. We've also conducted successful experiments where we blended audio and video content augmented with assessments to keep the learner engaged.
The end result that any learning program should aim for is not the delivery of concepts but a mindset shift, whether it's a program on DE&I or design thinking.
References:
[1] Pearson's predictions: the most sought-after jobs and skills of 2030
[2] These are the top 10 job skills of tomorrow – and how long it takes to learn them