How To Organize A Rich Onboarding Experience For New Hires
If you wait until an employee's first day to start their onboarding, you're missing a great opportunity to get a head start on completing setup tasks and building connections. The following items make good use of the week prior to a new hire's start date and help them hit the ground running.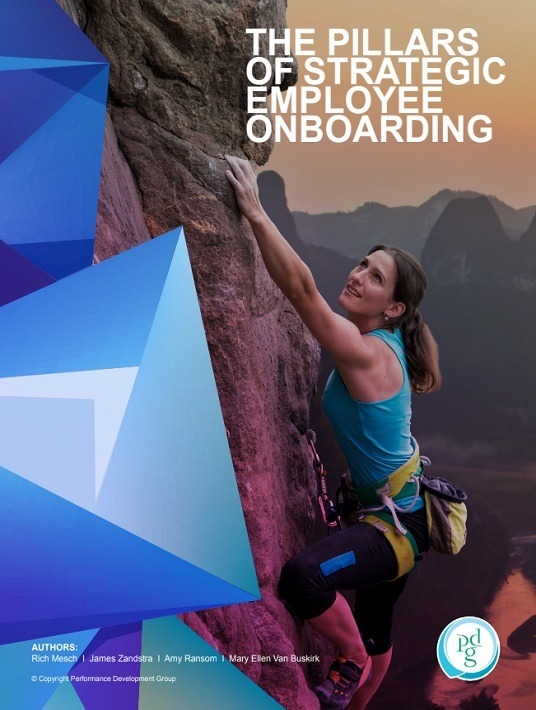 eBook Release
The Pillars Of Strategic Employee Onboarding
Discover ideas about how to implement a flexible, effective onboarding program that can improve retention rates, help new hires hit the ground running, and start to build connections before the new employee's first day on the job.
Checklist For New Hire Onboarding
1. Arrange Technical Setup
Computer
Email account
ID card
Phone number/extension
Security access code
System passwords/logins (intranet, portal, role-specific platforms, and software)
Workspace setup
2. Initiate HR Setup
Documents that require signatures (hard copy or electronic)
Company handbook
Role-specific reference documents
Organization chart
3. Manage Job-Specific Tasks
Schedule orientation
Create a first day/week/month/90-day plan with expected milestones
Provide housekeeping information (start date, time, location, dress code, transportation or parking, a suggested outline of their first day, a list of any documents/equipment they will need to bring)
Confirm workspace set up
Schedule new hire orientation
Send a new-hire announcement to relevant colleagues
Inform the team of hiring decisions (name, role, start date, summary of responsibilities and first few milestones)
Collect information the new hire will need for their first day
Gather necessary project/account information for handoff
Match the new employee with a peer mentor
Schedule first-day lunch with the team
First Day
The first day for a new hire can be overwhelming unless it's carefully planned. The following items can help create a great first impression and set the new employee up for success.
1. Welcome The New Hire
Meet and greet the new employee
Introduce the new employee to the team
Conduct a tour of the office/site, with introductions to key personnel
Review any security protocols
Introduce peer mentor
2. Conduct Orientation
Explain the organization's structure, vision, mission, and values
Review the employee handbook and highlight major policies
Complete or review required employee paperwork
Review relevant administrative procedures
3. Review Job-Specific Information
Job description
Timeline of milestones
Organizational chart
Outline of their responsibilities
First Week
Planned, structured onboarding that extends beyond the first day can keep the momentum going and help the new hire stay on track. Use the following tasks to structure the first week and lay out the new hire's future with your organization.
Determine knowledge and experience gaps
Create a learning plan to fill those gaps
Assign and outline the first project
Make introductions to additional people they'll be working with, including executives and the C-suite, customers/clients, suppliers/vendors, and contractors/consultants
Provide systems and software training
Confirm that all equipment is working correctly
First Month And Beyond
It's a good idea to plan for ongoing onboarding activities that extend for as long as six months post-hire to make sure new hires stay on track. The following items can build a firm foundation for future growth.
Work with the new hire to create weekly "to do" itineraries
Schedule ongoing, job-specific training as needed
Conduct check-in meetings on a daily or weekly basis, depending on the new hire's progress
Create 30-, 60-, and 90-day development plans based on the new hire's needs
Ask for feedback about the onboarding process
Conclusion
Effective onboarding creates connections, clarifies expectations, and shows new hires that your company wants them to succeed. Time investment can result in a payoff of commitment and performance as new employees grow into their roles and become the peer mentors and organization ambassadors who welcomed them on board.
Download the eBook The Pillars Of Strategic Employee Onboarding for insider secrets to launching a new hire training program that's adaptive, personalized, and perfectly suited for your modern workforce. Also, join the webinar to discover how onboarding drives business success!