Using Your LMS For Blended Learning Knowledge Checks
In our eBook, you've seen the benefits, trends, and top formats of blended learning – along with considerations on how to design a blend. Now it's time to discuss assessments in the blended framework, with the help of the Learning Management System (LMS).
Whether you are an eLearning enthusiast or an eLearning champion, you would know about the crucial role played by the LMS in corporate training.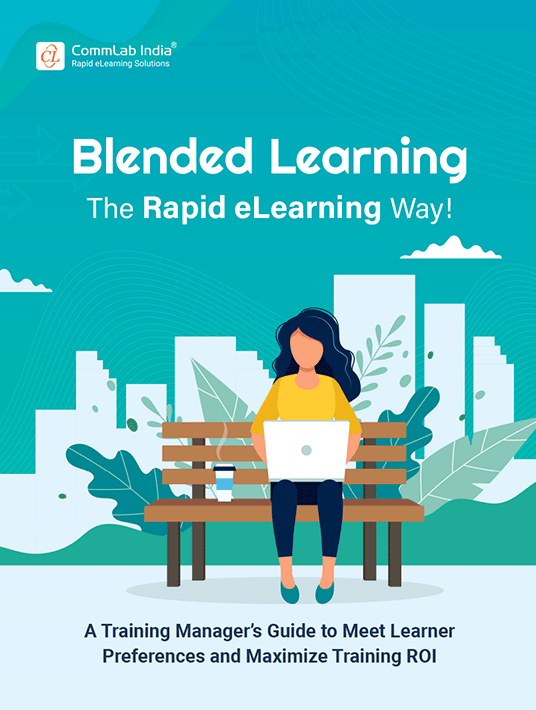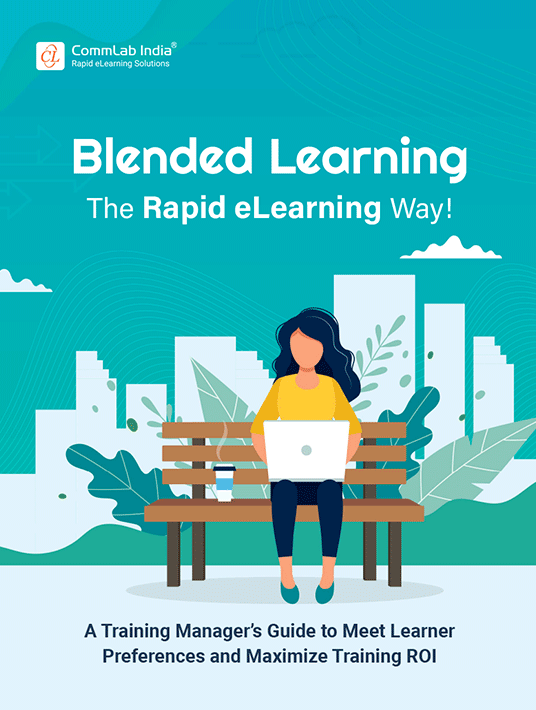 eBook Release
Blended Learning – The Rapid eLearning Way
Is rapid blended learning the best solution? Discover how blended learning can be leveraged to meet corporate training needs and address modern learning preferences.
LMS For Blended Learning
Here's how you can use an LMS for different training modalities in a blended learning program.
Classroom Training
Manage face-to-face training programs.
Schedule and send notifications.
Track attendance.
Offer learning resources.
Offer surveys to gather feedback and opinions.
VILT
Schedule and host live sessions.
Help remote learners practice in a collaborative setup.
Integrate third-party software such as survey and polling tools for interactions.
Offer mentoring and coaching sessions using web conferencing tools such as Microsoft Teams, Zoom, Skype.
Online Learning
Host, track, and monitor courses and their completion status.
Assign courses to learners.
Support and host different online training formats – videos, podcasts, micro assets.
Offer bite-sized microlearning assets for on-demand learning.
Facilitate continuous learning by leveraging social learning components.
However, irrespective of the learning modality you're going to use in a blended learning program, an LMS is important to gather learning analytics – measurement, collection, analysis, and reporting of data about learners and their contexts (Society for Learning Analytics Research).
Be it eLearning, classroom, or VILT, an LMS is indispensable to gather actionable insights and make data-backed decisions for your training initiatives. While these are a few of the many ways you can use an LMS for a blended learning program, you can also use an LMS for blended learning assessments.
5 Types Of Blended Learning Assessments You Need An LMS For
1. Surveys To Gather Employee Feedback
Soliciting feedback from learners – be it before or after the blended learning program – helps you stay in sync with their suggestions, needs, and expectations. Surveys come to mind instantly! You can easily host surveys on your LMS, while some come with in-built survey features.
Surveys are also important when it comes to determining Training Needs Analysis or TNA before you move ahead with the design and development of your blended learning program. Surveys can be collected using tools, such as:
Survey Monkey
Typeform
SurveyGizmo
Zoho Survey
Surveys can include close-ended/open-ended questions, data-range assessments, anonymous surveys, and more!
2. Polls To Get Interactions Going
Hands down, one of the most liked features of a virtual training session has to be polls. If you're incorporating VILT sessions in your blended program, an LMS can help you host these polls by
integrating various tools and capture responses. Polls break the monotony and help learners:
Gauge their understanding
Get immediate feedback
Have discussions
Engage and interact with learning content and peers/instructors
Also, polls can be used to gather important feedback at the end of your blended learning program. Here are a few popular poll tools you can leverage with the help of your LMS:
Vevox
Poll Everywhere
Mentimeter
VoxVote
Polly (open-ended, multiple-choice, rating)
You can also roll out questionnaires using an LMS. Your learners can log in to the LMS, attempt the questions and submit responses – in just a few clicks!
3. Microlearning Quizzes To Make Tests Fun
When was the last time you heard your learners say, "I can't wait to take the assessment!" Have you ever wondered why your learners are resisting assessments? Most of your learners would probably say their test experience was unpleasant because it had no variety (making assessments dry and hard to focus on), and was long and tedious! How can you resolve these issues and ensure effective blended learning assessments? Leverage micro quizzes on your LMS!
Microlearning quizzes are short and creative, making assessments stress-free. You can configure micro quizzes in various formats:
Quizzes
Scenarios/simulations
Gamified modules
So, whether you want to roll out a micro quiz before, during, or after the blended learning program, you can do so easily with your LMS.
4. Standalone Assessments To Ensure Knowledge Acquisition
Apart from assessments corresponding to a formal learning point, you can even have standalone assessments as part of your blended learning program. They are useful when you want to refresh their knowledge periodically. The LMS plays a crucial role in the effective delivery of standalone quizzes or question pools.
For instance, assessment questions can be randomized from a question bank to ensure learners do not attempt any question twice. An LMS can also help you set up adaptive learning paths based on the benchmark of standalone assessments. Thereafter, the LMS can assign learning assets or even suggest an in-person session for topics where your learners did not fare well, reducing manual efforts on evaluating and assigning resources in a blended approach.
5. Practice Exercises To Enable Easy On-the-Job Knowledge Transfer
While standalone assessments work great, you also need to incorporate practice exercises to ensure your learners get to apply the knowledge for effective on-the-job transfer. How do you leverage practice exercises using the LMS? Ask learners to complete online projects – in the form of spreadsheets, PPTs, self-recorded videos – after a classroom or VILT session, all by using an LMS. Trainers can review and share feedback directly or even send them for peer-to-peer review. The LMS makes it extremely easy (and time-saving) to share in-context feedback and revisions.
Host online discussion forums on the LMS to encourage knowledge sharing. Discussions can be around specific topics that need more attention than others, letting learners learn from other's experiences, mistakes, and best practices. Encourage learners to share user-generated content for practice and learn with and from each other. You can also create a repository of these assets for learners to access when they need it.
Leverage the breakout room feature of your LMS-integrated virtual platform to let learners work on assignments in real-time and seek immediate personalized feedback. Deliver application-based assessments – such as scenario-based and game-based nuggets – to let learners utilize and apply their acquired knowledge.
Conclusion
Download the eBook Blended Learning—The Rapid eLearning Way to get insights on how you can launch a successful rapid blended learning program. Also, join the webinar to learn how to design holistic blended learning solutions for your team.
References:
CommLab India Rapid eLearning Solutions
Working with multiple outsourcing vendors can be stressful, and a waste of time & money. With CommLab India Rapid eLearning Solutions, all your online training needs are taken care of, rapidly and economically.