How To Submit A Complete VILT Request For Proposal
You put a lot of effort into VILT requests. The last thing you want is for vendors to push it aside because they don't cater to your use case. Or because they're simply confused about your expectations, project scope, and budget. Clarity is key. You must know how to write RFPs that cover all the basics without covering too much L&D ground. For example, classroom-based training providers don't need the unabridged history of your training program or past outsourcing horror stories. It's also best to avoid the "blanket" approach when submitting RFPs. Only send it to Virtual Instructor-Led Training providers who've made the cut and meet all your outsourcing requirements, for the sake of everyone's time and resources. Here are 8 more golden rules of VILT requests for proposal to get results and find the right eLearning outsourcing partner.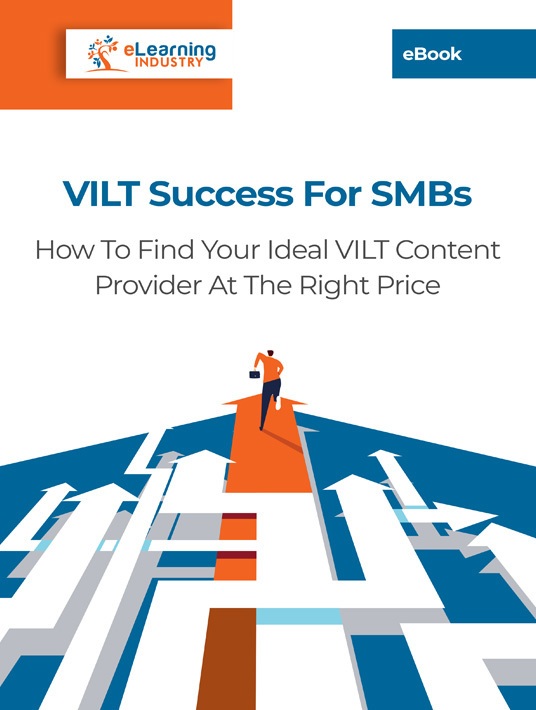 eBook Release
VILT Success For SMBs: How To Find Your Ideal VILT Content Provider At The Right Price
Get all the inside information you need to launch a VILT strategy on a tight budget.
1. Set A Realistic Budget
You should already have a budget in place before researching VILT companies. However, now's a good time to recalculate the tally and ensure that everything is accounted for. RFPs should include a ballpark estimate of how much you're willing to spend so that vendors know if they're a good fit. For example, their estimate might be twice as much as your spending cap. This usually takes them out of the running. On the other hand, you may discover that your budget is somewhat unrealistic. For instance, every VILT vendor responds with a quote that's significantly higher than expected. Maybe you've miscalculated the amount of work involved or have based your price point on outdated figures.
2. Include Online Training Objectives, Goals, And Outcomes
Every request for proposal must include clear goals, objectives, and outcomes, as well as any pain points the VILT vendor must address to warrant the investment. You don't need to recap the entire online training strategy. Focus on the current project so that outsourcing partners can craft targeted responses. For example, this VILT course centers on customer service skills and sales training for your front-end team. List the primary online training objectives, associated tasks, and performance behaviors you need to reinforce.
3. Clarify VILT Expectations
This is your chance to make VILT vendors aware of the support, customer service, and overall experience you expect. For example, you need an outsourcing partner who provides weekly updates about the Virtual Instructor-Led Training content or includes revision rounds so that you can provide eLeanring feedback along the way. These are the intangible aspects of the project that are high on your list of CX priorities.
4. Outline Deliverables And Tasks
Include any and all deliverables you need from the VILT vendor and the related tasks. Keep in mind that this only pertains to this project. You can omit future activities and JIT resources, even if you intend for this vendor to become a long-term outsourcing partner. That said, you can include a section at the end of the VILT request for proposal for additional solutions, such as microlearning resources or simulations that you want to incorporate into your sales training program next year. This allows you to find a vendor that delivers the total package, instead of having to endure another round of RFPs when the time comes.
5. Suggest A VILT Implementation Timeline
Outline milestones, delivery dates, and project phases so that VILT content providers are aware of your timeframe. Firm but flexible is the RFP motto. It's best to suggest an implementation timeline for virtual classroom training that isn't set in stone. On the other hand, the VILT company should respect your schedule and pass on the project if they can't fit you in. For instance, they're already working on 3 projects next quarter and they're all full capacity.
6. Specify Employee Preferences And Job Duties
VILT firms should already have a general idea of industry-related tasks and roles as they specialize in this training sector. But you must also include information that's specific to your organization. Such as employee accessibility preferences, online training preferences, and unique job duties or responsibilities. Which skills and core competencies do they need to work on to boost on-the-job performance? What's the desired level of interactivity and peer collaboration? Are there specific activities that have fared well in the past, and why?
7. Be Fully Transparent About Evaluation Criteria And Follow-Up
Always include evaluation guidelines and follow-up protocols in your VILT request for proposal. Vendors must know about proposal deadlines, desired qualifications, and the selection process as a whole. You don't need to lay all your cards on the table, such as your spending cap or key phrases you're looking for, just enough info to make it fair for everyone. You should also give them contact details so they're able to ask questions before formulating their responses.
8. Give VILT Companies Creative Freedom
It's time for VILT vendors to bring out the proverbial big guns and wow you with their design skills. However, you limit their creative freedom with unnecessary formatting guidelines for responses. Many outsourcing companies will send email proposals with itemized costs, timelines, and selling points. But others might spring for interactive presentations that give you a taste of their niche expertise.
Unfortunately, VILT outsourcing is often an involved process that stretches from goal clarification to finalized contracts. But it's well worth the investment when you consider the alternative, which is developing content in-house and all the associated payroll, tool, and multimedia curation costs that come with it. Not to mention, long learning curves and technical obstacles that push back the launch date. Use this article to draft a winning RFP that gets results to streamline the vendor selection and improve ROI.
You can discover even more tips on how to choose the right VILT content provider for your business in our eBook VILT Success For SMBs: How To Find Your Ideal VILT Content Provider At The Right Price. Benefit from top VILT vendors' experience and know-how and reach your online training objectives even if you are on a tight budget.